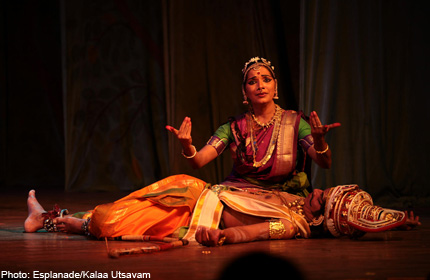 The 10-day Kalaa Utsavam which brought different Indian arts together promises to be bigger and better next year INDIA'S cultural influences have traversed beyond the subcontinent for ages. These can be witnessed in music, song, dance, theatre and myriad other aspects of life in many countries, especially in South-east Asia, where the impact and cross-cultural connections have been the strongest.
Kalaa Utsavam, the Indian Festival of Arts organised by Esplanade, which began 12 years ago tries to encapsulate all of that in a 10-day event that features artistes from around the region.
This year's event, which ended on Nov 24, was able to capture the vibrancy and diversity of Indian arts in the region. It brought together artistes from various fields like theatre, literary arts, Indian classical and folk dances and music.
One of the highlights of the festival was the dance-drama Angkor: An Untold Story, with which the festival opened on Nov 15. The 140-minute production was a collaboration between artistes from India, Sri Lanka, Cambodia, Singapore's Era Dance Theatre and Apsaras Arts. The production was a treat of colours, costumes and an amalgamation of dance and music, which effortlessly told the stories of centuries-old cross-cultural connections.
Taal Express, the music travelogue by Temple of Fine Arts, was another collaboration that Esplanade undertook with local artistes. The production presented music from different states in India. The Esplanade's programming officer Rajeswari Ramachandran said the performance reinforced "our belief that the arts can bring people of different backgrounds together". The performance was given a standing ovation by the audience.
In the satirical C Sharp C Blunt, a unique theatre collaboration between Indian and German artistes, actor M.D. Pallavi's powerful solo act was as funny as it was dramatic. The interactive play allowed audience participation which was much appreciated by the crowd in attendance. It cleverly and humorously portrayed what it's like to be a woman in the Indian entertainment industry.
Ms Ramachandran said the response to the festival's line-up of ticketed and non-ticketed programmes "has been largely positive".
She also highlighted that Esplanade will continue to work closely with Singapore and regional arts groups "to develop their capabilities and to stage new works" in future Kalaa Utsavams.
"There is so much richness and diversity in Indian arts and culture and Kalaa Utsavam is an important platform for Esplanade to continue to present the wide repertoire of programmes," Ms Ramachandran said.
The festival's two literary sessions with Indian authors Amish Tripathi and Chetan Bhagat proved to be a big draw too, with fans getting a chance to know their favourite writers better.
The organisers have promised to come back with a bigger and better Kalaa Utsavam next year.
ankitav@sph.com.sg

Get a copy of tabla! for more stories.