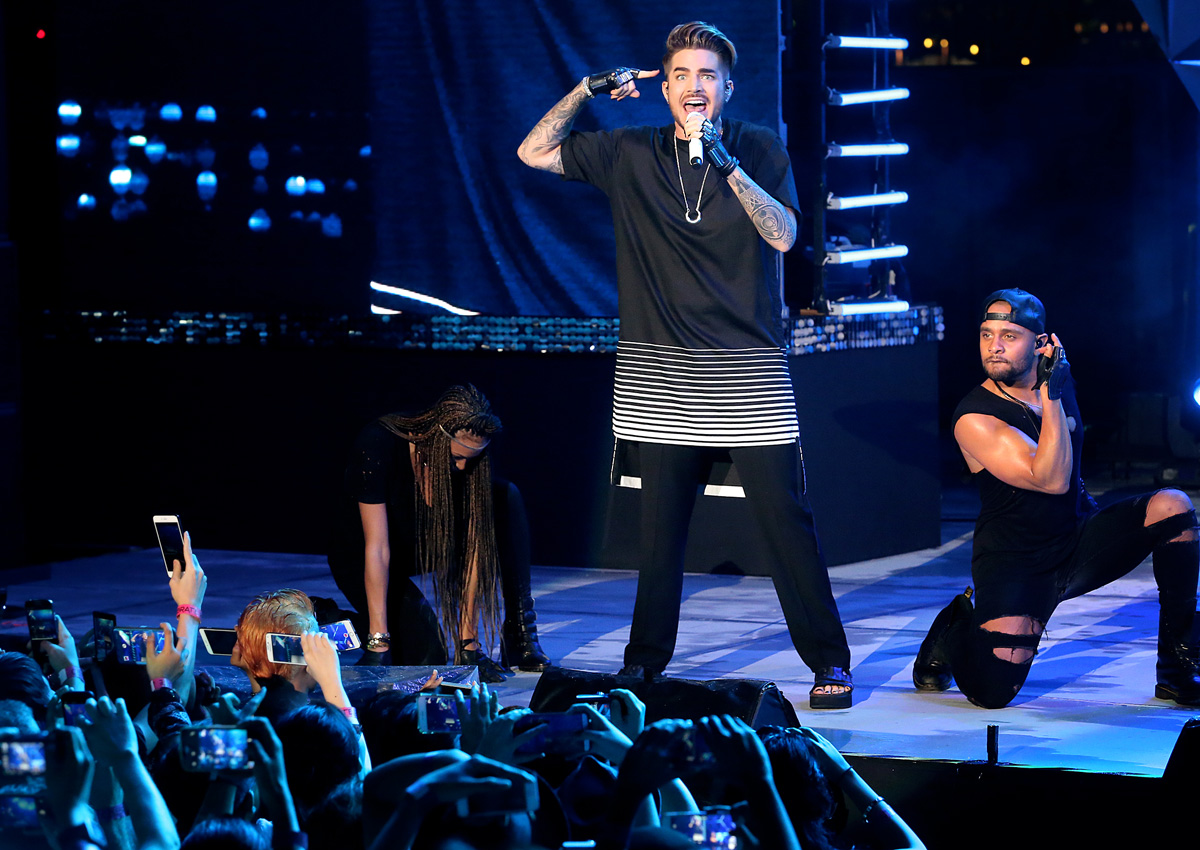 Headliner Adam Lambert's electrifying performance at Mediacorp's Celebrate 2016 countdown show to usher in the new year did not disappoint.
Even the intermittent rain could not dampen the spirits of the 10,000-strong crowd at The Float @ Marina Bay.
But the 20,065 "concerned citizens... parents... (and) individuals" who signed an online petition in November to remove the gay singer from the event lineup would have nothing to complain about.
The American Idol 8 runner-up kept his two-part performance on Thursday night squeaky clean, family-friendly and free of provocative stage antics.
His detractors had feared that the 33-year-old US singer, who has included same-gender smooches and mimicking oral sex in his live performances in the past, was an "inappropriate choice" who "could turn an otherwise dignified family-friendly event into a situation that is offensive and potentially divisive".
On the contrary, Lambert's sets were respectful of the diverse audience members and united them in the spirit of ringing in 2016 with positivity.
He spoke little on stage, but his high spirits and energy showed that he was unfazed by the negativity.
Technician Louis Quek, 42, who was there with his wife and 10-year-old son, told The New Paper: "I thought Adam Lambert was a star and put on a good show befitting a countdown event like this. I don't think he is a bad influence because of his personal choices, which we should respect, and I was sure he would tone down his act for tonight.
"My family enjoyed it very much."
Lambert took to the stage 30 minutes before the eight-minute fireworks display at midnight, dressed in a simple monochromatic get-up and sporting his trademark coif for his first set that was televised live on Channel 5.
Glamberts, as his ardent fans call themselves, screamed his name and sang along to his hits like Evil In The Night, Ghost Town, Whataya Want From Me and Trespassing.
SECOND SET
He launched a surprise second set at about 12.15am, breaking out more familiar hits like Mad World and If I Had You.
It was not televised, but Lambert behaved all the way until his showcase ended at about 1am.
His show in Singapore kicked off the Asian leg of his world tour to promote his third and latest album The Original High.
Chef Fiqah Wee, 25, said: "After he introduced his band members and moved on to his microphone stand, I nearly expected a pole dance... but that didn't happen. I thought he would be wilder, but I enjoyed his performance all the same. He is so sexy."
Student Nur Athirah Syamimi, a diehard Glambert, said she was happy with his performance even if he steered clear of shock tactics.
When asked about the petition, she said: "We're of a generation that should accept everyone for who they are.
"Surely you would feel upset if someone set up a petition preventing you from doing what you like and being yourself.
"Controversial or not, his antics are just for your entertainment."
The 19-year-old added: "He respected the concerns of the people here and stayed away from doing anything crazy.
"We had fun and he seemed like he did too, and that is what is important."
ashikinr@sph.com.sg

This article was first published on Jan 2, 2016.
Get The New Paper for more stories.