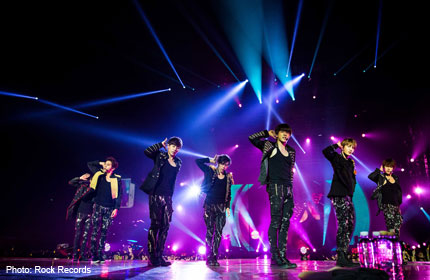 Anyone have a question?
Silence.
The seven cuties from popular K-pop boy band Infinite looked stunned when they were greeted with it during their half-hour press conference for their One Great Step world tour here last Friday.
As bona fide idols used to thunderous screams and unabashed declarations of love from their fans, Sung Kyu, Dong Woo, Woo Hyun, Hoya, Sung Yeol, L and Sung Jong faced the local media, stumped at the apparent lack of interest.
Not a single reporter stood to ask them a question.
The seconds ticked by. The awkward silence continued.
"Does anyone have a question? Don't be shy?" the emcee, Korean-Australian host Yvette King, implored, sounding tentative.
By this time, the septet, with ages ranging from 19 to 24, had started fiddling uncomfortably with their hair, hands and mobile phones.
The truth is, it was no fault of theirs. The press conference, held at the Fairmont Singapore hotel, had been organised in a deliberate and limiting fashion by Infinite's team and this didn't go down well with the roomful of reporters.
We were allowed to ask only questions related to a topic after it was announced by the emcee.
For experienced K-pop reporters who were already used to sending in questions before such press conferences, this latest method reflected just how much control Korean artists' management likes to have.
One could almost hear the sound of notebooks closing as realisation hit that questions that had been painstakingly prepared beforehand would go unanswered. And the topics that had been offered for our consideration? Singapore; world tour concert/dance/new songs; hobbies; and teamwork between members.
One daring soul decided to ask L how he felt about being a spokesman for women's cosmetics.
Oh no! He had veered off-topic! The translator was stopped from reading him the question, so he replied with... you guessed it - more silence.
Crowd was deafening
Pandemonium.
If the boys from Infinite were at all upset by the cool reception at their press conference, their fans more than made up for it at their concert on Saturday.
The 7,000-strong crowd of mostly female fans at the Singapore Indoor Stadium couldn't keep themselves in check during the 2013 Infinite 1st World Tour One Great Step.
The passion rose to ear-shattering levels, leaving one quite deaf at the end of the three-hour gig.
The boys sang, charmed and danced their behinds off.
L, in particular, was a crowd favourite due to his sweet, shy persona. He posed with a huge, white teddy bear on a park bench on stage and screams of "soooo cute!" resonated at the concert venue.
But some girls weren't as lucky as those in the arena. We spotted those who couldn't afford tickets to the concert begging for them outside the stadium.
They were going up to random people before the show started at 7pm and asking if they had extra tickets to spare.
Secondary school students Cherry Lee, Yvonne Foo and Jasmine Jo declined to be photographed as they didn't want their parents to know of their "sorry state".
Tickets had cost between $138 and $228. The trio said they couldn't save up enough to afford even the cheapest tickets so they were trying their luck.
Host turns reporter
Host Yvette King had to take matters into her own hands when no reporter wanted to ask Infinite anything at their press conference.
After a few minutes of silence, she turned reporter for the day and quizzed the boys on her own.
Later, some reporters relented and took the pressure off her for a bit.
Here's what went down:
SINGAPORE
What do you think of your fans here?
Woo Hyun: They are amazing, with their lovely screams, eye contact and interaction.
Do you miss anything about your rookie days?
Hoya: Those days were torture, we don't miss them.
What do you want to try here?
Sung Kyu: I love chilli crab. When we came here three years ago, we tried it and it was so amazing, we still remember the taste.
Dong Woo: You have to mention the bread and rice also! We also love the chicken rice here.
WORLD TOUR CONCERT/DANCE/SONGS
Your younger student fans couldn't make it to the concert because of the exams. Do you have anything to say to them?
Hoya: It's been a while since we came here and we were looking forward to everyone coming to our concert. We want to deliver this message that we miss you and we love you so much.
Why did you name your world tour One Great Step?
Sung Kyu: When Neil Armstrong walked on the moon, it was called one small step. So that's why we have decided to call our world tour One Great Step.
What did you prepare specially for your Singapore concert?
Sung Yeol: We prepared a special song for our fans here. (Starts singing Singapura softly.)
HOBBIES AND TEAMWORK BETWEEN MEMBERS
What do you do in your free time?
Hoya: When we are free, we like to watch videos of our fans. Those are memories to us.
Who's the selfie king of the group and can you show us how to take the best selfie?
Woo Hyun: It's me. (Facing the camera at) 45 degrees is a must.
Are you intending to celebrate the birthdays in the group?
Woo Hyun: We definitely want to have more birthday parties.
cchar@sph.com.sg

Get The New Paper for more stories.