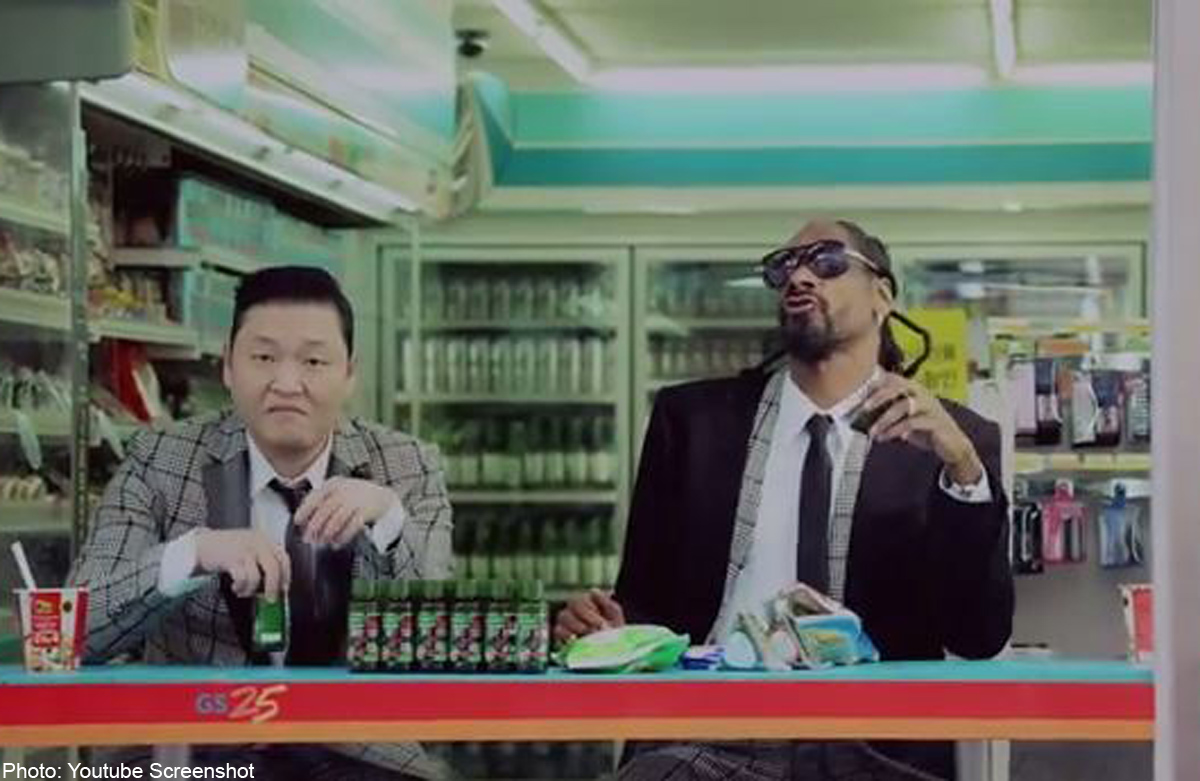 K-pop superstar Psy is back... with a hangover.
And it's not going down well.
After a year-long break, the 36-year-old released his latest track, Hangover featuring US hip-hop star Snoop Dogg, yesterday.
Its music video attracted over 2 million views on YouTube in a day - a low figure compared to the staggering debuts of his previous mega-hits, Gangnam Style and Gentleman.
Hangover is said to be off Psy's upcoming album that's due in the summer.
In his usual exaggerated fashion, the over-the-top five-minute music video features the duo on a wild night of boozing in Seoul.
Also featured are twerking dancers, a hungover and puking Psy, karaoke sessions, street fights, cameos from K-pop idols G-Dragon and CL, and way more rapping from Dogg than is expected of a mere guest star.
Unlike Gangnam Style and Gentleman, Hangover - an English hip-hop track with a smattering of Korean - has received flak from K-pop fans and netizens for not living up to expectations.
Many felt it is more of a "Snoop Dogg song featuring Psy".
K-pop fan and administrative manager Tan Weijie, 32, said: "I thought Psy was the guest star in the video, as Snoop was rapping most of the time, and the whole song was practically in English.
"There should be more Korean words. The song sounds like a typical US rap track, there's nothing unique about it."
Some also felt the video was not as funny, interesting or memorable as Gangnam Style and Gentleman.
Student Grace Lee, 20, said: "I watched the video expecting a good laugh, but turns out there's nothing funny. I thought Psy could continue his creative streak from Gangnam Style, but there were no catchy riffs nor creative dance moves this time round. "It's quite forgettable."
Civil servant Kenny Chua, 26, agreed.
The K-pop fan said: "I feel that I wasted five minutes of my life watching the music video. It feels like he is trying to outdo himself but he is trying too hard."
LACKING
Netizen Destiny Tanuvasa commented: "CL & G-Dragon!!! But hate the song and MV, sorry. It's just really lacking. I liked Gangnam Style and loved some of his songs before that, but what is this? Just my opinion."
Despite the critical reaction so far, some viewers could relate to it.
Netizen Ren Curry wrote: "What's great is obviously not the musicality, but the ridiculousness of it all. The best part is that this is how it really is in Korea. I have seen so many people trashed out of their minds... people starting fights, friends puking in the toilet, and doing crazy things in the street."
Kiss 92FM DJ Jason Johnson is also a supporter, saying: "Psy and Dogg make a great team, kind of like Dennis Rodman and Kim Jong Un. They look so weird yet so right together.
"It's amazing that Psy looks like he can actually hang out with Dogg and they look like legit buddies."
The 46-year-old added: "The song itself has a kind of gallows humour that people who've suffered from hangovers will relate to. "It's like the fun of sharing the misery together after a night of partying. If you already happen to be inebriated, the song will sound 10 times better."
For Hot FM91.3 DJ Joshua Simon, he could not decide if he liked or hated the "ironic" song.
The 23-year-old said: "For a song about hangovers, it's really headache-inducing. It's quite irritating and crazy - exactly what it's like after a drunken night out."
This article was published on June 10 in The New Paper.


Get The New Paper for more stories.