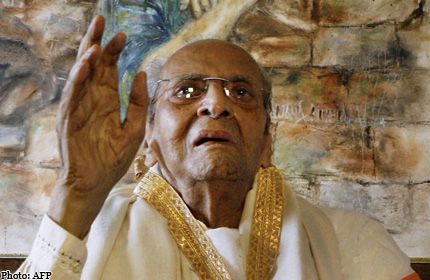 MUMBAI - Veteran Indian actor Pran, who played villains and character roles in more than 400 movies, was cremated on Saturday in the western city of Mumbai following his death at the age of 93.
Pran Sikand, dubbed the "godfather of Indian villains" and best known by his first name, was one of Bollywood's most beloved actors for nearly six decades.
Pran, who died late Friday after a bout of ill health, ruled the industry with his baritone voice and his ability to bring charm to his villainy.
In a condolence message, Prime Minister Manmohan Singh said: "Pran entertained several generations of Indians with his riveting performances in hundreds of celluloid roles.
"He worked with doyens of film industry among which he was an icon."
Family, fans, friends and Bollywood celebrities attended his funeral in Mumbai.
Pran's roles had an enormous impact on Indian audiences and parents stopped naming their children 'Pran' (life) at the height of his fame because of his role as a "Bollywood baddie".
Born into a wealthy family in New Delhi, Pran grew up in Lahore where he pursued a course in photography before landing his first film role.
After British rule over the subcontinent ended with its split into mainly Hindu India and the Islamic Republic of Pakistan, Pran moved to the entertainment capital of Mumbai and worked his way into more film roles.
Pran appeared in over 400 films and played the villain opposite all the top cinema heroes of his era - from Dilip Kumar, Dev Anand and Raj Kapoor to Rajesh Khanna and Amitabh Bachchan.
"Truly the end of a magnificent and glorious era. He was a gentleman superstar," tweeted leading Bollywood director Karan Johar.
In his private life, Pran was renowned as a gentleman - far removed from the dark characters he played on screen.
The actor is survived by his wife Shukla, daughter Pinky, sons Arvind and Sunil as well as grandchildren.