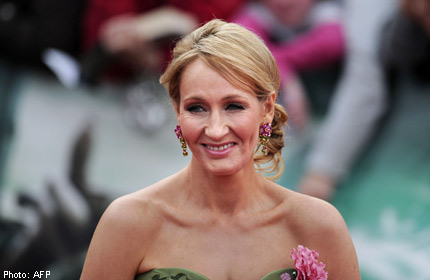 Writing under a false name is incredibly freeing for a writer, so I understand why J.K. Rowling recently tried her hand at crime fiction under the pseudonym of Robert Galbraith.
What I find disturbing is the detailed cover story worked out for this Galbraith in the fictitious author biography. According to early editions of The Cuckoo's
Calling, he is a former military man of several years experience, currently employed in civilian security.
Readers now know that this is rubbish - Rowling said in recent interviews that Galbraith's occupations were chosen to explain the absence of an author photograph. What private security contractor would want his face made public, after all?
I wonder whether she had thought ahead about how she, as Galbraith, would respond to readers who were actually former military personnel or who suffered from the physical handicaps Galbraith's creation was subject to.
When a similar author's alter ego, JT LeRoy, was unveiled in the noughties as a literary hoax, it devastated die-hard fans who had bought into or identified with the writer's myth.
I first encountered the writing of LeRoy in 2003 when a friend shared an article the author had written about Hollywood actor Michael Pitt (a version still exists on nerve.com). I liked the writer's rapport with Pitt but some of the questions made it clear that the writer was more a fan than professional journalist. "She has a serious crush on him," I told my friend.
"She? JT LeRoy is not a woman!" my friend responded in a huff, showing me web articles from reputed sources that laid out LeRoy's biography credentials.
Born a boy in 1980, LeRoy was then a 20something transsexual writer with a childhood history of abuse, drug addiction and prostitution. LeRoy had published two well-received books loosely based on "his" stomach-turning experiences. The novel Sarah was brought out by Bloomsbury in 2000 to critical acclaim and The New York Times said of it: "His language turns the tawdriness of hustling into a world of lyrical and grotesque beauty, without losing any of its authenticity."
A collection of short stories titled - appropriately, it would turn out - The Heart Is Deceitful Above All Things, came a year later from the same publisher and was optioned for a movie by Italian actress-director Asia Argento.
In 2003, as filming proceeded, LeRoy became the hottest name in the alternative Hollywood scene ruled by Irvine Welsh's Trainspotting, rather the Twilight franchise.
The protege of Argento, he was interviewed by the Guardian newspaper and contributed articles to The New York Times. Rock band Garbage wrote a song for him, writer Zadie Smith praised his writings and actress Winona Ryder gave readings in place of the camera-phobic writer. LeRoy was notoriously publicity shy and grappling ostensibly with several psychological and physical problems after his pitiful past, went the story.
Thanks to the Internet, however, the rare photos of LeRoy were soon questioned by acquaintances of one Savannah Knoop, whose half-brother Geoffrey and sister-in-law Laura Albert were part of LeRoy's public relations team.
By 2005, the secret was out: LeRoy had never existed, "he" was a fiction concocted to sell Albert's writings.
Cue public outrage and pure, simple rage, especially from the fellow writers who had supported the books and the unpaid interns who had maintained LeRoy's website as a labour of love. The film company which bought the rights to adapt Sarah sued Albert - she eventually lost and also broke up with Knoop. When I read about this, I called the friend who had introduced me to LeRoy's work. I expected a few laughs and groans: "How could we have been so stupid?"
I did not expect tears. LeRoy was a cult icon for many. People bought not just into the sad tales of his victimhood but also into his redemption and success. If he had the potential to overcome such pitfalls, they too could rise above their past.
I have experienced similar literary letdowns. A few years ago, I learnt that my childhood favourites, books written by "veterinarian James Herriot", were pure fiction penned by the late Alfred Wight. Wight was a vet, true, but relied on imagination more than fact, for more than a dozen idyllic countryside dramas, starting with If Only They Could Talk (1970).
My family owns all the Herriot books and we had been fans of the purported veterinary misadventures for three generations. It was like a punch to the gut, learning that "Herriot" and his best friends Siegfried and Tristan - named by parents over-fond of German composer Richard Wagner - never existed. Had I come to the books as fiction, I would have learnt to love them differently. That choice was taken from me and I still feel betrayed by the author.
So I have much sympathy for Oprah Winfrey, who in 2006 publicly chided writer James Frey on her talk show for lying. Now known for young adult fiction under the shared pseudonym Pittacus Lore, Frey was then famous for his 2003 "memoir" of violence and drug addiction,
A Million Little Pieces. The so-called memoir was later revealed to be mainly fictional, leading to public backlash from former supporters.
Rowling has not quite crossed the line with Galbraith, though her adopting a faux military persona has reportedly upset some fans. Certain things are off the table in the alter-ego market. Men can pretend to be women and vice versa, but neither should pretend to have skills or experience they have not rightfully earned.
The act of reading creates a curious intimacy between reader and writer, with all the perils of a relationship started over the Internet.
Readers are limited by whatever the writer chooses to share of herself on the page or in the author biography. Affection dissolves into acrimony if the writer misrepresents herself.
If they want to retain fans in the long term, writers, even of fiction, are better off telling the truth about themselves on the biography page. If they really want their privacy, at most authors should pretend to be mice, not men. Sorry, kids, the long-running Geronimo Stilton series published by Scholastic is not actually written by cheese-loving rodent siblings. Oops, I hope you already knew that.
akshitan@sph.com.sg

Get a copy of The Straits Times or go to straitstimes.com for more stories.