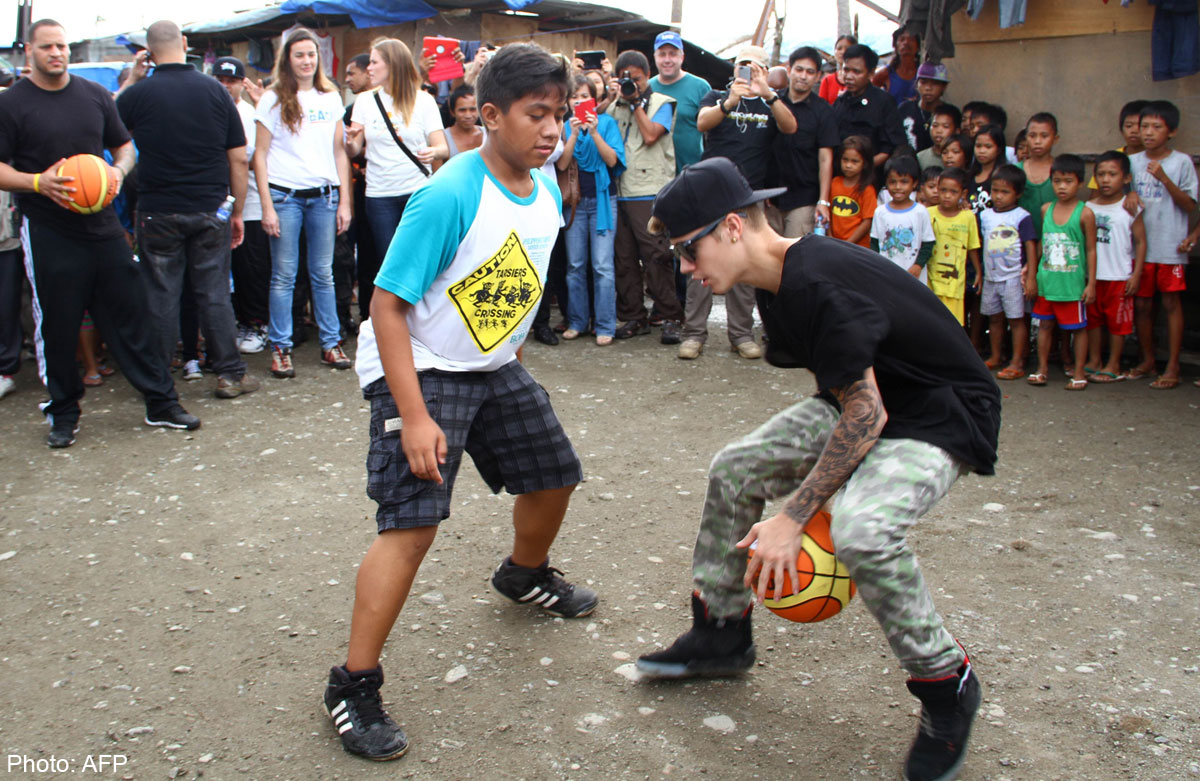 Pop megastar Justin Bieber hugged, sang to, danced and played with young survivors of the Philippines' Super Typhoon Haiyan on Tuesday amid an international relief effort.
He flew unannounced to the central city of Tacloban and sang Christmas carols to children at a heavily damaged local school, witnesses said.
"He sang 'Holy Night' for the children," said United Nations Children's Fund (Unicef) spokesman Kate Donovan.
Unicef is one of three aid agencies expected to benefit from Bieber's charity work.
During the performance, a boy hopped on the improvised stage and danced to the 19-year-old Canadian superstar's lead, an AFP reporter said.
PLAY
Bieber also played basketball at an improvised sandlot court with some of the young boys, later hugging some of them and posing for photos.
"Unicef is very pleased that Justin Bieber wanted to visit Tacloban and stopped by City Central Elementary School," the UN agency's emergency coordinator Angela Kearney said.
"He brought a lot of joy, hope and cheer to the children who were there."
The money that would be raised would give child survivors access to education, vaccinations, clean water and sanitation, she added.
Before visiting the Philippines, Bieber had posted a message on fundraising website Prizeo.com, urging his millions of fans to donate to the victims of the typhoon, the strongest to ever hit land.
Haiyan cut across the central Philippines on Nov 8, destroying scores of communities along its path.
In his message on Prizeo, Bieber, one of the most followed persons on Twitter and best known for hit songs such as "Baby," "Boyfriend" and "Beauty and a Beat", said those donating to his cause could win a chance to personally watch him at a recording session next year.

Get The New Paper for more stories.