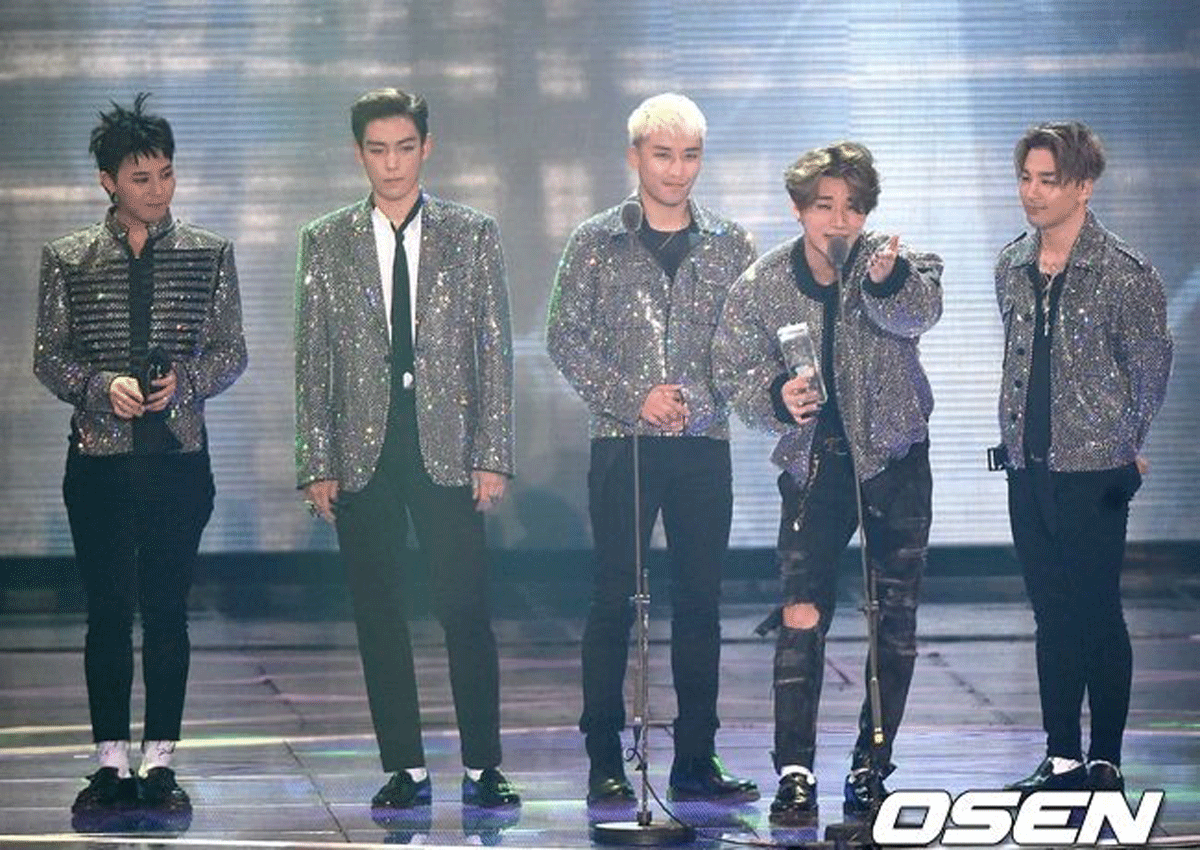 Popular K-pop boy band Big Bang is set to join the elite superrich club with an estimated total net worth of 40 billion won (S$47 million).
Moreover, leader G-Dragon, also known as Kwon Ji-yong, alone has a personal net worth of approximately 15 billion won.
Confirming Big Bang's road to success, the quintet's Los Angeles concert at the Staples Center during their world tour last year was pointed to by Billboard magazine as one of the top 10 grossing concerts in the world, earning a total of 2.1 billion won while drawing 13,361 fans.
G-Dragon's personal net worth is estimated at over 15 billion won by the Korea Herald Superrich Team, 3 billion won more than that of the US Celebrity Net Worth website.
Releasing hit after hit with group and solo activities such as "Heartbreaker" in 2009 and "One of a Kind" in 2012, and following that up with his "Coup d'Etat" album, G-Dragon earned at least 10 billion won from music sales and concerts in 2013.
As G-Dragon also composes and writes lyrics for most his songs, he earns 800 million won annually from royalties. He received 790 million won in royalties in 2013 according to the Korea Music Copyright Association and currently has 160 songs registered under his name.
With his musical earnings, G-Dragon has invested over 4.3 billion won in real estate -- currently owning two apartments in Seoul.
He purchased a 168.37-square-meter apartment on the upper levels of the Galleria Foret complex located in Seongdong-gu, Seoul, on March 14, 2013, for 3 billion won, according to the certified copy of real estate register.
Completed in 2011, the Galleria Foret complex adjacent to the Seoul Forest, has two buildings for a total of 230 units, which provide a view of the Hangang River. The units were sold for 43.9 million won per 3.3 square meters, making it the costliest real estate in the domestic market.
G-Dragon also purchased a 168.63-square-meter apartment on the upper levels of the Hangang Bamseom Xi complex of Hapjeong-dong in Mapo-gu, Seoul for 1.3 billion won.
Though not listed under his name, he presented his parents a "pension" -- the Korean term for condominiums exclusively rented to members during peak seasons that can be rented to nonmembers during off-peak times -- located in Ildong, Pocheon, Gyeonggi Province, worth 1 billion won. The Dolce Vita pension with a lot of 550 square meters is a two-story building with an area of 222.7 square meters. Run by G-Dragon's parents, the pension only admits adult visitors to prevent his underage fans from visiting.
Financial success is not limited to G-Dragon alone, as the net worth of the other Big Bang members amounts to over 25 billion won with individual wealth differing drastically due to their solo activities in films and music albums.

Photo: Nicole Quek
Taeyang, or Dong Young-bae, and Seungri, otherwise known as Lee Seung-hyun, are worth 12 billion won and 3.6 billion won, respectively, according to Celebrity Net Worth.
Opening his first vocal and dance academy Joy Dance - Plug In Music Academy in his hometown of Gwangju, South Jeolla Province, in 2011, Seungri earns additional income and now owns five different academies throughout Korea, including in Seoul, Incheon, Daejeon and Mokpo.
Seungri also started a cafe business. Purchasing a license to produce traditional Belgian waffles, he opened waffle cafe And Here in the Daehangno area of northern Seoul, leaving his mother to run the cafe.
Although the finances of T.O.P, known to his parents as Choi Seung-hyun, and Daesung, or Kang Dae-seong, have not been estimated by foreign media, considering their group activities including music sales and appearances in films and musicals, they are estimated to be worth over 5 billion won each.
Big Bang is estimated to have earned 12 billion won last year domestically with music sales, as the group released hit singles from their "M.A.D.E." album project, such as "Loser" and "Bang Bang Bang." The Big Bang 2015 World Tour that started in April last year touring 15 different countries further brought in 140 billion won.
Big Bang's agency YG Entertainment gets 30 per cent of the group's music sales earnings and 10 per cent from endorsements and events. Solo activities and copyrights are not divided with the agency, but kept by the artists.
The net worth of Big Bang is estimated to rise as the group's international popularity continues to increase, as demonstrated by the 1.5 billion won in earnings in China from their most recent M.A.D.E. album.
seoyounglee@heraldcorp.com