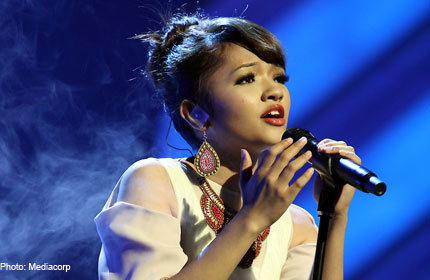 Barely 24 hours after student Farisha Ishak was crowned the winner of Channel 5 reality TV singing show The Final 1 on Wednesday night, head judge Ken Lim made it clear that he wants to put his big plans for his latest protege into action "as soon as possible".
He wants to start discussions with the 19-year-old soul singer "next week or as soon as she finishes her celebrations". His plan is to work on her debut album as soon as the end of the year.
Lim, 49, told The New Paper yesterday: "I need to understand her, find out what her personality is like, what her strengths are and make sure she understands what is expected of her. This takes time and we have a lot of work to do to get her ready for the market."
Farisha, a first-year arts and social sciences undergraduate at National University of Singapore, beat rocker Shaun Jansen, 28, to the $50,000 recording contract with Lim's company Hype Records and a $50,000 cash prize.
She was the public's choice after votes by telephone, SMS and Facebook were tallied.
MediaCorp declined to reveal the number of votes received and the winning margin.
The two had battled it out in front of a 5,000-strong crowd at The Star Performing Arts Centre.
Farisha displayed poise and maturity in her performances, scoring herself positive reviews from judges Lim, Taufik Batisah and Kit Chan.
After her rendition of Run by alternative rock band Snow Patrol, Taufik, 31, said that he was mesmerised by her voice. He added that "a star was born... and her name is Farisha".
Her pumped-up dance version of Lim's self-penned original song Tonight earned her a rare compliment from Lim himself, who said that her voice is one of the best in the competition.
Farisha's win was no surprise to him. He said: "I had suspected it all along. The public will vote for the one with the best voice. I've mentioned it before that in terms of vocal quality, Farisha is the best."
He added that she is likeable, but she still needs to work on the "feel" in her performances.
Confident
Lim, who has helped shape the music careers of Singapore Idol winners Taufik Batisah and Hady Mirza under his Hype stable, is confident of Farisha's regional appeal in both the English and Malay markets "as long as (we) get the formula right".
He warned: "As a female star, she also needs to work doubly hard because female fans tend to be more supportive of male singers."
Lim, who said that Farisha is likely to have to fulfil a two-year contract, said: "I'm excited to start on this, I'm always excited to see somebody develop."
Meanwhile, Farisha was still coming to terms with her win when contacted yesterday.
"During the show, I tried not to think about it. I told myself that my fate was already sealed anyway. It still feels so surreal," she said.
Farisha is looking at taking a leaf out of Yuna's book. She hopes to achieve the same regional, and then international, success that the Kedah-born Malaysian indie singer is enjoying.
"Like her, I also want to maximise the use of social media to raise my profile and spread my music," she said.
Asked how she plans to spend her $50,000 cash prize, Farisha, who is going back to school next week after taking a two-week break, said: "I'm definitely giving some to my parents and then spending on clothes.
I have never been a big shopper so I need some pants and heels for sure."

Get The New Paper for more stories.