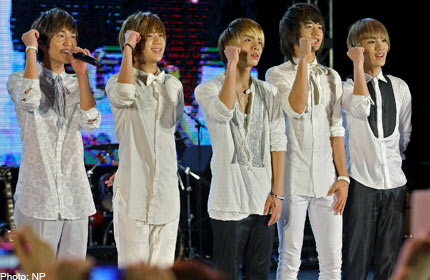 SINGAPORE - It is being touted as the largest ever K-pop concert to be held in Singapore.
The MBC Korean Music Wave concert at Gardens by the Bay on Nov 16 has a line-up of 13 acts: Shinee, EXO, 2PM, 2AM, F.T. Island, B1A4, Teen Top, B.A.P, Kara, Sistar, Miss A, IU and 4Minute. "Mysterysuperstars" are set to be emcees for the night.
Last November, SMTown Live World Tour III at The Float @ Marina Bay featured eight acts, including big names such as Super Junior and Girls' Generation.
The MBC gig's biggest names include 2PM, who won Best Male Group at the 2009 Mnet Asian Music Awards; Shinee, winner of Newcomer Album of the Year at the 2008 Golden Disk Awards; Sistar, who won Best Female Group at the 2012 Mnet Asian Music Awards; and Kara, the Best Global Group - Female at the 2012 Mnet event. Each act at Music Wave will perform two to three songs.
At a press conference yesterday in the South Korean capital, concert organiser Fatfish Entertainment's Lau Kin Wai said: "This mega concert will be one of the biggest in the history of music entertainment in Singapore. It's definitely the largest K-pop mega concert held in Singapore in terms of the number of artists sharing the same stage." He adds that he hopes to attract a crowd of between 15,000 and 16,000 to the event, which costs $2.5 million to stage. The 13 acts comprise more than 70 performers, who belong to different music companies.
Last year's SMTown Live World Tour III featured only artists from SM Entertainment. MBC Korean Music Wave has been held in Bangkok and California.
Miss A, Teen Top and B1A4 were also present at the press conference. Miss A's Min, 22, said: "It's been almost a year since we released a new song so we want to go there with a new song, hopefully. We just want to have fun on the stage, yeah." Baro, 20, from B1A4, added: "We're very nervous to meet the fans there and also very excited and honoured to perform with all the awesome K-pop stars."
Tickets range from $168 to $688 and will be available from www.singtic.com from Sept 2. Fans who want to get their tickets early will be able to make priority bookings at *Scape on Sept 1 from 9am to 6pm.
The $688 Super VIP Experience Package includes access to rehearsal, the mosh pit area as well as the perk of bypassing the entrance queue on the day of the concert. The first 50 fans to buy tickets will also get to attend the press conference in Singapore on Nov 15.
bchan@sph.com.sg

Get a copy of The Straits Times or go to straitstimes.com for more stories.