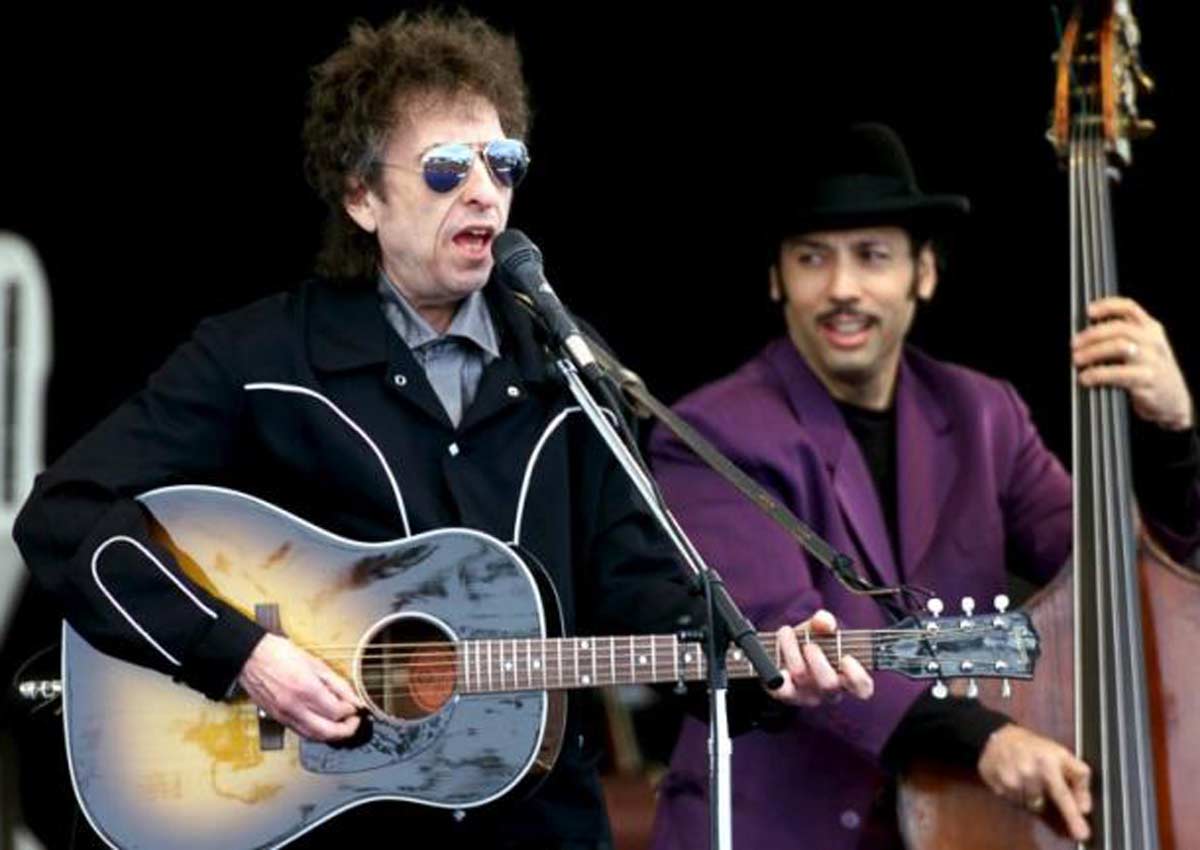 LONDON - Had you seen Bob Dylan reinventing popular music on the stage of London's Royal Albert Hall in 1966, you would never have believed that nearly 50 years later he would be treading the same boards and crooning the songs of Frank Sinatra.
But there he was on Wednesday night, skipping over his own formidable songbook in favour of lovelorn 1950's ballads made famous by the Chairman of the Board.
It could have been excruciating. But it was wonderful.
Backed by his crack band, Dylan stood in the spotlight to sing "What'll I Do", "The Night we Called it a Day", "I'm a Fool to Want You" and other standards featured on his latest album, "Shadows in the Night".
A year ago, fans had greeted the news that Dylan was planning an album of songs made famous by Sinatra with some trepidation. Dylan himself explained when it was released in May that he was not recording a Sinatra tribute.
"I don't see myself as covering these songs in any way. They've been covered enough. Buried, as a matter a fact. What me and my band are basically doing is uncovering them. Lifting them out of the grave and bringing them into the light of day," he said at the time.
"Shadows in the Night" has been a critical and commercial success, only adding to Dylan's enigma at the age of 74.
The Western Swing style of the band, anchored by bassist Tony Garnier and featuring ace guitarist Charlie Sexton, helped the ballads, shorn of elaborate string arrangements, to flow easily into Dylan's own songs such as "Duquesne Whistle" and "Spirit on the Water".
It had the feel of a Mid-Western country dance somewhere in time rather than a Manhattan night club.
Sinatra recorded most of the songs while he was pining for Ava Gardner, who had dumped him for a Spanish bullfighter.
Dylan of course does not have the voice of Frank Sinatra. But then Sinatra never wrote a song like "Tangled Up in Blue", a Great American novel in verse. Dylan treated the audience to a free-wheeling version before heading off for the intermission.
As it happened, Dylan's voice, often derided as a croaky rasp, was strong and even tender on the ballads. Dressed in a gambler's suit, wide-brimmed hat and cowboy boots, he did not play guitar at all but stood at the microphone, like an old song and dance man, occasionally breaking into a little jig.
The lyrics to "Why Try To Change Me Now", by Cy Coleman and Joseph McCarthy and featured on Sinatra's 1959 album "No One Cares", took on a whole other resonance in Dylan's hands and could almost have been written for the man himself.
Dylan opened the show with "Things have Changed", a reminder that his own songs have won Oscar awards. Much of the rest of the set came from his previous album, "Tempest", and he evoked some brooding menace on "Pay in Blood and "Scarlet Town" before closing with Joseph Kosma's 1945 torch song "Autumn Leaves".
Some fans may come to Dylan concerts hoping to hear a run-through of his greatest hits. But it would be unwise to expect that at this stage of the game.
As an encore, he played a stately, countryfied version of "Blowin' in the Wind", with himself on grand piano. But it was the least of the delights of this latest edition of the Never-Ending Tour.