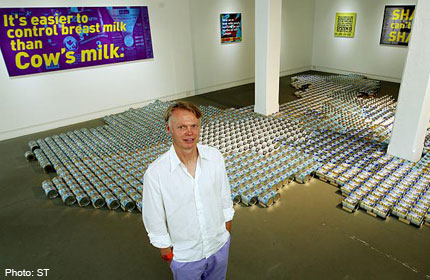 SINGAPORE - Galerie Michael Janssen Singapore in the prominent Gillman Barracks art cluster was a picture of restlessness last Thursday.
The first South-east Asian solo show by Chinese art star Ai Weiwei was due to open to invited guests in a few hours but the gallery still lacked a few finishing touches.
Mr Janssen, the gallery's eponymous owner, rolled up his shirt sleeves and jumped in to help, giving instructions to staff to not overlook details.
The 50-year-old German may be an established gallerist with international connections - his gallery's home base is Berlin - but the tedious task of preparing an exhibition for its VIP preview is not foreign to him.
After all, his journey in the art world began with such chores.
Taking a break from the bustle, the gallerist, whose roster of artists includes acclaimed German painter Peter Zimmermann and renowned American artist Lynda Benglis, tells Life! that he fell into the art business by chance.
The younger of two sons of a German city mayor and housewife, he was an art history student at the University of Bonn in the 1980s when a friend asked him to help with the setting up of an arts centre in Zurich, Switzerland. He readily traded school for an adventure.
He says of the experience: "There were about 10 of us, we had no titles and we did everything. We did the renovation, installing, talking to artists. I learnt the job from scratch. It was great fun."
He adds half-jokingly: "It also means you can teach your interns 10 years later how to clean and do this or that because you've done it."
After a year-long stint at the Zurich arts centre, he returned to Germany and worked at an art gallery in Cologne.
Intent on being his own boss, he struck out in 1995 with US$15,000 (S$19,000), which came from the sale of a painting he brokered.
He acknowledges that the mid-1990s was a tricky time to launch an art business. "The art market was still slowly getting out of the crisis of the Gulf War in 1991 and nobody was interested in buying art, so it wasn't really a good time," he says.
"But I think it's better to open up your own space in difficult times than in good times because you immediately learn how to run the gallery on a good level but with low costs."
Still, he struggled to sell works in the gallery's first year.
He says: "You know some people, you have collectors but you're building up your own profile and you have to look out for new artists."
He hit the road regularly, travelling to Britain, Holland and around Germany to suss out emerging artists. Gradually, the gallery came to be known in the late 1990s for showing the works of young British artists such as Paul Morrison and Michael Raedecker, as well as mid-career German artists such as Thomas Grunfeld.
In 2007, he moved the gallery from Cologne to Berlin because the affordable and vibrant city was gaining popularity with everyone from artists and galleries to international curators and visitors.
Next, he set his sights on Asia.
It was his visit to the inaugural Art Stage Singapore art fair in 2011 that marked his first encounter with the lively South-east Asian art scene and made him sit up and notice the potential of the art market in the region. Soon after, he learnt about the art gallery cluster in Gillman Barracks, off Alexandra Road, and he pounced on the opportunity to be a part of the project.
He says: "I wanted to do something in Asia, and Singapore is better for me than Hong Kong. Money-wise if you compete with Gagosian or White Cube, you will always lose."
In recent years, Hong Kong's rise as a leading Asian art and auction market has drawn big-name galleries to set up there, such as Gagosian Gallery from New York and White Cube from London.
Mr Janssen, who is married with two children, says: "Singapore is untouched territory with lots of open possibilities. I can do a project with Ai Weiwei here that I couldn't have done in Hong Kong because there could be other bigger galleries talking to him."
Ai's exhibition here comprises an installation of more than 1,800 cans of baby milk formula, laid on the floor to form the map of China, as well as two series of prints bearing his tweets on the safety of baby formula produced in China.
The work is the artist's response to the 2008 melamine milk scandal in China, which resulted in the poisoning and deaths of children. Mr Janssen, however, is aware of the challenges of breaking into the regional art market.
"When we start out here in the beginning, we know we will not make much money. Our plan is to come here, show what we do, and if we're lucky, we break even after the first year."
He adds that although Asian collectors are "tough negotiators", the year-old Singapore gallery, which has staged shows by Zimmermann and American conceptual artists John Baldessari and Meg Cranston, has won over some collectors in the region and broken even.
And he remains "quite confident" of the outlook of his gallery here which has a three-year lease at Gillman Barracks.
He says: "It is three years of freedom to prepare the ground for future activities here and in the region."
Get a copy of The Straits Times or go to straitstimes.com for more stories.