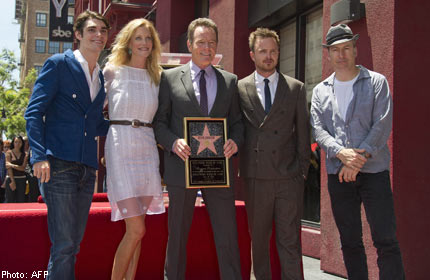 LOS ANGELES - "Breaking Bad" fans are breaking mad about the way they're being charged for their favourite show on iTunes.
Well, one of them is, anyway - but he's angry enough to sue, and he wants other irked "Breaking Bad" followers to join him.
Apple has been hit with a class-action lawsuit by a Cleveland man angry that iTunes is charging separately for the final eight episodes of the AMC meth drama under iTunes' Season Pass programme.
"When a consumer buys a ticket to a football game, he does not have to leave at halftime," the lawsuit - filed in US District Court in California on Friday - reads. "When a consumer buys a 'Season Pass' to a full season of a television show on iTunes, that consumer should get access to the whole season."
The suit goes on to tell the tale of Noam Lazebnik, MD, and his son-in-law, Jeremy Tor, who ordered the fifth and final season of "Breaking Bad," only to find out that they were only given access to the first eight episodes. (The fifth season of "Breaking Bad" was broken up into two eight-episode parts split up by nearly a year, with the second half premiering on AMC last month.)
According to the suit, the fifth season of "Breaking Bad" has consistently been billed as 16 episodes, and iTunes promised that its Season Pass package for "Breaking Bad" included "all current and future episodes of 'Breaking Bad Season 5.'"
However, the complaint says, Apple later changed the characterization of the last eight episodes as a "Final Season," and dinged fans for another fee.
The suit alleges breach of contract, violation of the Calfornia Consumers Legal Remedies Act, and violation of the California Unfair Competition Act.
The complaint asks that Apple compensate those who purchased the Season Pass for "Breaking Bad," whether or not they ultimately decided to pay for the final eight episodes or not.