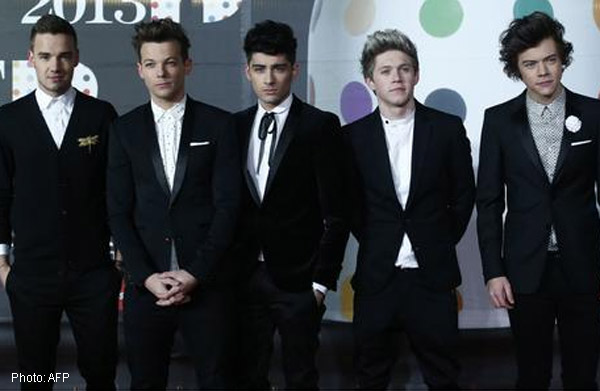 LONDON - Homegrown acts One Direction will vie with Arctic Monkeys for supremacy at British pop's show of the year that is counting on global stars, including a rumoured appearance by Beyonce, to help wow a new worldwide audience.
The two bands will be joined at the annual BRIT Awards later on Wednesday by British acts Ellie Goulding and Bastille, but grabbing the headlines are hotly-anticipated performances from Katy Perry, Pharrell Williams and Bruno Mars.
Organisers are hoping performances from acts like Mars, fresh from lighting up the halftime show at the US Super Bowl earlier this month and nominated for the BRITs' international male award, will breathe new life into an event that failed to impress last year.
For the first time, the audience will be global. YouTube will stream the show live worldwide instead of solely on Britain's commercial channel ITV, and fans will have the chance during the evening to vote on twitter to decide the British video award winner.
That accolade appears to be a shoo-in for One Direction, the five-piece band formed in 2010 on the TV singing contest The X Factor. With 17.8 million followers on twitter, dubbed"Directioners", the band's support dwarfs that of the other nominees.
One Direction will go head-to-head with Arctic Monkeys for the British Group award, battling to win one of the mohawk-inspired black and white gongs designed by milliner-to-the-stars Philip Treacy.
Arctic Monkeys are odds-on favourites to win the coveted best album honour for AM and will open the show in what will be their first BRITs performance.
The Sheffield-born indie quartet have in the past appeared less than supportive of the awards, despite multiple past wins.
Bookies expect veteran rock star David Bowie to be named best British male solo artist. Bowie, 67, who had his first hit back in 1969 with "Space Oddity", won the title in 1984 and is competing against names such as Jake Bugg, 19, and Tom Odell, who is 23.
Ellie Goulding, who sung at the Duke and Duchess of Cambridge's wedding reception in 2011, is tipped for success in the British female artist category. The "Burn" singer is also up for the British single and video awards.
She will perform at the awards in a line-up which also includes breakthrough-nominated pop acts Bastille and Disclosure, both leading the field with four nominations each, and drum and bass dance collective Rudimental.
Last year's BRIT Awards were labelled "boring" by singer Robbie Williams, while Christian Tattersfield, current chairman of the BRIT Awards committee, recently admitted in a British newspaper that the 2013 event "lacked superstars".
The British pop industry will hope this year's big name acts, new global audience and twitter-voted award will help boost record sales.
Data from the British record industry association BPI and the Official Charts Company show total retail-value sales of recorded music fell 0.5 per cent year-on-year to 1.04 billion pounds ($1.7 billion) in 2013.