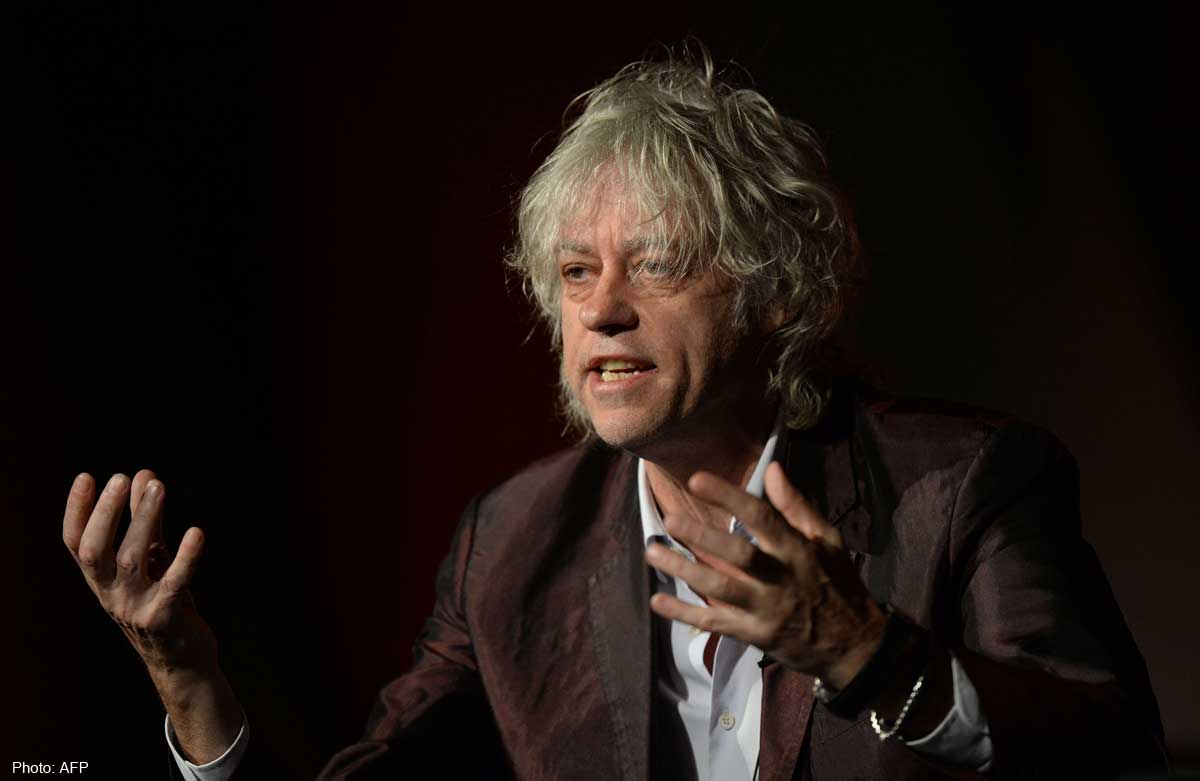 MELBOURNE - After three months of private grief over the death of his daughter Peaches, Bob Geldof returned to the world spotlight on Thursday, taking up the cause of AIDS with his trademark mix of anger and empathy.
In an interview with AFP on the sidelines of the International AIDS Conference, Geldof blasted rich countries that were becoming indifferent to the pandemic and lashed Russia, Uganda and Nigeria for passing "medieval" anti-gay laws.
Geldof, who was given a standing ovation for a talk he gave to delegates about poverty and AIDS, said the disease could be wiped out, as all the tools needed were already there.
"This can be done," he said, clicking his fingers.
"The funding to finally eliminate this thing, to get the last mile done, should be unequivocally handed over and I mean handed over," he said.
"Because it's not a global health crisis (and) it seems to be a manageable disease now, there's no political pressure."
For rich countries, AIDS was "off our radar" because of anti-retroviral drugs that made HIV a manageable disease, he complained.
"Were people dying in the United States, in France, and in Germany and in England, I'm telling you, you would have massive political pressure to deal with this, massive, huge percentages of the budget would be focussed on it," he said angrily.
"Now it's in the poorest regions of the world inevitably, and so it goes off our radar... it seems so remote from us."
Campaigners 'should challenge governments' 
He condemned laws in Russia to bar dissemination of information about homosexuality as "medieval nonsense."
"In Russia the figures (of HIV infections) are increasing, which is one more of Putin's great disgraces," he said. "You know, the man is absolutely hopeless."
And legislation in Nigeria and Africa that punished gays was "inadequate leadership trying to get popular support," said Geldof.
Geldof said that AIDS campaigners should be "focussing on the empirical, by challenging governments" to live up to their commitments.
But, he said, a kneejerk response could only go so far. Putting in health care systems and bringing people out of poverty were the key.
"It's actually putting in place systems that help you deal with it, and that will benefit the growth of the economy."
Geldof, 62, lead singer with the Boomtown Rats, co-founded Band Aid in 1984 to help drum up money for famine relief in Ethiopia. He followed it the following year with the historic Live Aid concert, held in London and New York, to ease African poverty.
In Melbourne, Geldof made his first foray on the international stage since Peaches, 25, died in April -- a loss that, he said at the time, left his family "beyond pain."
On Wednesday, a British coroner confirmed she had died of a heroin overdose.
The inquiry found the 25-year-old TV presenter had started taking the drug again in February after giving it up three months earlier. Her mother, Paula Yates, who was Geldof's former spouse, died of an overdose in 2000.
Asked on Thursday whether it had been hard to make the return to the world stage, Geldof said simply: "No."
He dismissed the idea that campaigning for big causes was a route to self-healing. What mattered was to make a difference.
"It turns out that I can do this shit," Geldof said with a weary smile on his pale face.
"Sometimes, I mean, the needle twitches slightly, so you continue doing it."