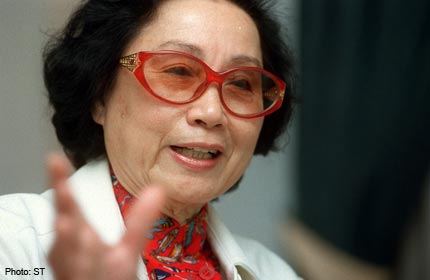 HONG KONG - Cantonese opera queen Hung Sin Nui, who was celebrated for her matchless tone - sweet, crisp, smooth, coquettish - died in Guangzhou on Sunday.
She was 89, said Ming Pao Daily News yesterday. The Guangdong Cantonese Opera Academy announced her death on Weibo on Sunday at 11pm, said the report. She had died of a heart attack.
Hung, whose name in Mandarin is Hong Xiannu, felt unwell during dinner on Sunday, said the academy's publicity director. She was sent to hospital, where she died at 8.40pm.
Hailed as a national treasure, she acted in nearly 100 operas and more than 90 films, said news website NetEase.
She was renowned for developing her Hung style of singing, which absorbed the techniques of Peking opera, kunqu and Western opera, said Ming Pao. Her renditions of Ode To The Lychee, Praise To The Pearl River and Lady Zhaojun are revered as classics.
About a week ago, she sang Ode To The Lychee at a banquet of the Guangzhou Cantonese Opera Troupe, said NetEase.
She was born Kuang Jianlian in Kaiping, Guangdong province.
Her maternal grandfather, uncle and aunt were Cantonese opera singers, and she grew up on Cantonese opera, said reports.
In 1937, when the Japanese bombed Guangzhou, her father became bankrupt and her mother took her to Hong Kong despite his objections. There, she started studying Cantonese opera under her aunt's tutelage in her teens.
She joined Cantonese opera master Ma Sze Tsang's troupe, married him and her star rose in Guangdong and Guangxi provinces, said reports.
After World War II, she studied Peking opera for three years in Hong Kong, where she also picked up other singing techniques and film acting.
Although she had an illustrious movie career in Hong Kong, she returned in 1955 to China, where she was denounced by Red Guards during the Cultural Revolution that rocked the mainland in 1966.
She was banished to a chicken farm, her hair was shaved off and she was banned from the stage for 13 years. However, she still practised singing while feeding chickens, she said in an interview later.
Ming Pao quoted her as saying: "If I had given up, they would have won. I couldn't give up, I had to stick to it."
Nor did she regret her decision to return to China, which she described as a choice of art over commerce. She said the market was more important than artistic merit in Hong Kong, but she believed that art should be spiritual.
In Hong Kong, "the script was often sent in a few days before the show", she said. "How could I be well-prepared? So I seldom performed on stage and turned to making movies."
Her one regret was "ageing too fast", she lamented. She said she wished she could return to her 20s.
She had two sons and a daughter with Ma, before they divorced in 1955. She later married writer Hua Shan.

Get a copy of The Straits Times or go to straitstimes.com for more stories.