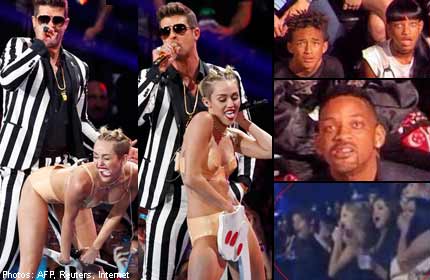 Miley Cyrus' controversial performance at the MTV Video Music Awards on Sunday (25.08.13) apparently left her fiance Liam Hemsworth "mortified" and unsure about the future of their relationship.
The 'We Can't Stop' hitmaker gyrated on stage with Robin Thicke in a flesh-coloured bikini during a rendition of his single 'Blurred Lines' at the event on Sunday (25.08.13) and her fiance is said to be "embarrassed" by her antics.
When Miley Cyrus took the stage at the MTV Video Music Awards (VMAs) on Monday, many were expecting an edgy and sexy performance. However, little did audiences know that the teen sensation was about to steal the show - in ways many would rather forget.
Cyrus, 20, had gone on stage to sing her song We Can't Stop, followed by a duet of Blurred Lines with singer Robin Thicke. During the performance, she showed off her new dance moves, or 'twerking' which involves the shaking of her hips up-and-down so that the dancer looks like she is bouncing.
On stage with her were men and women dressed in bear costumes. At one point, she appears to sniff and slap a dancer on her buttocks.
When Robin Thicke appeared on stage, Cyrus, who was dressed in skimpy nude lingerie, put on a rubber glove and waved it around in suggestive ways which shocked the audience.
A source told RadarOnline.com: "Liam really does care about Miley, but her racy new look and sort of ghetto attitude isn't exactly what he signed up for.
"Her VMA performance absolutely mortified him and he couldn't be more embarrassed. He doesn't really see anything sexy about what she did on stage."
Their relationship could be coming to an end with the 'Hunger Games' actor growing disillusioned with her wild behaviour.
The insider added: "It's pretty much over. He knows he can't stay with her when this is who she's become ... He doesn't want to babysit her anymore. He has to move on."
Liam's team are apparently pushing him to end their romance because they fear it will damage his career.
The insider added: "It's not just Liam that Miley is pushing away ... His entire team is urging him to part ways with her because she's nothing but negative for his reputation and career.
"Liam is a serious actor with a growing career, while Miley has just turned into a joke."
Many Twitter users and critics have since criticised her bizarre performance as tasteless and vulgar. Buzzfeed even compiled screenshots of celebrities' reactions while Miley performed on stage.
Of the reactions featured on various news outlets, Will Smith and his family seemed the most confused. Best friends Taylor Swift and Selena Gomez also seemed taken aback at certain points during the performance, covering their mouths with their hands just as Cyrus' performance came to an end.
It is possible that some of the reactions captured on camera could have been taken out of context. Nevertheless, there is no doubt that Miley's daring performance on Monday will remain the topic of many online and offline conversations this week.

Visit STOMP for more stories.