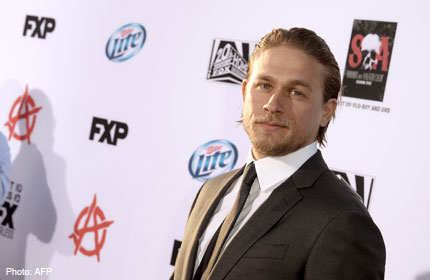 My dreams of the perfect guy playing the handsome, bondage sex-loving charmer with a dark side went down the toilet when it was announced last month that British actor Charlie Hunnam (left)would play Christian Grey in the movie adaptation of Fifty Shades of Grey. I mean, take a good look at the man. Which boxes does he tick in my description of Grey?
But I and many other Fifty Shades fans can breathe a bit easier now after Hunnam, 33, backed out of the muchanticipated movie on Saturday.
Universal Pictures released a statement claiming that Hunnam's "immersive TV schedule is not allowing him time to adequately prepare for the role of Christian Grey". Biker gang TV series Sons of Anarchy over a potential worldwide blockbuster? Seriously?
And of course, this has absolutely nothing to do with fans lamenting that Hunnam just isn't sexy enough for the "laborious role".
In a cover story about the TV show, Hunnam told Entertainment Weekly this week: "There are so many fans of that book and I know that on the surface, I am probably not what everybody imagined."
Dude, I'm just glad you were selfless enough - or nervous enough - to vacate the role, and spare fans from cringing.
An industry source told American gossip site HollywoodLife.com: "That's all just smoke and mirrors. Charlie got cold feet.
"He wanted to get out of the movie because he was feeling like it would be his version of Showgirls and he didn't want to be remembered for that.
"It definitely didn't help that the feedback to Charlie's casting was so lukewarm... add that with the studio execs being highly disappointed by the reaction to the casting, they wanted to start over with a clean slate."
Hunnam was set to appear in the movie, which was initially scheduled to be released in August next year, alongside US actress Dakota Johnson, who will play the bestseller's virginal Anastasia Steele.
The movie adaptation of the trilogy, which has sold more than 50 million copies worldwide, was always going to be a closely watched affair, thanks to the series' passionate fans.
Petition
After Hunnam and Johnson were announced as the stars, a petition was started on change.org to recast the movie with actors Matt Bomer and Alexis Bledel, and it has garnered more than 86,000 signatures to date, the Huffington Post reported.
Now that Hunnam is out of the picture, fans are taking to polls online to have their say about who should step in.
The favourites? The Vampire Diaries star Ian Somerhalder and Twilight heart-throb Robert Pattinson.
There may be some wariness about stepping into such role, but I say being second choice doesn't really matter.
After all, the role is bound to take any actor's career to new heights.
Who should play Christian Grey?
Ian Somerhalder
YAY: His steely gaze can project the persona of the ruthless "master" in the books' "red room of pain".
YAY: On The Vampire Diaries, Somerhalder plays the mischievous yet caring brother Damon Salvatore, famous for walking around his home bare-bodied. Very Christian Grey-like.
Matt Bomer
YAY: His droolworthy abs and body type seem to fit the description of Christian Grey.
NAY: He has a face that's too kind. That face looks like it would be awkward in the red room of pain surrounded by toys meant to arouse and inflict pain.
Robert Pattinson
YAY: If he could pull off anything Christian Greylike, it's likely to be the "I'm staring at you" effect.
NAY: Pattinson is a sentimental choice mostly because of his involvement with the Twilight saga.

Get The New Paper for more stories.