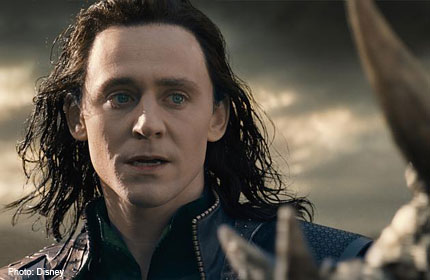 Tom Hiddleston is an unlikely pin-up.
His visage is pale as porcelain. Laugh lines cloak his too-young 32-year-old eyes. His ears are oddly unbalanced organic forms triangulating into a smooth chin on the quirkier side of slender.
His lips are too thin and his screen hair as the villain Loki in Thor: The Dark World - that back- combed, forehead-exposing cascade of Brylcreemed dark waves - has maximum badass effect on film.
Luckily for him, not all of the hair is real.
"This one was an extension… I had a lot of help," the British actor says, speaking in an one-on-one interview in London. "The only time it was my own hair was in the first Thor film, when it was grown out and dyed."
So how did this young antagonist turn the tables on the blond-haired, blue-eyed hunk of an Australian leading man Chris Hemsworth in not one but three movies, including Thor (2011) and The Avengers (2012)?
As the latest instalment of Norse mythologyinspired adventure The Dark World opens this week, Hiddleston smiles benignly at having scored the best quips and scene-stealing moments as the not-your-usual-baddie.
"There's a vulnerability to Loki's deviousness, he's a cocktail of different things," Hiddleston explains.
"We go through two hours of hair and make-up. After I come out of the other side, the mask of Loki - the black hair, the costume - changes my features so severely I think my own playfulness is distorted.
"If I'm just playing mischievous, I look more wicked because of the shape I'm in. But also, he is the god of mischief. If you look up the dictionary, it says: an inclination to be playful, to tease. Or it says: destruction or damage, and it sums him up in lots of ways."
Up close and clean-cropped, you realise that Hiddleston, like Hemsworth, is actually also tall (1.87m), blond-haired and blue-eyed. He wears a white tailored shirt with rolled-up sleeves under a grey waistcoat cut ridiculously close to a lean frame.
"I certainly had to stay fit to play the part because of Loki's particularly prickly martial arrogance, and he can hold his own in a combat situation," he says.
"It's different from Thor but it's lethal. I do a lot of running and circuit training and suspension training. In a way, it's not that different from anything else I do. Acting is such a physical endeavour in any capacity. It's so rare that you do something that doesn't demand a physical commitment and your body has to be able to have the stamina to bounce back again the next day."
Around the world, women wait for him at airports bearing placards of "Loki's Army", embracing his antihero's cult value over Australian co-star Hemsworth's good-guy appeal.
But Hiddleston, who had starred in the acclaimed British series Wallander before his 2011 Hollywood break with Thor, will have you know that the two actors are the best of buddies, having undergone the initiation ritual of forging lead roles together as relatively untested actors in the same major Hollywood deal.
"We had the same enthusiasm and fears over this huge thing we were about to embark on," he says in a group interview with Hemsworth.
"One of our first conversations started with the films we loved. We're from opposite ends of the planet but we obviously loved the same things."
Hemsworth reveals what these are: "Gladiator, Braveheart, The Goonies… Princess Bride."
Hiddleston agrees: "Yeah, Princess Bride. Superman. All that cool stuff."
It is Hemsworth who reveals more of Hiddleston, as you try to scratch below the perfect, polished sheen of the supervillain who is really an elusively polite and charming public schoolboy with an undisputed pedigree: Eton College, double first in Classics from Cambridge, training at Royal Academy of Dramatic Art.
The second of three children born to a scientist father and arts administrator mother, he speaks French but will not show it off in your face.
He knows his Shakespeare by heart, only subtly hinting at it in reference to Othello's Iago and King Lear's Edmund sharing the same psychological space as Loki. The bachelor gives away little of himself while at the same time sending out suave vibes of magnanimity and confidence.
You have to do your homework to find out that he spends his free time hanging out with fellow posh actor Benedict Cumberbatch in Hampstead's trendier cafes, vetting scripts and talking clever things while keeping an eye out for paparazzi photographers and parking inspectors.
Or he would be gracing the best seats around Centre Court with mysterious blondes during the Wimbledon tennis season.
The man himself will regale you with all sorts of knowledge and ideas about other people and other things, all the while reinforcing his words with a trademark unflinching and quizzical stare.
"All acting is an act of imagination. You are simply conjuring up imaginary circumstances in your mind and responding truthfully to them," he begins, reeling off a string of effortless, lovely words.
"In films involving a lot of green screen work, you are staring into an expansive nothing, having to imagine what's to be a spaceship or an explosion or a particular vista.
"That's no different from being on stage. But of course, the difference is that on stage, you get to do the whole thing night after night of a run. On film, it's much more of a jigsaw puzzle - your moments of truthful imagination are broken up piece by piece. In your mind, you have to have the sense of the whole in order to keep yourself on the straight and narrow."
So this is why fans are all a-flutter when he turns on his thespian English charm: Indeed, talk has it that it was his sheer persuasiveness which convinced studio heads to rework a storyline in the latest Thor movie, resulting in a radical change in his character's intentions.
"I wanted to find something new to do. We all did. We'd seen Thor and Loki against each other in two films," he says. "Wouldn't it be amazing if, for some reason, they had to get together? Because that would be a dynamic, it would be interesting and complex and fun and offer lots of opportunities for both drama and comedy.
"When you're coming back to do a sequel, you have to keep it fresh for yourself and your audience. Nobody wants to see the same team again."
Mindful of even larger, changing plots in the global movie and fan industry, he has also made recent strategic trips to China and South Korea on behalf of the film, wooing new fans with bizarre TV appearances on game shows where he is shown dancing to a routine by girl-group Crayon Pop and, um, getting his nipples tweaked by a man in a grey wig.
Of this, he remains gallant, if unbelievably gushing: "Seoul was extraordinary. They asked me to dance and I did jump up and down a bit. Pop culture is alive and well in Korea, but I'm sure you don't need me to tell you that. Above and beyond, there was so much generosity - people were so kind, so warm, so enthusiastic. I felt really touched."
It is standard PR-spiel rendered into delightful verse with the flash of an earnest smile and sparkling eyes. While Hiddleston seems genuine here, you can also easily imagine him being ironic on a different day.
But his world is not going to stop with Thor, or indeed with screaming fans in China and South Korea.
Woody Allen watchers will recognise his striking features as F. Scott Fitzgerald in Midnight In Paris (2011), while Spielberg appreciators would have seen him as Captain Nicholls in War Horse (2011).
His turn as a vampire in cult indie director Jim Jarmusch's Only Lovers Left Alive (2013), opposite Tilda Swinton, has opened to rave reviews at the Cannes Film Festival. He says: "The vampire thing for Jim is a way of getting into questions of acceptance of love, because if you have two characters who live forever, what does love mean?
"It is a conceit, a conduit into an exploration on immortality and this question of if you had forever to live, how would you spend your time, how would you read, play music, how would you engage with the world?"
What is his personal answer to those questions?
True to form, he quotes somebody else - beautifully - again: "Tilda's character, Eve, says something quite magical: Life is about appreciating nature, nurturing kindness and friendship.
"And plenty of dancing."
stlife@sph.com.sg

Get a copy of The Straits Times or go to straitstimes.com for more stories.