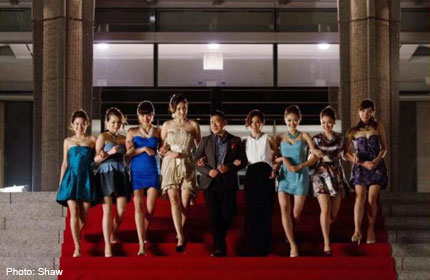 The Midas Touch (PG)
Comedy/99 minutes
Rating: 2.5/5
Touted as a film that will spill the beans on the dark side of the entertainment industry, Hong Kong flick The Midas Touch tells the story of two talent managers and their bid to propel their small-time starlets to fame.
The trailer even sells a cheeky message about the comedy: It's totally non-fictional.
Hong Kong funnyman Chapman To plays a debt collector, Mai Chao, who takes over a model agency when the owner is unable to settle a debt.
Along with the agency, Mai inherits a group of leggy women with strange quirks and bizarre talents. One of them is a doe-eyed beauty whose talent is to bark like a dog.
The overconfident manager soon finds himself at a loss and seeks the help of a successful talent manager, Sun Mei Mei (actress-singer Charlene Choi).
Though the plot comes across as far-fetched and incoherent at times, it is peppered with humorous incidents that take potshots at showbiz.
Struggling to make a name for the girls, Mai gets the skimpily dressed lasses to gatecrash a big-shot celebrity's press conference. Their exploit ends up in the newspapers, but their reputation is sullied.
In another instance, he unwittingly sends them off to an audition where they are tasked to lick strawberries seductively.
Trust veteran joker To to deliver the film's slapstick, crude humour with ease. After all, the rubber-faced actor is no stranger to raunchy comedies of the likes of this year's SDU: Sex Duties Unit and last year's box-office hit, Vulgaria.
Co-star Choi, one half of Cantopop duo Twins, is less convincing in her portrayal of the shrewd manager Sun.
Still, one must give credit to the cherubic actress for hamming it up for the camera - prancing around with a male celeb's underwear - in portraying her character's secret fetish.
Typical of many Hong Kong and Chinese movies, The Midas Touch boasts a string of guest appearances. A notable cameo to look out for is real-life Twins manager Mani Fok, a former model who plays herself as the manager of Hong Kong actor Nicholas Tse.
It's also a case of reel life imitating real life for the eight female celebrity wannabes, who are played by fresh-faced rookie actresses looking to make their big break in showbiz.
Sadly, their flat acting and forgettable personas didn't leave much of an impression.
Perhaps a little advice and the Midas touch of the acclaimed Fok - who also manages singer Joey Yung - might do them some good.
nggwen@sph.com.sg

Get My Paper for more stories.