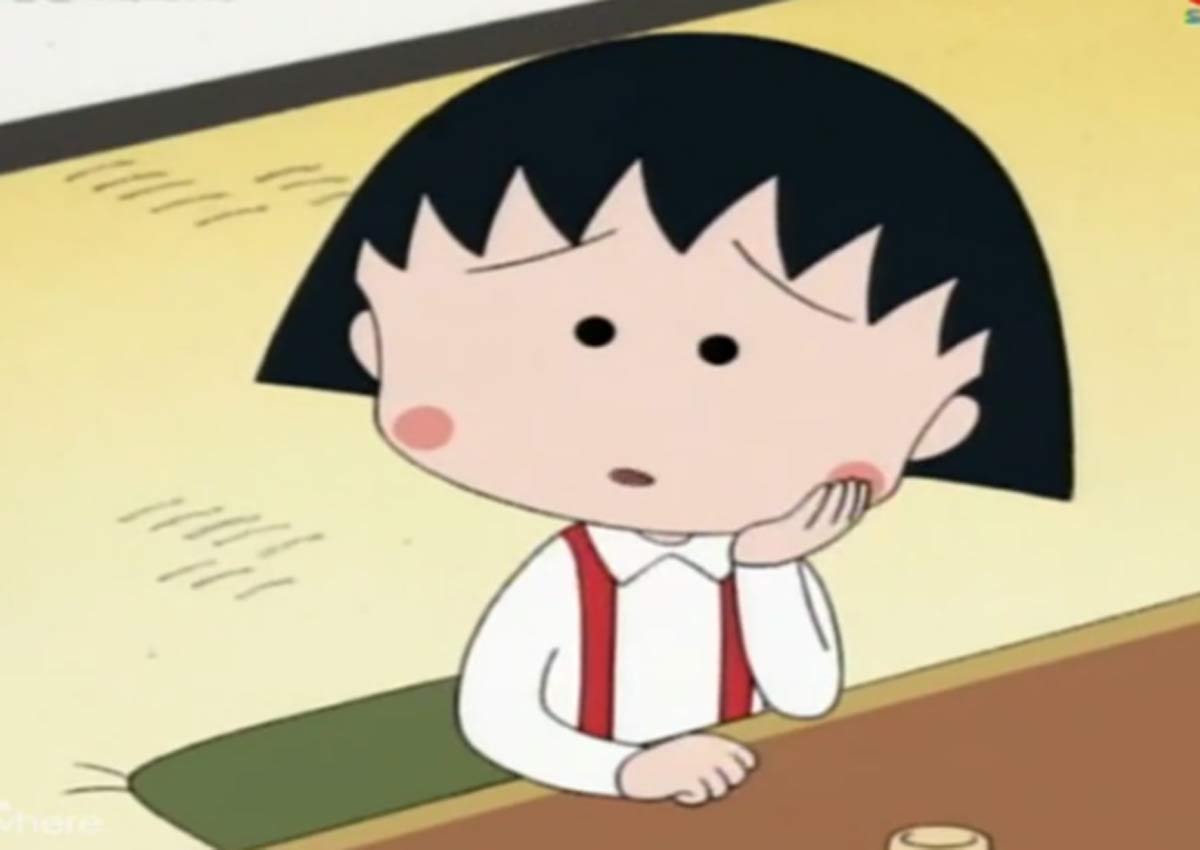 The nationally popular series "Chibi Maruko-chan" is celebrating the 25th anniversary of the launch of its TV anime version, to be followed by the 30th anniversary of the original manga's debut next year.
First appearing in a monthly manga magazine published by Shueisha Inc. in 1986, Chibi Maruko-chan comic books have been published in 16 volumes, selling a total of 35 million copies. The anime version is now airing on the Fuji TV network on Sunday, 6 p.m.
The manga and anime depict the daily life of Maruko, or Momoko Sakura, a third-year primary school student and the second daughter of a family in the city of Shimizu (Shimizu Ward in Shizuoka today), her grandparents, parents and elder sister, often cheerfully and comically, but sometimes wistfully.
Both the manga and anime versions are loved for their retro flavors harking back to the Showa era (1926-1989). To mark the occasion, this article highlights the attractions of Maruko, with a message from the manga's eponymous author Momoko Sakura and interviews with those who have been involved in the anime production.
A message from the author
By Momoko Sakura
This year marks the 25th anniversary of the start of TV anime version of "Chibi Maruko-chan." When the anime started airing, I did not expect the program to last for such a long time. Now I'm so grateful for the warmhearted support of fans and others.
The manga "Chibi Maruko-chan" started serialization in 1986 and the anime started airing on TV in 1990. For about 10 years after the anime's launch, I worked on both the manga and the anime scripts. Writing anime scripts was a lot of fun for me because I was able to write for background music and animated scenes, which cannot be expressed in manga. However, it was tremendously labor-intensive to work on both the manga and anime scripts every week. In addition to these, I had other tasks, such as writing essays. So I was literally too busy to sleep.
However, all the staff in the anime production team really treasured "Chibi Maruko-chan," continuously creating the anime world, which has a different taste from that of the original manga. I'm convinced that it is thanks to the anime staff's sensible consideration that the anime series has continued for such a long time.
Lately, I have been writing anime scripts only a couple of times a year. But I still feel like writing select thematic scripts on special occasions.
I don't know how the anime will turn out from now on, but I'm sure I'll be able to come up with fun expressions each time. Hitting upon a fun expression gives me a pleasure of creation, so I'd like to try new and different things. Please continue to support us!
Maruko still a little girl to Tarako
Voice actor Tarako, who dubs the voice of Maruko in the anime version, spoke about how she feels on the 25th anniversary.
I feel like it has been a long time but at the same time it was so short. Yet, it was certainly so long. The attraction of "Chibi Maruko-chan" is the work's unchanging worldview. It doesn't try to cater to contemporary society. The characters still use dial phones, and it is all the more refreshing to viewers' eyes because of that.
While Maruko remains a little girl, I'm getting older and my voice is changing. So, I always feel worried about whether viewers might feel awkward about my voice as Maruko. (Laughs.)
But when I go to the studio for the post-production dubbing, I can naturally produce Maruko's voice once I see her pictures. So I think I'm still OK.
What I remember most is the episode that aired in October 2008, the week following the sudden death of my father. It pained me when I had to say "Otosan" (father) in Maruko's voice. The Sakura family in the anime has a similar family composition to my own, so I might have felt even more sentimental.
While there are many impressive Maruko catchphrases, what I like most is, "Ahn, Ikezu" (Oh no, you bully). It sounds so cute, doesn't it? Working as a voice actor for the Maruko character is my lifework. So, I would like to continue this work as long as I'm healthy.
Director: Maruko is like us
Jun Takagi of Nippon Animation Co., who has been directing the anime for many years, analyzed the attraction of "Chibi Maruko-chan."
Maruko is a protagonist who doesn't look like a protagonist at all. She doesn't have any outstanding ability and is not particularly pretty. Even more, she is often so lazy in daily life. In short, we are attracted to the character because she is like us. Viewers will feel Maruko intensely and find it easy to empathize with her.
In addition, the character is powerful because her facial expressions are so simple and lack unnecessary elements. When Maruko is shocked by something, her facial expression completely changes. We, the members in the production team, call it "ase-tara tate-sen" (vertical lines with sweat). It has a huge appeal to viewers because it is so different from her normal face.
When the "Chibi Maruko-chan" anime started airing in 1990, what was central at Nippon Animation was "Sekai Meisaku Gekijo" (Theater of world masterpieces) and people didn't pay much attention to Maruko. We used to say things like, "It'd be nice if Maruko would continue for a year," but it turned out to go on for 25 years!
The anime can be enjoyed by families of three generations, from small children to their grandparents, which is probably the reason why the anime was much better received than we had expected.
A total of 200 staff members produce 4,000 "doga" moving images every week. It usually takes half a year to complete one episode with minute care.
We hope we'll be able to create various versions of "Chibi Maruko-chan," such as a period drama version and a fairy tale version.
Chibi Maruko at planetarium
To celebrate the anime's 25th anniversary, Konica Minolta Planetarium Tenku at Tokyo Skytree in Sumida Ward, Tokyo, will screen the first program featuring the anime from July 18.
The 28-minute program will show Maruko and her friends becoming interested in constellations through horoscopes, learning to identify the 12 constellations of the zodiac as well as the planets in our solar system.
For more information, please visit www.planetarium.konicaminolta.jp/tenku/program/family/summer_15/
A new film due in December
The Japan News
To celebrate the 25th anniversary of the anime's launch, the film adaptation of "Chibi Maruko-chan" will be released on Dec. 23, the first Chibi Maruko film in 23 years, it was announced Friday.
The script will be written by the manga's author, Momoko Sakura.
"Maruko and other characters will be back on the silver screen in a cheerful and heart-warming drama," a Nippon Animation official said.