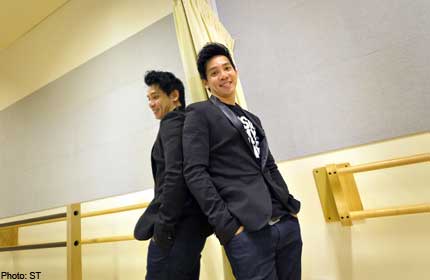 SINGAPORE - This Friday, former Singapore Dance Theatre resident choreographer Jeffrey Tan (right) will step back into the limelight with his first major artistic endeavour since leaving the company.
Tan, 44, will be joining T.H.E Dance Company as an associate artist, and will present his multi-disciplinary creation, Command Pattern, as part of its upcoming show New Vision.
The company's artistic director Kuik Swee Boon, 40, himself an Singapore Dance Theatre alumni, says: "After Goh Choo San, Jeffrey is one of the most recognised choreographers in Singapore. His contribution to the local dance scene in the past is very important, and will be so in the future as well."
The late Goh found fame with the Washington Ballet and also worked with the Joffrey Ballet and the Royal Swedish Ballet.
Since leaving Singapore Dance Theatre five years ago, Tan, who is now the principal of the Singapore Ballet Academy, has been keeping a low profile. He says of his decision to quit, after Goh Soo Khim left and Janek Schergen took over as artistic director: "I guess the environment changed, the director changed and I thought it was the right moment to leave.
"I've been very lucky and given the opporunity to explore many things, such as theatre and musicals."
Since then, the bachelor has taken up commercial and educational jobs to pay the bills. He choreographed performances such as the Singapore Lyric Opera's Carmen in 2011, and was the choreographer for the National Day Parade from 2009 to 2011.
In 2009, he also joined the School of the Arts as a ballet teacher and guest choreographer.
From 2011 to June this year, he was the head of dance at Singapore Chinese Girls' School.
While Tan says that he enjoyed his foray into the commercial and educational worlds, he was not completely satisfied.
"It was not what I wanted to do. I wanted to choreograph for professional dancers, and to venture out more." However, when Kuik first approached him in 2011 to create a piece for T.H.E, Tan was wary.
"At first, I was not very confident of doing things, after being in the commercial world and teaching in schools. When Swee Boon first approached me, I didn't know the company or its style."
But his close relationship with Kuik and the latter's trust in him finally sealed the deal. Kuik says: "I know him very well, and I told him, you just have to trust yourself... Maybe the situation changes, the tools change, but the experience and skills are still in him."
So two years ago, Tan created a one-off work for the company, Remains Remain. The experience was so fruitful that when Kuik approched him this year to come on board as an associate artist, he immediately said yes. From now, Tan will choreograph at least one work a year for T.H.E.
Tan also has plans for the Singapore Ballet Academy, of which he has been principal since earlier this year. He is looking to start its first ever performing group this month and an all-male ballet class for boys aged 13 to 18.
He says that out of 500 students at the academy now, only five are boys. "There's still the impression that ballet is a 'girl' thing, so with an all-boy class, then boys might feel more comfortable.
Referring to the hit 2000 movie about a boy who defies his father to become a ballet dancer, he says: "I hope it will make them more daring, like Billy Elliot."

Get a copy of The Straits Times or go to straitstimes.com for more stories.