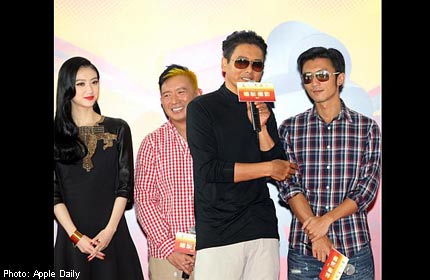 Hong Kong - Chow Yun Fat is headlining his first TVB production in decades, a Chinese New Year comedy also starring Nicholas Tse.
Back in 1981, before he became a movie star, Chow had appeared in the TVB gambling drama The Shell Game II, with Tse's father, Patrick.
At a press conference for the new movie in TVB City on Sunday, Chow joked: "When I was filming at TVB, Nicholas' mum and dad took care of me a lot. This time, I'll show my gratitude. I'll see if there's a chance to bully him."
Director Wong Jing said Chow was receiving a Hollywood pay cheque for the Hong Kong production, the actor's first in years after a decade packed with Hollywood movies and Chinese co-productions including Bulletproof Monk (2003) and Let The Bullets Fly (2010).
Wong did not say how much Chow would be paid exactly. According to Ming Pao Daily News, the actor's usual fee is US$8 million (S$10 million).
Chow said it had been a long time since his last Hong Kong movie, adding: "I watched Nicholas Tse grow up and Nicholas is so big now. He's married and having babies."
Tse cut in, saying: "I'm also divorced", and a stunned Chow answered that he had not heard about it.
He quickly recovered though and quipped: "How come you're divorced faster than me?"
Tse was left dumbfounded as reporters laughed, according to NetEase website.

Get a copy of The Straits Times or go to straitstimes.com for more stories.