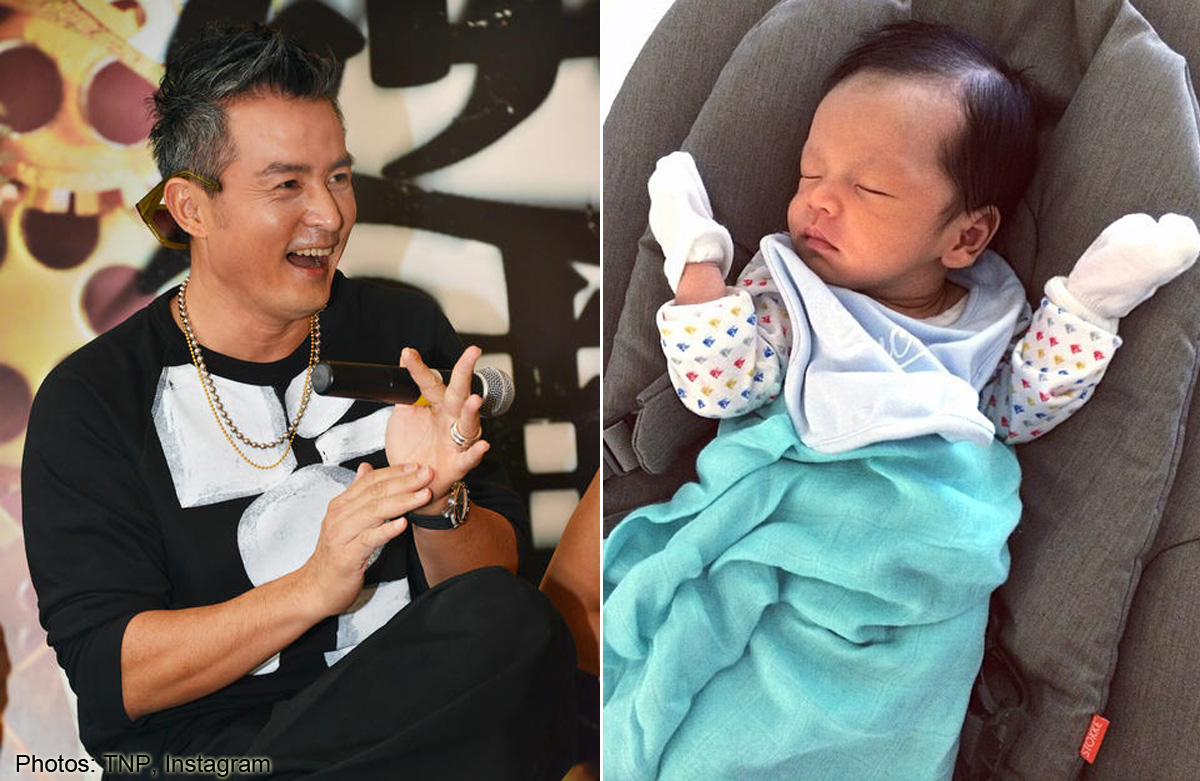 SINGAPORE - Local actor Christopher Lee may have had his newborn son Zed's poop splattered all over his shirt.
But the 42-year-old did not mind it one bit.
Instead of feeling exasperated, Lee smiled when it happened on Wednesday as he saw it as a sign of good luck.
And in a way, it was.
The actor received good news the next day - he was nominated for the highly coveted Best Actor title at the prestigious Golden Bell Awards, Taiwan's equivalent of the Emmy Awards.
He was nominated for his role as a loving husband who got cheated on in the drama A Good Wife, which saw him acting opposite Taiwanese bombshell Tian Xin.
Lee told The New Paper in a one-to-one interview during the press conference of his new Channel 8 drama, Against The Tide, yesterday: "I was happy even though Zed pooped all over me when I was changing his diaper. I told Fann that maybe I would strike lottery.
"Then I heard the good news the next day, I think Zed brought me good luck."
Lee was clearly in a good mood during the press session at Goodwood Park Hotel, as he joked around with his co-stars Rui En, Desmond Tan, Carrie Wong and Xu Bin.
In the drama, he plays a mystery-crime novelist implicated in a sex and physical abuse case, and tries to clear his name by getting involved in the investigation. The suspense-thriller premieres on Channel 8 next Wednesday at 9pm.
During the interview with TNP, Lee, whose son was born on National Day, could not hide his elation at being a new father.
Little Sleep
He described in detail how he and his wife, actress Fann Wong (right), 43, have not been sleeping much, as they have to wake up every three hours to feed and take care of the baby.
"It is a 24-hour job. I wake up together with Fann to accompany her even though she is the one breastfeeding Zed. It is more tiring for Fann than me," Lee said,
"There is no time to rest. We try to sleep when the baby is sleeping but in the end, we don't get much sleep at all."
Despite the fatigue, Lee wants to personally take care of his son for the next three months. To him, it is precious bonding time that cannot be missed.
Describing his son, Lee said: "Zed is of strong character, just like Fann and me. He can be impatient and cries persistently when he is hungry. And when he cries, he can really tear the roof down with his loud voice.
"It can be quite difficult to take care of him but I think the first two months are always the hardest."
Lee said he and Wong had come up with the Chinese name for Zed - Lee Xi Quan, which refers to the breaking of dawn and has a positive meaning to it.
He also explained that he did not name his son after a World Cup football player like he initially said he would, as both he and Wong preferred the name Zed.
He said: "We chose 'Zed' from a name dictionary. We like single-syllable names, and Zed means righteous."
Lee hopes to bag the Best Actor award on Oct 25. He is up against Taiwanese newcomer Zhang Ting Hu, 23; Taiwanese host-actor Junior, 33; veteran actor Blue Lan, 35; and Taiwanese model-actor Hans Chung, 31.
Lee was first nominated for Best Leading Actor in a mini-series at the 47th Golden Bell Awards in 2012 but did not win.
He said: "I want to give myself some faith this time round but I don't want to be overconfident about it. I am feeling positive now, and I will bask in this happy atmosphere until the awards ceremony in October."

This article was first published on September 20, 2014.
Get The New Paper for more stories.