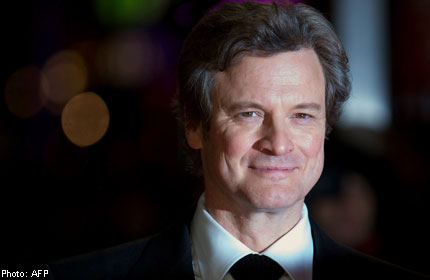 LONDON - Oscar-winning British actor Colin Firth will provide the voice for Paddington Bear in a new movie about the marmalade-loving children's character, he revealed on Friday.
Firth, who won an Academy Award for his portrayal of Britain's stuttering king George VI in "The King's Speech", told the Daily Mail newspaper the Peruvian bear would be computer-generated, with the rest of the characters played by real actors including Nicole Kidman.
"Paddington will be computer-generated, and I will speak his lines with, I suspect, a slight Peruvian flavour," Firth, 53, told the Mail.
"Every other character in the film will be real, live human beings.
"But the idea is that Paddington will have something of me in his DNA because I'm going to do some sessions wearing one of those helmets with cameras to capture my face muscles, and all that data will somehow be incorporated into Paddington."
Kidman will play the villain in the movie spearheaded by David Heyman, the producer of the Harry Potter movies.
One of the best-loved characters of classic English children's literature, Paddington is known for his duffle-coat, battered suitcase and love of marmalade sandwiches.
He is unfailingly polite, but has a knack for getting into trouble.
He first appeared in 1958 in Michael Bond's book "A Bear Called Paddington", in which the Brown family find him sitting in London's Paddington train station, having made his way there from "darkest Peru".
The family adopt the bear - who carries a sign reading "Please Look After This Bear" - and he goes on to have 20 books' worth of adventures.
Heyman had announced last year that he was teaming up with France-based film studio Studiocanal to update Paddington's adventures for the big screen.
Filming starts in September and it is due in cinemas in November 2014.
The movie will also feature Julie Walters and Jim Broadbent, both of whom worked with Heyman on the Harry potter films.
Paul King, director of the British TV comedy series "The Mighty Boosh", is to direct the film, according to the film trade magazine Screen Daily.
The Hollywood Reporter said Kidman would play "an evil taxidermist out for revenge".
The stories have previously been adapted in cartoon form and using puppets.