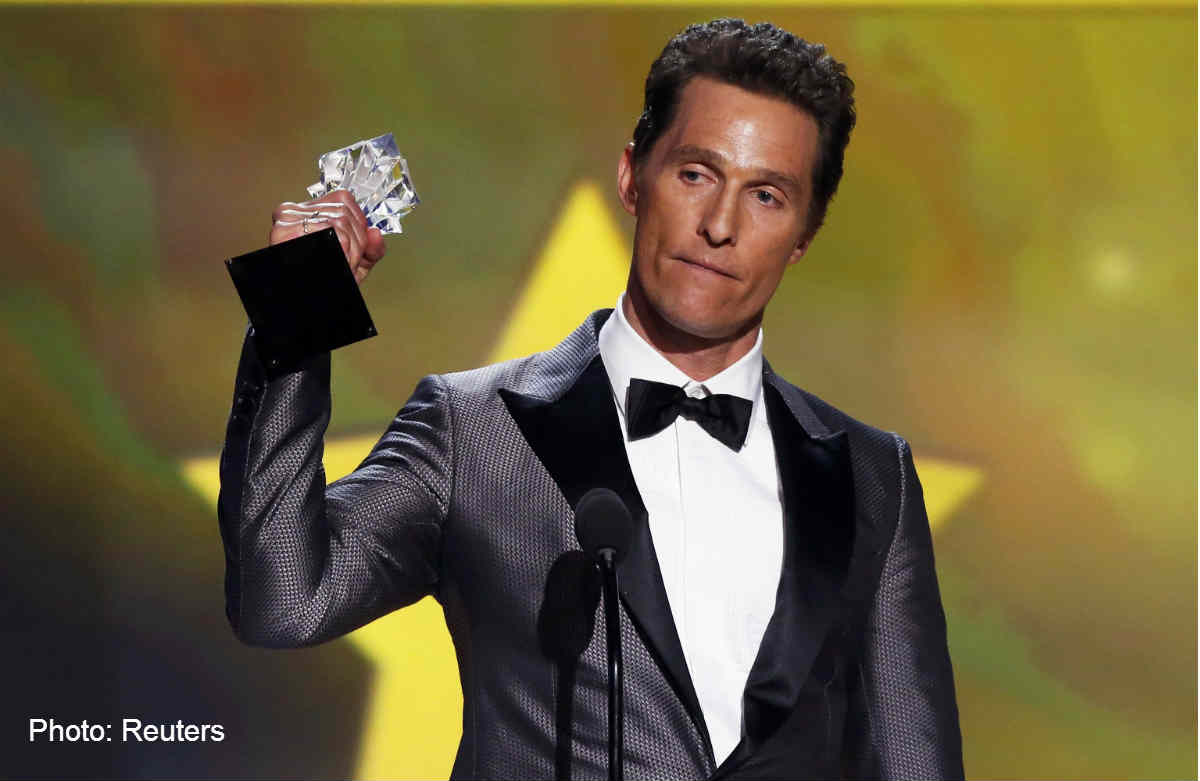 UNITED STATES - Five years ago, the thought of Matthew McConaughey winning an Academy Award would have been laughable. Not any longer.
McConaughey is the favourite to win the Best Actor Oscar this year for his performance as an AIDS victim in Dallas Buyers Club.
Based on a true story, the drama opens in theatres here on Thursday.
"These kinds of roles don't come along that often, and if they do, no one wants to make them," he told The Wall Street Journal.
"It was a really original take on the AIDS crisis told from this one man's point-of-view. Who was a son-of-a-b--. Who was not a saint.
"It's ironic that a man out for self-preservation, unbeknownst to him, becomes a crusader. Becomes a face and a leader for change for those, like himself, who had HIV."
Having started promisingly in the 1990s, McConaughey spent the better part of the 2000s playing the bongos. Shirtless.
Also, he made some REALLY bad movies.
Now here we are in 2014, and the 44-year-old is several movies deep into one of cinema's greatest comebacks.
They're calling it a McConaissance.
"McConaughey makes coming back, like everything else he does, look easy," wrote a scribe for The New Yorker.
But it wasn't THAT easy. There were five crucial steps!
Step one: Put on a shirt, dude
In the 2000s there was a stretch of about five years during which McConaughey's man-boobs reigned supreme.
The tabloids were filled to bursting with pictures of him frolicking on the beach. His torso also starred in flicks such as Failure To Launch (2006), Fool's Gold (2008) (left) and Surfer, Dude (2008).
Over the past few years, however, McConaughey has given his guy-puppies a breather. His page count in the tabloids has decreased, and he's mostly kept covered on screen.
Of course, 2012's Magic Mike is a HUGE exception, but its self-awareness redeems the nudity. It's meta-shirtlessness.
Step two: Dude, settle down
For most of his career, McConaughey had a reputation as a ladies' man. He's been linked to some of the hottest babes in Hollywood, including Ashley Judd, Sandra Bullock, Janet Jackson, and Penelope Cruz.
He's also been known to enjoy booze, as well as... other stuff.
It was only when he started to settle down with Brazilian model Camila Alves (left) that his career began to turn around. The couple had three children over the past six years and were finally married in 2012.
Amazing what a man can accomplish when he's not chasing skirts!
Step three: Stop making bad movies, dude
McConaughey acted in a string of lame movies during the 2000s.
Over the course of the decade, his name became synonymous with second-rate rom-coms. His list of crimes against humanity includes: The Wedding Planner, How To Lose A Guy In Ten Days, Failure To Launch, Fool's Gold and Ghosts Of Girlfriends Past.
Aside from his horrid romantic comedies, he also made some unsuccessful action movies, such as Reign Of Fire (left) and Sahara.
It was a decade of unrelenting futility, with perhaps the only bright spot being We Are Marshall.
Step four: Dude, make good movies
Over the past few years, McConaughey has quietly built up one of the most enviable filmographies in the business.
The awesomeness started with The Lincoln Lawyer (2011) (left), and then that same year, he played another lawyer in Bernie.
Then came the smooth assassin of Killer Joe, the intrepid journalist of The Paperboy, the romantic fugitive of Mud, and the alpha-stripper of Magic Mike.
Each of these roles is an absolute gem showing off McConaughey's surprising intelligence and passion, but the best was still yet to come!
Step five: Win some awards, dude
No comeback is complete without winning a big award that finally proves you're not the idiot everyone thought you were.
With his performance in Dallas Buyers Club, McConaughey is winning more than his fair share.
His performance as a rodeo stud who gets AIDS is the sort of thing that awards voters love.
His character transforms from homophobic redneck to a loveable guy who not only hangs with gays, but also saves their lives.
He's already won the best actor awards from the Golden Globes, the Critics' Choice Movie Awards and the Screen Actors Guild - and we're not counting the smaller, festival-typed awards. The smart money is on him to win the Oscar.
Himbo triumphant!
jjohnson@sph.com.sg