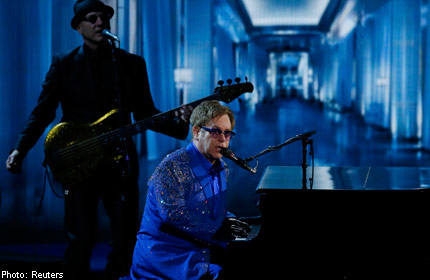 LOS ANGELES - Comedy stars grabbed early prizes at the Emmys Sunday, while the TV world waited to see if Netflix drama "House of Cards" could become the first online-only show to take a major prize.
Jim Parsons of "The Big Bang Theory" took the best comic actor award, while political comedy "Veep" scored two wins with best actress for Julia Louis-Dreyfus and best supporting actor for Tony Hale.
Elton John meanwhile made a moving tribute to Liberace, playing a new song and acknowledging the gay piano icon's influence on his own music "and my dress sense," saying: "This guy played a mean piano."
Emmys host Neil Patrick Harris joked about the television industry's radically changing formats in his opening monologue, saying: "For our younger audiences, that's the thing you watch on your phones."
Kevin Spacey contributed to a hilarious opening skit, as the camera cut away from the stage to him in the audience, deadpanning: "It's all going to my plan," in character as scheming "House of Cards" congressman Francis Underwood.
The Netflix political drama aims to become the first online-only series to win in major categories at the 65th annual Primetime Emmy awards show, the TV world's equivalent of the Oscars.
But it faces stiff competition from critically-acclaimed AMC thriller "Breaking Bad," which many are tipping to win the evening's top prize for best drama on its fifth nomination.
Terror-themed thriller "Homeland" and multiple-Emmy winning "Mad Men" are also in the running for best drama, while "American Horror Story: Asylum" has the most nominations of all, with 17 nods at the awards gala in Los Angeles.
"Game of Thrones" comes next in overall nominations with 16, while "Breaking Bad" has 13. On the comedy front, "30 Rock" led with 13 nods, followed by "Modern Family" with 12 and "The Big Bang Theory" at eight.
Among the frontrunners, Spacey is vying for best actor against Bryan Cranston, as shy chemistry teacher turned crystal meth drug lord Walter White in "Breaking Bad," the finale of which airs next week.
Others tipped in the male drama race include Briton Damian Lewis in "Homeland" and Jon Hamm of "Mad Men," who surprisingly has never won a Primetime Emmy himself.
Cranston's "Breaking Bad" co-star Anna Gunn took home the trophy for best supporting actress in a drama.
For best drama actress, the frontrunners include Kerry Washington of ABC's political thriller "Scandal," who would become the first African-American actress to take that prize.
She is up against Claire Danes as bipolar CIA agent Carrie Mathison in "Homeland," as well as "House of Cards" co-star Robin Wright, who plays Spacey's character's wife Claire.
The series' success highlights the changes underway in the industry, with more and more viewers "cutting the cable" and watching favourite shows via the Internet on cellphones, tablets and so-called "smart TVs."
"House of Cards," inspired by a BBC series from the early 1990s, was made exclusively for Netflix, the online movie streaming website, which put all 13 episodes online in February in one fell swoop.
Other nominees for best drama include "Downton Abbey" and "Game of Thrones" - marking the first time no series from a mainstream US television network has been nominated in the category.
"Sopranos" star James Gandolfini, who died in June aged 51, will be remembered among others who passed away this year, including "Glee" actor Cory Monteith.
The three-hour show was due to climax shortly before 8:00 pm (0300 GMT Monday) with the announcement of the comedy and drama series winners.