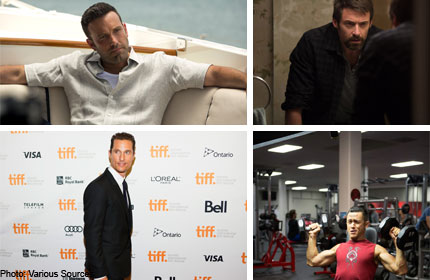 Summer's over and that means we get a reprieve - finally! - from the loud, noisy shoot- 'em-up fare at the cineplexes.
So what do we get in return?
The next few months will see grittier, more dramatic and serious works typical of the fall movie season.
That also means your usual Hollywood Alist hunks will get a chance to flex their creative muscles and venture into deeper and perhaps, uncharted waters.
Chris Hemsworth, for instance, hung up his Thor hammer for a steering wheel in Rush.
Opening here on sept 26, the Formula 1 racing biopic portrays him in a different light. Gone is his gentlemanly heroic alter-ego - his Rush persona is a serial womaniser.
JOANNE SOH profiles her favourite leading men who have also undergone a switcheroo by playing against type.
HUGH JACKMAN
Prisoners
You've seen the Australian actor go desperate as an ex-con in Les Miserables. You've also witnessed him going animalistic as mutant superhero Wolverine.
But you have yet to see Jackman, 44, at his most feral and violent until you watch Prisoners.
The gripping thriller tells the dark story of a father (Jackman) who goes on rampage as he takes justice into his own hands after his daughter and her friend go missing.
If you think the torture scenes in war flick Zero Dark Thirty were bad, you'll cringe even more when Jackman's Keller does some really unimaginable things to suspect Alex (Paul Dano).
It's harder to stomach those scenes as Keller is painted as a loving family man and Alex is no terrorist - he has the mentality of a 10-year-old.
How can a seemingly mild-mannered man suddenly become so vicious? And to see Hollywood's nicest guy do all that?
Jackman admitted to Huffington Post that his wife Deborra-Lee Furness told him she wasn't sure if she'd want to be sitting next to him or sleeping with him any more after watching the film.
He said in another interview with AP: "I'm always looking to push the boundaries of what people think I should be doing or can do. I'm very averse to the labelling you get.
"For an actor, it was one of those parts where you go, 'OK, this is something I haven't done before, this is going to stretch me'. It's asking for a sustained intensity that I haven't had before."
MATTHEW MCCONAUGHEY
Dallas Buyers Club (Jan 23)
The Texan hunk's six-pack and hot bod are legendary, but you'd want to see him fully-clothed here.
McConaughey lost about 23kg to play the emaciated HIV-positive electrician Ron Woodroof who refuses to accept his 30-days-left fate.
set in 1986 and based on a true story, the drama follows the hell-raising womaniser who contracts Aids from sex with a junkie and his globetrotting efforts to find life-prolonging drugs and sell them to members of his titular club.
McConaughey's dramatic transformation is rather eerie, certainly not a sight you're accustomed to - especially not after you've seen the 43-year-old strut his stuff as a stripper in last year's Magic Mike.
"There were two sorts of original storylines that I liked about this, among other things," McConaughey told Huffington Post.
"You're dealing with HIV; the guy gets HIV. But one, it's from a heterosexual's point of view. Hadn't seen that. And the other was: He's a son of a *****, man."
There's a lot of Oscar buzz surrounding Dallas Buyers Club after it received critical acclaim when it premiered at the recent Toronto International Film Festival.
Can McConaughey finally nab his very first Best Actor Oscar nomination - or even win one?
After all, Tom Hanks went home with the trophy when he played an Aids patient in Philadelphia (1993).
JOSEPH GORDON-LEVITT
Don Jon (Nov 7)
Forget him as the gumshoe-turned-potential Robin from The Dark Knight Rises or the righteous son of Us President Abraham Lincoln in Lincoln.
Gordon-Levitt, 32, goes sleazy in his directorial debut, a comedy about the eponymous porn addict who has unrealistic expectations about happiness, intimacy and love but whose egotistical nature begins to change after meeting a flirty love interest (scarlett Johansson).
If you follow the MTV reality series Jersey shore, then you'll notice there are similarities between Gordon-Levitt's gym-nut lothario and Jersey shore cast member Mike "The situation" sorrentino.
Despite the former's insistence that the guidos were not his inspiration, his Don Jon walks, talks and looks like the meathead playboys on TV.
said the Us actor at the south By southwest festival: "This is an archetype thing that predates Jersey shore - starting out with Rocky or saturday Night Fever. "He's really as American as a cowboy."
BEN AFFLECK
Runner Runner (Sept 26)
Before he puts on the cape and mask to be Batman, Affleck is downright evil in crime drama Runner Runner.
The Us actor-director, last seen saving refugees in Argo, plays unscrupulous gambling tycoon Ivan Block who bullies Justin Timberlake's Richie Furst.
Oh, did I mention that Ivan has no qualms feeding people to alligators?
Affleck, 41, has built a career playing the good guy, be it a superhero (Daredevil) or reluctant hero (The sum of All Fears). While he has taken on roles where his moral compass is questionable (The Town, state Of Play), they have never been outright despicable - until now.
"Playing a protagonist can be quite limiting," said Affleck to UsA Today. "When you play a more morally complicated or suspect character, you are permitted to do almost anything, and from an acting standpoint, that's where the fun is."

Get The New Paper for more stories.