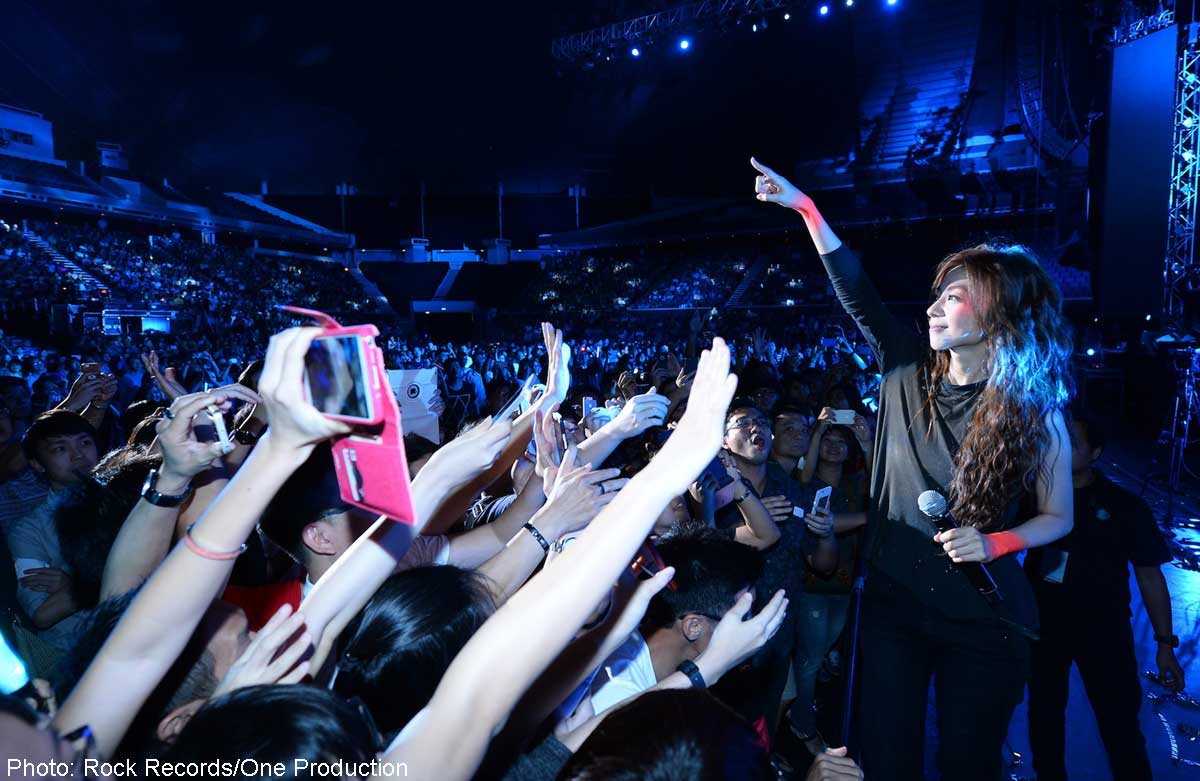 Review: Concert
CHEER CHEN (SONGS OF TRANSIENCE) SINGAPORE CONCERT
Singapore Indoor Stadium
Last Saturday
If the goal of most Mandopop concerts is to get the crowd pumped up and on a high, then this was the anti-concert.
Taking its cue from the contemplative new album Songs Of Transience (2013), the night started off on a mellow note. Perched several metres high on a tiny platform, Taiwanese indie queen Cheer Chen sang the title track while the cosmos swirled above and behind her.
Mid-tempo and slow songs such as A Box Of Rain, Fly For You and Immortal followed. Often, she sang with her eyes closed, as if lost in a reverie as she ruminated on time, life and love.
While lightsticks would light up the stadium at most gigs, there was a soothing and calming darkness here. The odd lightstick here and there were like lonely beacons in a black sea.
As if reluctant to break the spell, the singer-songwriter did not even address the crowd of 4,000 until after 10 songs, thanking them for coming.
But with Peace & Revolution, the mood changed.
It was as though Chen had woken from her reverie and was ready to party. Dressed in black with a one-sleeved top and wearing a mask with a trail of red cloth fluttering away from her, she unleashed her inner rock goddess as she wielded a guitar for the hippie-rock number.
She also got to show off her musical versatility on Groupies. She faced off against the various musicians on stage and played guitars, a miniature harp and drums in quick succession.
And then on 1234567, she happily interacted with the fans in front, shaking hands and taking selfies with their mobile phones.
When she announced that View With A Grain Of Sand was "in theory" the last song, it seemed almost too soon. Then she added: "The world is full of exceptions, but only you can make it happen."
It turned out to be quite an exception as she went on to perform another nine songs.
Chen had actually been ill with a bad bout of the flu in Taipei and had wondered if she would have to cancel the gig. Then she added: "Maybe the medicine is in Singapore, I think I've been cured by you."
She also quipped: "Because my condition was quite serious, the treatment needs to be longer."
Fan favourites such as Travel With Sound and Lonely Without You were covered in the encores.
She also recounted the stories behind Walk Home and Home, tracks found on her new record.
She said earnestly: "I hope you can be your own home so that home is wherever you are. Today, you are my home."
The three-hour-long concert ended with an intimate performance of After 17. It was just Chen and a guitar, and it felt as cosy as home.
bchan@sph.com.sg
Get a copy of The Straits Times or go to straitstimes.com for more stories.