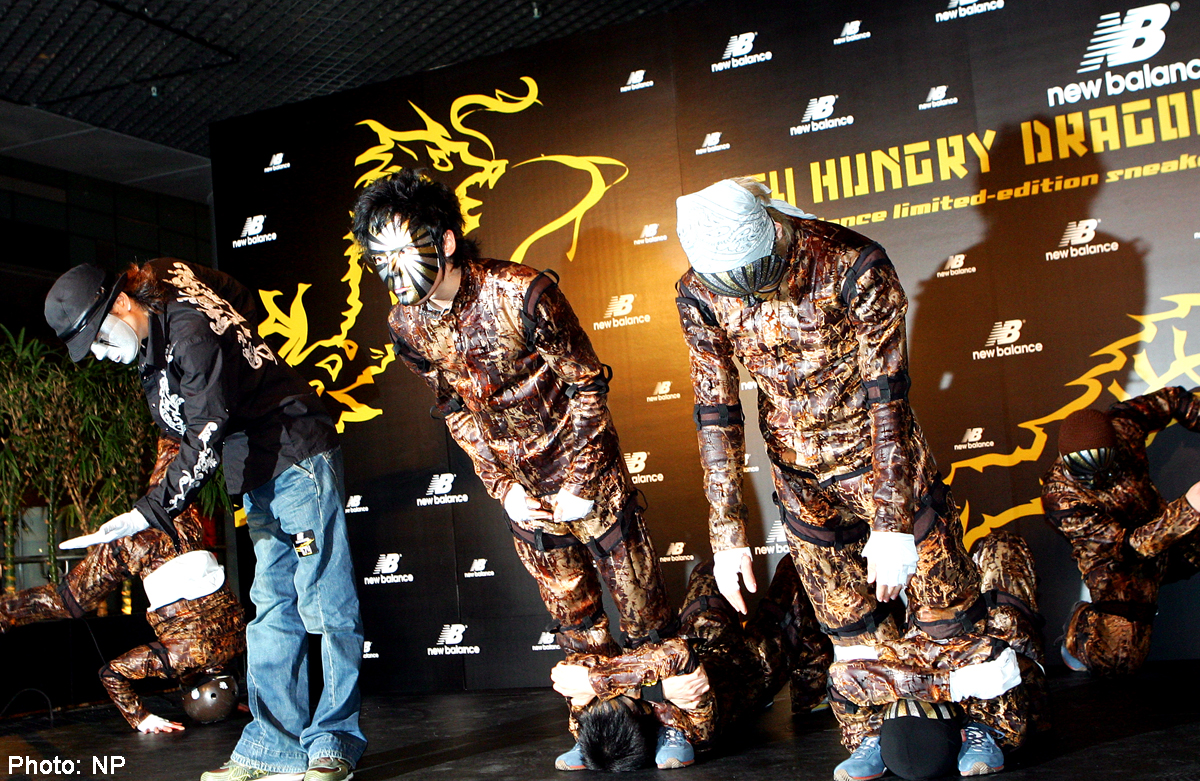 Talk about living life on the edge.
In a web commercial video that circulated online last week, three Korean b-boys are shown performing death-defying stunts on the ledge of Swissotel The Stamford's helipad.
One of them seems to do a handstand dance on a ledge 226m above ground, 73 storeys high, with no safety harnesses in sight.
Said Mr Mohammad Ali Taib, 39, a retail associate who is also a street culture enthusiast: "The dancers did not look like they had any safety gear on when they were dancing on that helipad."
But Korea-based video production company E.Planet Korea, who was involved in the project, assured that "seeing is not always believing".
The company's producer Jay Lee told The New Paper in an e-mail interview: "In commercials and movies, there are always camera tricks, the use of camera angles and computer graphics, even in editing. All I can say is, it was all safe."
Mr Lee said some 20 crew members were present for filming, and that all were briefed on safety procedures. He did not elaborate on the safety measures that were in place.
The commercial was for Korean telecommunications company LG U+ and promotes its Video LTE roaming service.
The video was filmed over two days in Singapore last month. It involved Kill, Rocket and Bruce Lee of South Korean 22-member b-boy crew called Gamblerz Crew.
In the video, the men first perform breakdancing moves involving flips and handstands in the Central Business District area before executing more tricks at Swissotel The Stamford's helipad.
Kill then performs a one-hand handstand on the ledge, balancing precariously, before Rocket and Lee join him there with other heart-stopping moves. DANGEROUS In an e-mail interview, Lee said: "We first practised the freeze and one-hand handstand at a height of about five metres, before we proceeded."
Despite safety measures in place, Lee admitted that he felt it was "dangerous".
"But we wanted a fresh challenge. There was some worry, but we decided to go ahead with it," he said.
Local b-boys whom The New Paper spoke to agreed that the stunt was risky.
Full-time dance instructor Larry Liu, 35, who teaches at Natasha Studio, said: "I'm not surprised they did it, but I think it's dangerous and I won't do it. My insurance coverage does not extend to this!"
Educator Eugene Tan, 29, who has been breakdancing for two years, said: "At the end of the day, there are risks involved in everything you do. But to do this, you have to put in sufficient training and take the necessary precautions."
Swissotel The Stamford's hotel spokesman told The New Paper that "all essential permits and approvals are in place and necessary safety precautions are considered".
There were also "additional security personnel who were dedicated to overseeing the production to ensure that the filming activities at the helipad were in adherence to safety guidelines and standards" for the full-day production.
Mr Vincent Poh, executive producer and director at Redbot Pictures, said the clever use of camera angles in the video could have been used to get the desired effect.
Mr Poh, 32, said: "It's a mix of safety measures and a play of camera angles.
"For example, in a close-up shot, a safety line could be holding the subject's leg up to prevent him from falling over the ledge.
"For full body shots, it could also have been shot at different, safer areas within the same building, showing the same skyline."
I'm not surprised they did it, but I think it's dangerous and I won't do it. My insurance coverage does not extend to this! - Full-time dance instructor Larry Liu
ashikinr@sph.com.sg
This article was first published on Oct 27, 2014. Get The New Paper for more stories.