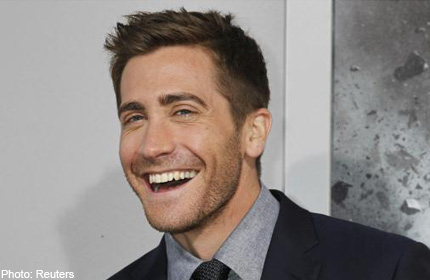 LOS ANGELES - Nightcrawler, a dark crime thriller starring Jake Gyllenhaal as a freelance cameraman in the high-speed world of siren-chasing journalism, topped sluggish weekend United States and Canadian box-office charts with US$10.9 million (S$14 million) in ticket sales.
Ouija, last weekend's box-office leader, was second by a razor-thin margin, selling just US$8,760 fewer in tickets in a weekend slowed by candy-gathering Halloween revellers, according to estimates from tracking firm Rentrak.
The top two films could swop places once actual box-office numbers are compiled after Sunday's screenings.
World War II film Fury was third with US$9.1 million for the three days from Friday through Sunday in the US and Canada.
The 33-year-old Gyllenhaal, who also produced Nightcrawler, lost 14kg to play the role of Louis Bloom, an unemployed misfit who finds success as a cameraman in the sometimes violent world of local TV news.
Also starring Bill Paxton and Rene Russo, the film was well received by critics, with 94 per cent of 140 reviewers giving it a "fresh" rating, according to website Rotten Tomatoes.
Falling on a Friday, Halloween "hit the box office fairly hard, with the day down around 40 per cent from Friday a year ago", said Paul Dergarabedian, senior media analyst for Rentrak.
He added that "the marketplace rebounded nicely on Saturday and Sunday (with) a photo finish for first".
Ouija is based on the board game that some believe can contact the dead. The low-budget film has collected US$35 million since opening on Oct 24.
Fury, a blood-splattered action film that stars Brad Pitt as a war-hardened tank commander, has rung up more than US$60 million in cinemas in the US and Canada. The film also stars Shia LaBeouf and Michael Pena.
The Ben Affleck thriller Gone Girl, which led the box office for two weekends last month, continued its strong showing. The movie, based on author Gillian Flynn's best-selling novel of a man accused of killing his wife, was fourth with US$8.8 million in sales and has collected US$136 million since opening on Oct 3.