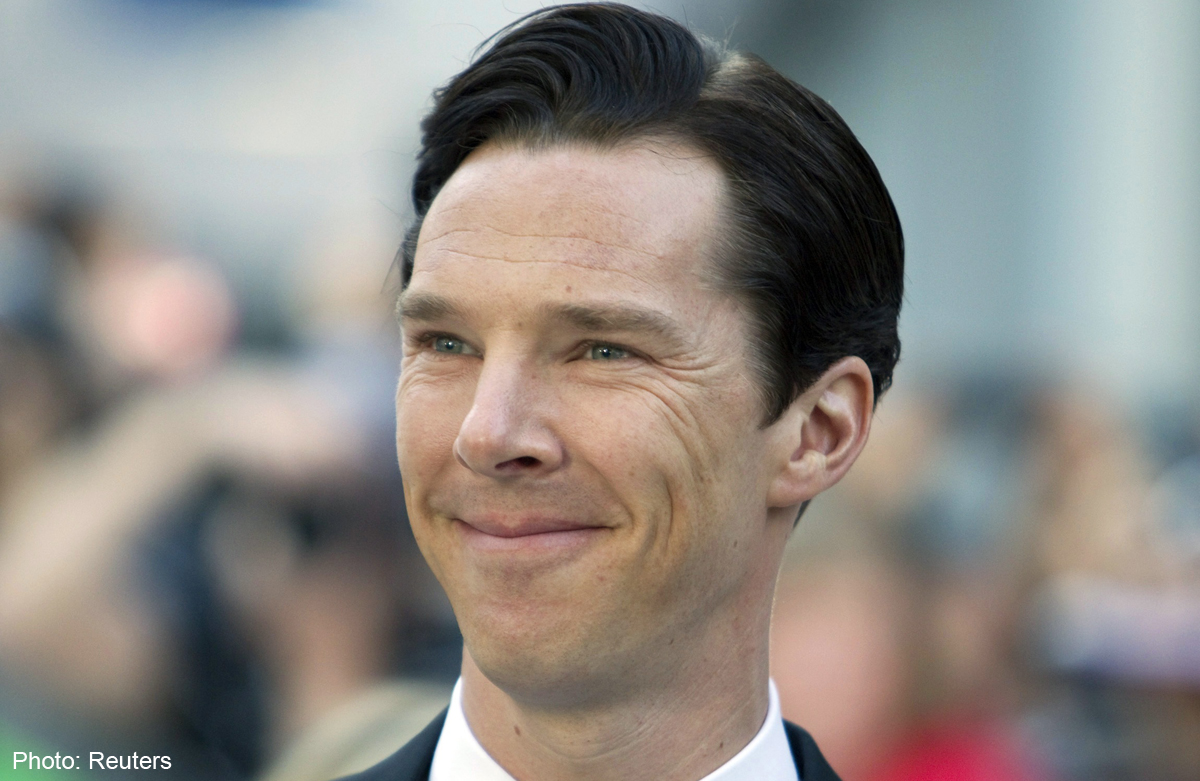 LOS ANGELES - Benedict Cumberbatch is having a very good year.
He had a great run playing the villainous Khan in Star Trek Into Darkness in May, followed by his headlining project The Fifth Estate, where he portrayed WikiLeaks founder Julian Assange.
But if there is one role that will make him iconic, it would be that of Smaug ­­- even though we never once see Cumberbatch's face.
The 37-year-old English actor was handpicked by director Peter Jackson to play the vicious CGI dragon because of "his great performance and great voice", said the Kiwi film-maker at the international press conference for The Hobbit: The Desolation Of Smaug on Wednesday.
As told by J.R.R. Tolkien in his book The Hobbit and previewed in last year's movie, Smaug's powerful fire desolated cities.
The sequel, which opens here next Thursday, continues the adventures of Bilbo Baggins (Martin Freeman) and the 13 dwarves led by Thorin Oakenshield (Richard Armitage) on an epic quest to reclaim the dwarves' homeland, which is occupied by Smaug.
Other than encountering fearsome elves, the group, particularly Bilbo, has to outwit and outlast Smaug, who is eager to devour the intruders.
Jackson, 52, said: "What was important for Smaug was that we wanted a dragon that has a personality, obviously, and there has to be a psychotic, unpredictable danger. He is the Hannibal Lecter of the dragon world.
"(Smaug) is super smart. He's smarter than Bilbo, always one step ahead him. That makes a character truly terrifying."
We were gathered at The Beverly Hilton in Los Angeles, where a gigantic "pop-up" book called The Book Of New Zealand was set up to showcase four locations that played big parts in the movie.
The mood was casual and fun, with the actors -returning castmembers Armitage, Dean O'Gorman and Aidan Turner (Fili and Kili) as well as new additions Luke Evans (Bard the Bowman) and Evangeline Lilly (Tauriel) - laughing at one another's replies and paying tribute to Jackson.
It felt like a family gathering of a group that bonded over a film they are all very proud to be a part of.
STAR ATTRACTION
Cumberbatch was clearly the biggest star attraction at the event, as most of the gathered international journalists were eager to meet the baritone-voiced heart-throb in the flesh.
While the other cast members recounted their wonderful memories filming in New Zealand, Cumberbatch lamented he was the only one who was not part of the group, as his was a "digitised" role, having done his filming in a studio wearing a motion-capture suit.
"I was solo, yeah, I was," he said.
"The only thing I kind of regretted about the job was not being able to be in the same space as Martin (Freeman)."
Cumberbatch and Freeman became fast friends while working on TV series Sherlock, with Cumberbatch playing the titular character and Freeman his loyal sidekick Watson.
Jackson, a big fan of the British crime drama, said: "Benedict and Martin never got to work together on our film. We tried but the schedules never worked."
You would not have guessed that Cumberbatch, who always looks so solemn and serious, would be quite the jokester.
When asked what souvenir he pocketed during the filming, his microphone went off and without blinking, he mimed his replies, funny faces and all.
When he experienced mic problems again, Jackson teased him about using his theatre voice, to which Cumberbatch said with a sly smile: "But I don't have any theatre training, Pete!"
The actor was obviously faking it. He was a West End regular before crossing over to the big screen.
The rest of the cast had many good things to say about Jackson despite agreeing that he pushed them very hard.
Jackson was fond of saying "just one more, one for love" during filming, which apparently translated to at least 10 more takes.
Armitage, 42, learnt early on that he needed to hit the gym "because Pete really pushes you onto your knees, sometimes even to your face!
"I thought I would be carried out of the studio on a stretcher at the end of the shoot, but it was worth it".
Lilly said: "I learnt that no matter how serious your character is, how dire or intense the scene needs to be, there's no better elixir than laughter to get me into a great place to perform."
Jackson, said the 34-year-old Canadian actress, was always goofing around, making the typical 14- to 20-hour working days a lot more fun.
Evans, 34, said: " As long as Pete gets his cup of tea, he's fine. He likes to come on set and try all the physical stuff."
The British actor, last seen in Fast & Furious 6, recounted how Jackson was sliding off rooftops, trying out a scene that Evans had to shoot that day.
"By the time I got on set, Pete's already got his trousers wet. There was snow on his legs, his trousers were all scuffed. Pete's very hands-on. That's nice to know that he's as invested as we are."

Get The New Paper for more stories.