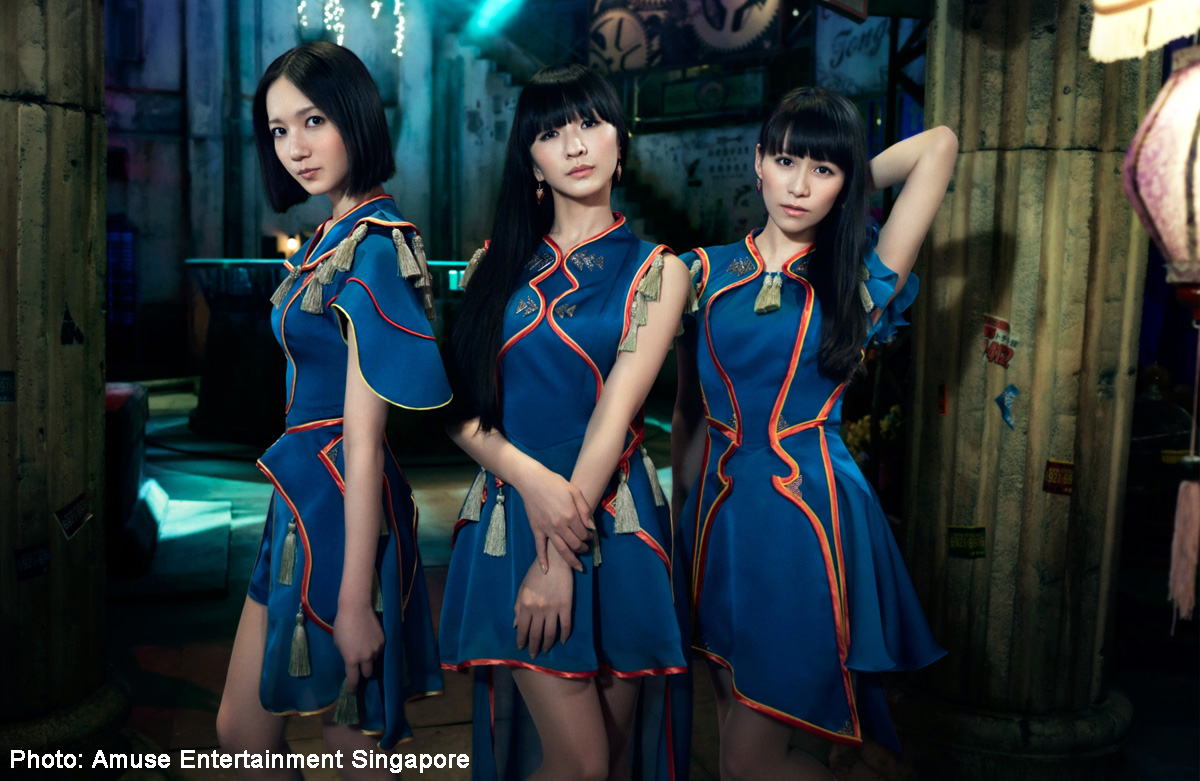 Where J once ruled, K now lords over.
For the past decade, J-pop has been fighting a losing battle against the attack of the K-pop clones.
It has been hit by the double blow of its waning influence in Asia and a failure to conquer the Western market.
Even an accomplished singer like Utada Hikaru, who at her peak was THE outstanding musical talent in Japan, made changes to her winning formula for her two forays into the American market.
Some would say that she sold out.
Unfortunately, her albums didn't.
Her attempts to connect with the stateside audience by going mainstream R&B failed miserably.
But it's not all bad. Mega-idol group AKB48, kawaii rockers Babymetal and the phenomenon that is Kyary Pamyu Pamyu have shown they are able to make an impact overseas without changing their style to suit a global market.
Which brings us to chart-topping electronic dance group Perfume.
LEADING THE CHARGE
Having recently celebrated the tenth anniversary of their major debut, the group is leading the next wave in J-pop's counter-attack against the Hallyu Wave.
The trio of 26-year-old Ayano Omoto (Nocchi), Yuka Kashino (Kashiyuka) and Ayaka Nishiwaki (A-chan), both 25, are essentially the result of the marvellous work of their producer, technopop genius Yasutaka Nakata.
Despite their heavily vocoded and autotuned vocals, there is plenty of heart in their music. And plenty of energy.
K-pop fans rave about Korean artists' dance routines, but Perfume's choreography is truly innovative, giving off a retro-futuristic yet ethereal feel.
Quite a feat considering the complex routines are done while wearing high heels.
A typical Perfume concert is an onslaught of bass, beats and innovative visuals.
Many artists use lasers, lights and videos in their concerts but no one uses them as dynamically as Perfume.
Screens on stage display a barrage of colours, graphics and shapes, which sync perfectly with the trio's moves.
For some songs, the girls seamlessly interact with the dazzling visuals,  creating the illusion that they have stepped into the screens.Perfume may be one of the first Japanese pop groups to incorporate projection mapping into their repertoire.
It is a technique where moving images are projected onto irregular-shaped objects.
For songs like Spending All My Time, the trio wear specially designed dresses which have moving mechanical parts and serve as canvasses for the projections.
Such a performance provided the turning point for international success in June last year.
The group were guests at the Cannes Lions International Festival of Creativity in France. Their eight-minute performance in front of a live and online audience was a breathtaking showcase of projection mapping.
Clad in customised white dresses, A-chan, Nocchi and Kashiyuka resembled technicolor butterflies as they stretched out their sleeves and were enveloped by an ever-changing spectrum of light.
And just like that, they morphed from smoothly-oiled android-like dancers to fluttery multicoloured butterflies.
With this performance, Perfume came of age and danced their way into the hearts of an international audience.
Many who watched it tweeted that they had never seen anything like it.
Twitter user @JasonXenopoulos posted at the time: "OMG! You've ever seen anything like this before" @trankiloko wrote: "just saw the future from PERFUME from japan. real time 3D scanning, mapping and projection. time machines do exist."
Another netizen, @janso, simply tweeted: "I don't really know what just happened, but it was epic."
More than a gimmick, the technology redefines live entertainment.
Perfume are preparing to go on their third world tour, aptly named Perfume WORLD TOUR 3rd, which will take them to Taiwan, the US, the UK and, on Nov 2, here in Singapore.
Looks like the smell of global success is in the air for Perfume.
emok@sph.com.sg

This article was first published on Oct 22, 2014.
Get The New Paper for more stories.