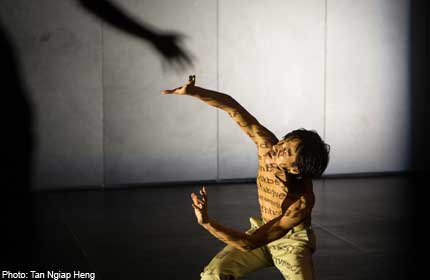 SINGAPORE - T.H.E Dance Company's annual New Vision series will be launched this Friday, with a triple bill of multi-disciplinary works by Jeffrey Tan, Kuik Swee Boon and Zhuo Zihao.
Artistic director Kuik says: "New Vision is an experimental platform, a platform for us to take risks. We're looking for something fresh, something new."
Tan's work Command Pattern harnesses motioncapture technology and startlingly life-like projections to examine the symbiotic relationship between man and technology.
The choreographer says of people's dependency on the electronic world: "We can't say we don't need it, it's already in our bodies. In some ways, we've created a monster."
In the 20-minute piece, an alphabet soup of jumbled letters sweep across the stage, coagulating to form a menacing silhouette, to a soundtrack created by composer Tze Toh.
In Zhuo's Felt Sense, the Singaporean choreographer teams up with musician Bani Haykal to deliver a wordless riposte to the notion of trauma.
Audience members will each don a pair of 3-D glasses to watch a video of the dancers which will be beamed onto a translucent scrim.
As the actual performers move behind the projections, their physical and digital bodies begin to blend into one.
Zhuo, 32, is a full-time dancer and choreographer with T.H.E. He says of the 3-D technology: "A lot of the time, when you're watching a performance on stage, it can feel very far away and you miss things like the expressions of the dancers. I wanted to close that distance."
The music for the 20-minute piece will be provided by Haykal, 28, who layers sounds of different frequencies to create a pulsating tension, interspersed with piercing, high-pitched whines which induce very real physical discomfort.
Finally, Kuik's 10-minute piece, On Top Of White, uses multimedia elements to explore the place of intention and meaning in modern dance, and aims to convey a sense of playfulness and freedom.
Book It
NEW VISION
Where: Gallery Theatre, National Museum of Singapore
When: Friday to Sunday. 8pm (Friday and Saturday), 3pm (Saturday and Sunday)
Admission: $32 from Sistic (call 6348-5555 or go to www.sistic.com.sg)

Get a copy of The Straits Times or go to straitstimes.com for more stories.