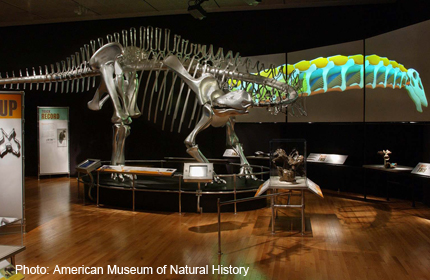 SINGAPORE- Exhibition next year to feature more than 400 fossils and 50 artworks on dinosaur theme.
See one of the largest land animals to have roamed Earth - an 18m-long Apatosaurus - when Dinosaurs: Dawn To Extinction opens at the ArtScience Museum on Jan 25.
The dinosaur exhibition, which will be on till July 27, will showcase more than 400 fossils and more than 50 artworks culled from places such as the renowned American Museum of Natural History in New York.
Another giant on display will be a 17.6m-long specimen of Lessemsaurus, a plant-eating dinosaur, as well as a new fossil of Adeopapposaurs, an early Jurassic dinosaur known as the "far eating lizard", a nod to its long neck, which was discovered in Argentina only three months ago.
Another highlight is a two-billion-year-old rock made of banded iron formations, typical of primordial rocks, comprising repeated thin layers of iron oxides.
The show, spread over a space of more than 3,700 sq m, will take visitors through a chronological story of what came before the dinosaurs, how dinosaurs lived on Earth and adapted to their changing environmental conditions, and their eventual extinction more than 600 million years ago.
ArtScience Museum's associate director Ross Leo, 37, says: "The exhibition will shed light on how dinosaurs lived on Earth, and will also serve as a window into the past where visitors will immerse themselves in this prehistoric world."
Other contributors to the exhibition are the San Juan National Science Museum in Argentina, SCI!Expo, which develops exhibitions under Australia's Monash University, and Australian artist Peter Trusler, who is known for his meticulous works which reconstruct ancient flora and fauna with scientific accuracy.
Displaying fossils alongside these artworks presents the Jurassic creatures in a new light, says Australian palaeontologist Patricia Vickers-Rich, 68, who curated the exhibition.
She adds: "The exhibition is a result of the collaborative efforts of artists and scientists to gain more new insights into the rich and fascinating world of dinosaurs."
The exhibition follows hot on the heels of the Science Centre Singapore's exhibition on animatronics dinosaurs which opened last month. Titans Of The Past was put together by renowned palaeontologist Jack Horner, who was also technical adviser for the blockbuster Jurassic Park movies. The show is on till Feb 23.
Also coming up next year are the skeletons of three sauropod dinosaurs, costing under $8 million, which will be exhibited at the new Lee Kong Chian Natural History Museum.

Get a copy of The Straits Times or go to straitstimes.com for more stories.