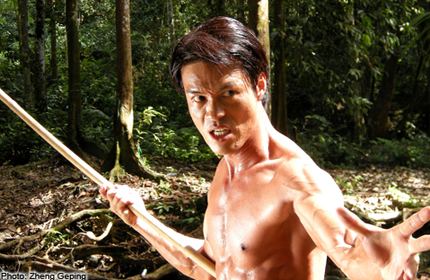 When he opened the e-mail message, lurid naked photos of a young woman filled the screen.
He was shocked.
TV actor Zheng Geping, 49, recoiled and immediately closed the e-mail window.
"Jumping out at me were all these naked shots. I think it was instinctive to close them because I was so taken aback," groans the affable actor in a mix of Mandarin and English.
The sender? A fan in her 20s - not much older than his own daughter - who had somehow got hold of his private e-mail address.
Perhaps it is not surprising that he has besotted fans willing to express their carnal desire to be with him.
He may have made his acting debut more than 26 years ago in 1987, but Zheng is experiencing a new wave of popularity - thanks to a physique that is at its peak.
We are talking well-defined six-pack abs, bulging pecs and sinewy muscles.
Not only is it getting him leading roles and commercial endorsements, it has also spawned a book charting how he attained his new body.
Zheng was 46 when he decided to get back in shape after putting on weight.
He had also wanted to be fighting fit for a role as a gangster in the drama Kampong Ties.
So he underwent intense training for three months, after telling his fitness instructor that he wanted to look like his idol Bruce Lee.
Lee was an American-Chinese action film actor, martial arts instructor, and the founder of Jeet Kune Do. He died in 1973 at the age of 32.
Today, the 1.82m-tall Zheng is fitter than ever with only 7 per cent body fat, putting many younger men to shame.
Another effect? It gets him plenty of attention from the opposite sex, especially the younger ones.
When quizzed about the naked photos, Zheng confesses it was not the first time.
There have been two such incidences this year alone.
He sheepishly admits to me: "I complimented them that they have nice bodies."
But the actor did not keep the photos, nor show them to his wife, Channel 8 actress Hong Huifang.
"I deleted them immediately. To keep them would mean I was tempted and was harbouring bad thoughts," he says.
His new fans include women from Malaysia, Indonesia and the Philippines, who try to befriend him on social media channels.
"And there was one from Hong Kong, one from Myanmar and even one from Germany," he says.
But he does not say where the two who sent the nude photos were from because he "cannot remember".
He befriends some of the women online, but if they ask for "more than just friendship, I will let them down gently", he says.
"I will tell them I am much older than them and perhaps they might want to look for younger and better men.
"Of course, I do so tactfully and try not hurt anyone's feelings."
Zheng admits there is always temptation in the entertainment industry.
"As long as you respect yourself and the other person enough, you will not give in to it (temptation), even when it is dangled in front of your nose," he says.
His wife, Hong, 52, is not batting an eyelid.
She tells The New Paper on Sunday that unwanted attention is not unusual in the entertainment industry.
"I trust him fully. After all, we have been married for about 20 years," she says.
The couple have two children, a daughter Tay Ying, 17, and son Calvert, 12.
Hong says that as an actor, it is always good to be popular.
"I'm happy he is looking good and getting all the attention," she says.
"This increases his popularity, which in turn gets him the attention of producers and sponsors."
The upside?
It is motivating her to exercise too, she shares with a hearty laugh.
"To keep them would mean I was tempted and was harbouring bad thoughts." - Actor Zheng Geping on the naked photos from female fans

Get The New Paper for more stories.