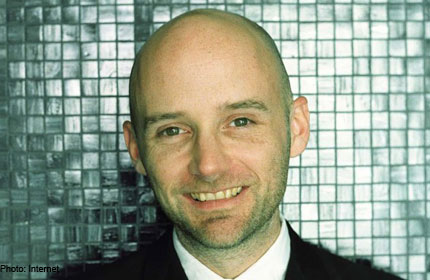 In 2003, singer-songwriter and music producer Moby had planned a stop in Singapore for his global tour.
But the Sars outbreak put paid to those plans. He tells Life! on the telephone from his home in Los Angeles: "My insurance company wouldn't insure the tour. It made me very sad but we had to cancel."
Moby, 47, now has a new date to keep in Singapore - to helm a DJ set at the 1 World Music Festival over the Formula One weekend.
But things have changed. Back then, he was one of the biggest dance music figures to break into the mainstream, winning millions of fans over with his style of music that melded electronica and techno beats with Gospel, soul and punk rhythms. His 1999 album Play sold more than 10 million copies.
He came here at the height of his career in 2002 only to do a radio show, not a concert. He has since faded from the limelight but that does not bother him. He says: "One of my first jobs was DJ-ing in a tiny bar in New York City and my job was simple. If I kept people dancing, I didn't get fired. So I figured out early on how to keep people dancing.
"My goal as a DJ is to create an exciting and fun environment and hopefully, make people happy."
He has since put out a new album every couple of years. To date, he has released 10 studio albums.
"The music business has changed. Now I make albums because I love making music. I don't expect many people to listen to them because it's 2013 and people don't really buy albums anymore," he says.
Born Richard Melville Hall, he grew up in Connecticut, New York. He started out "playing classical music from age 10" and then going on to form a punk band at age 13.
His debut album Moby (1992) marked his career as an electronic music artist. melding trance, techno and breakbeat music. The 1999 album Play (1999) vaulted him to worldwide stardom, with hit singles such as Porcelain, Natural Blues, Body Rock and Why Does My Heart Feel So Bad, which were used in TV commercials, shows and movies.
That album made Moby one of the first few electronic dance music artists to achieve mainstream success.
On Oct 1, he will be releasing a new album, called Innocents, an album which evokes his earlier works, featuring lo-fi electronica-pop that draws on gospel and soul, often bordering on the edge of New Age.
Moby, a vegan and supporter of animal rights, says of Innocents: "I look at all the things we do as a species, whether it's politics, sports, religion, Facebook or what have you and it's all an attempt to find comfort, find community and somehow make sense of being human. I wanted a warm and emotional, very vulnerable quality to it."

Get a copy of The Straits Times or go to straitstimes.com for more stories.