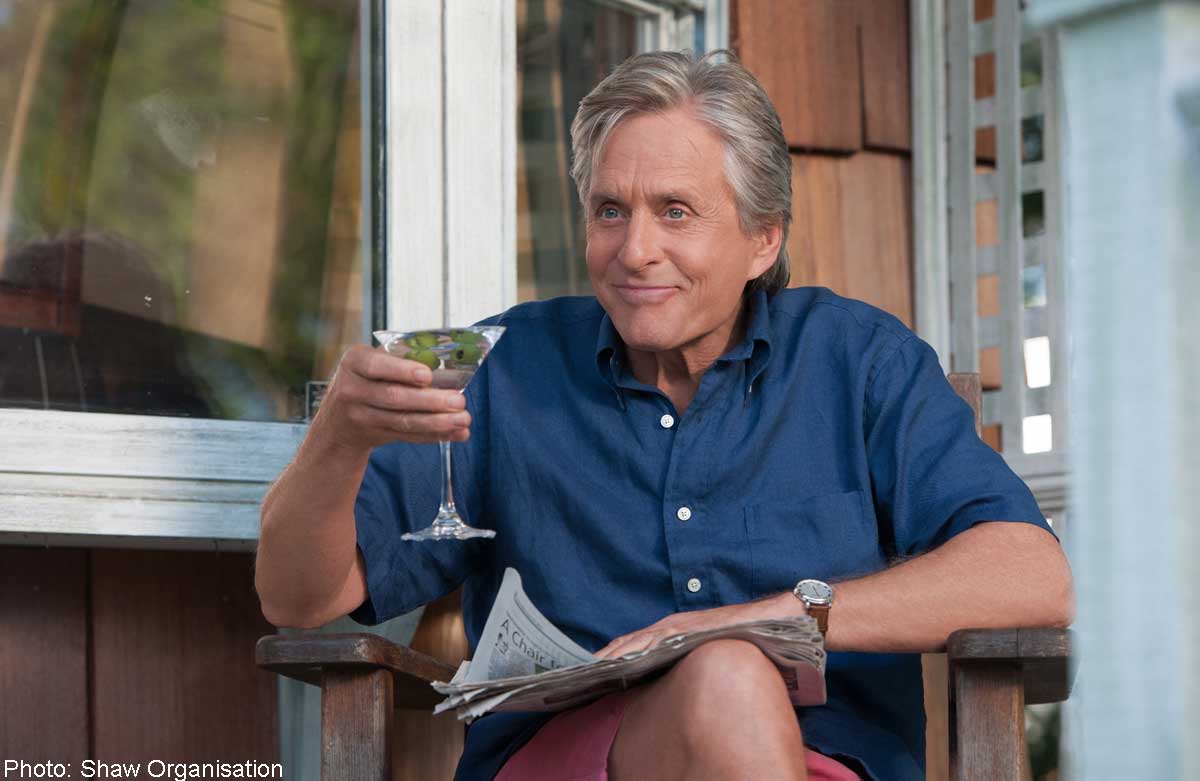 NEW YORK - Michael Douglas is more accustomed to playing dashing leading men and corporate types, so he took a deep breath when offered the role of an ornery widower with a second chance for love in the romantic comedy And So It Goes.
The film reunites the Oscar-winning actor with director Rob Reiner. Both of them worked on the 1995 movie American President.
Douglas also stars opposite Diane Keaton for the first time in his career.
"It was one of those stories that you guess you are finally ready for," he said of the film, which opens in theatres in the United States next Thursday and is produced by Warner Bros' Castle Rock Entertainment.
"I am going to be 70 in a couple of months," he added. "You really don't think you have changed that much but you have."
Douglas plays Oren Little, a curmudgeon realtor near retirement who still grieves for his dead wife and is estranged from his only son.
Oren's self-centred world is upended when he is asked to care for a nine-year-old granddaughter he did not know existed.
"You've met people like him before," said Keaton. "They do exist. There are these guys that are just lost souls and angry, angry, angry, and underneath all of that is just a heart of gold."
For Keaton, 68, the film was an opportunity to work with Douglas and Reiner, who dons a toupee to play a pianist in the film, and a chance to sing.
As Leah, a struggling lounge singer, Keaton performs several songs in the film. She and Oren are neighbours in a waterfront apartment building called Little Shangri-La, along with a young couple about to have a baby and a family with boisterous boys.
"It's not just about a romance," said Keaton. "It's about a small community of people and, of course, it is about Michael's character Oren and his evolution - what happens to him and how he has opened up to his life again by circumstances that would never have happened had he not been thrust in this situation."
When Oren reluctantly takes custody of his granddaughter, played by 10-year-old actress Sterling Jerins, Leah befriends the child and discovers Oren's softer side.
"I knew that there was more there," said Keaton. "That I would find it and get it out of him, and that gave me a sense of self again."
In a summer of blockbuster action movies, the film about one more great romance and new beginnings is meant to appeal to baby boomers, but early reviews have been mixed.
The Hollywood Reporter found it predictable but engaging. But fellow trade publication Variety said it "feels like a surrender - to the kind of geriatric burlesque that increasingly seems to be the only game in town for A-list stars of Social Security age".
But, for Douglas, it was simply about love. "At any time, anywhere, you can find love," he said.
Douglas' famous films
Fatal Attraction, 1987
He plays a man who cheats on his wife (Anne Archer) with a woman (Glenn Close) who refuses to let him end the affair and takes it out on his family and pet rabbit.
Directed by Adrian Lyne, it is an intense erotic and psychological thriller, which became a huge talking point in the media, stirring up debate about infidelity, sexual politics and mental illness. Nominated for six Oscars, including Best Picture and Best Director, it established Douglas as a major dramatic talent.
Wall Street, 1987
He also starred in the other most-buzzed-about film of the year. His slick stockbroker character Gordon Gekko's declaration that "greed is good" seemed to sum up the dubious moral landscape of the 1980s and its unbridled free-market philosophy. The role earned him the Academy Award for Best Actor in 1988.
Basic Instinct, 1992
This erotic thriller was also a source of controversy, although more for Sharon Stone's overtly sexual portrayal of a homicidal lesbian than Douglas' turn as the police detective she seduces.
The actor would wade into sexual politics yet again two years later with Disclosure, playing a man who accuses his female boss (Demi Moore) of sexual harassment.
Falling Down, 1993
The actor takes a different tack with this challenging role as a disgruntled aerospace worker who goes on a violent rampage after being fired from his job.
Directed by Joel Schumacher, it became associated with a sub-genre of films said to explore the perspective and conservative politics of the "angry white male".
Behind the Candelabra, 2013
Released as a TV movie in the United States after failing to find studio funding because of its gay themes, this Liberace biopic earned rave reviews and an Emmy for a 68-year-old Douglas, who plays the multi-layered character with sympathy and subtlety.

Get MyPaper for more stories.