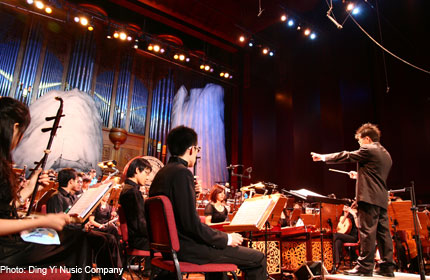 Singapore's first festival dedicated to Chinese chamber music will be held in December.
Presented by the Ding Yi Music Company in collaboration with the Esplanade, the three-day-long programme will host a trio of international Chinese chamber ensembles and will also feature talks, workshops, fringe performances and an exhibition. Tickets at $30 for the chamber ensemble recitals are available from Sistic outlets.
Festival director and Ding Yi's conductor Quek Ling Kiong, 46, says: "Chinese chamber music is not that popular in Singapore yet and the Ding Yi Music Company as a young Chinese chamber music ensemble wants to champion this genre."
Ms Carolyn Tay, 49, deputy director of programming at the Esplanade, adds: "It is a unique and valuable opportunity for young musicians and music students to learn more about the music and to interact with some of the best Chinese chamber music ensembles."
Chamber music is usually played by small groups of musicians in a cosy setting, and Mr Quek says that two words which characterise chamber music are "intimate" and "delicate".
He adds that playing in a chamber orchestra, as opposed to a full orchestra, requires a higher level of competency: "Chamber music is a very important part of music learning. Playing in a smaller set-up requires more skill and demands more technicality and musicality."
The three international ensembles which will perform at the Esplanade recital studio were chosen to offer variety, with one traditional, one contemporary and one popular group.
The contemporary offering is Ensemble ConTempo Beijing, which is made up of educators from the Central Conservatory of Music in Beijing.
Mr Quek says: "They are high-grade players and each is a master of his instrument."
The group's repertoire comprises music by modern Chinese composers based in China or overseas. Mr Quek adds: "They represent the new, the more contemporary, the present or even the future of chamber music."
The second ensemble is a traditional quintet from the Macau Chinese Orchestra. Mr Quek explains: "We wanted to have one group which showcases the origins of the genre." As such, the group will play classical Cantonese music, as well as traditional "silk and bamboo" tunes from Southern China - so named because they are played on either string instruments or bamboo flutes.
The third ensemble is the Little Giant Chinese Chamber Orchestra from Taiwan. The 13-year-old group has a popular YouTube channel with more than 1,000 subscribers.
Mr Quek says: "What is unique about this group is that it's made up of young people and we wanted to introduce this group to Singapore to set a benchmark and show how young people are doing in the Taiwanese music industry."
For all three performances, the overseas ensembles will be accompanied by musicians from the 16-strong Ding Yi Music Company.
Mr Quek says: "Chinese chamber music does not have much exposure here. With this festival, we're trying to take the lead to introduce more people to the genre."
lting@sph.com.sg

Get a copy of The Straits Times or go to straitstimes.com for more stories.