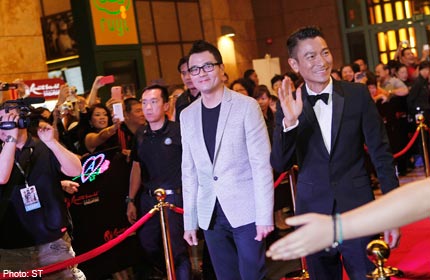 SINGAPORE - In three short years, ScreenSingapore has gone from a shaky standalone entity to a combined film and television event alongside the Asia TV Forum & Market (ATF).
Key announcements made at this year's ATF and ScreenSingapore, a three-day event which ended last Friday, included several international deals inked by Singapore media companies.
Among them, Singapore-based August Media Holdings' pre-school animated series, Ella Bella Bingo, has been sold to Al Jazeera Children's Channel, now known as Jeem TV and based in Doha, Qatar.
And Singapore's Silver Media Group and Los Angeles-based Ford Movie Group are creating six social and action films, including Home Invasion, a suspense thriller set in Singapore which is slated to start production in the second quarter of next year.
While this year's final sales figures are not yet available, the film and television showcase drew over 4,000 attendees from 60 countries. Last year, there were over 4,000 attendees from 52 countries.
Industry insiders such as Clover Films managing director and ScreenSingapore board member Lim Teck, 38, say that, on the whole, the two-in-one showcase was successful this year. But he adds that ScreenSingapore was more low-key compared to ATF.
For one, there were only two international movie premieres: Hong Kong action thriller Firestorm, with stars Andy Lau and Gordon Lam Ka Tung walking the red carpet, and Sino-French production The Nightingale, with writer- director Philippe Muyl in attendance.
In comparison, there were three premieres last year, with Hong Kong superstar Chow Yun Fat and French actress Sophie Marceau coming here for period drama The Last Tycoon and romantic comedy Happiness Never Comes Alone respectively.
Nonetheless, industry players are looking forward to next year, when the showcase grows even larger with the addition of a revived Singapore International Film Festival and its attendant Silver Screen Awards, as well as the Asian Television Awards.
The festival, which has not been held since 2011, will now be known as SGIFF and have a new board chaired by Ms Shaw Soo Wei, former executive director for the Hong Kong International Film Festival Society. Other board members include Infinite Studios' chief executive officer Mike Wiluan and Mr Michael Lim, assistant director of animation and digital arts at NYU Tisch School of the Arts Asia.
Incoming SGIFF director Yuni Hadi, 37, says: "There is a gap in South-east Asia for a major film festival and we hope to fill that gap."
As for the other components, ATF and ScreenSingapore are organised by Reed Exhibitions, while the Asian Television Awards is by Contineo Media. The Media Development Authority (MDA) has been the hosting agency for the umbrella showcase over the years.
It has been a learning process and MDA's assistant chief executive officer Yeo Chun Cheng, 53, says: "We've been trying to figure out what works and what doesn't work and we have made a number of tweaks."
The inaugural ScreenSingapore in 2011 boasted a line-up of conferences featuring big names such as Avatar (2009) producer Jon Landau and a red carpet with top Hollywood star Tom Hanks.
"But we didn't have a very strong trade event and hence it was co-located with ATF so the film side can leverage on the strong trade flows of the television side. And the good thing about film events is that they are more buzzy, so we strengthened both," Mr Yeo adds.
When ATF and ScreenSingapore were paired together for the first time last year, about US$204 million (S$256 million) in film and TV sales were sealed - an increase of 8.5 per cent jump over the previous year. Given that piggybacking on an established event is now a tried-and-tested approach,using existing resources to expand the film and TV market and conference event makes sense.
He points out that increasingly, the divide between film and TV is blurring and to a website such as, say, China's Youku, they are all audio-visual content.
And the umbrella showcase has been embraced by industry players.
Executive director of mm2 Entertainment and ScreenSingapore board member Melvin Ang, 50, said this will encourage the creation of content for access from multiple platforms, from the small screen to the big screen to the computer screen. It can be the same content across platforms or repackaged differently for different platforms.
Producer Flora Goh, 41, of Singapore- Hong Kong outfit Scout Pictures, notes that other markets such as Cannes also have a multi-faceted approach because of the synergy among the various components.
Cambodian Broadcasting Services' general manager Benard Anthony, 43, who has been attending the ATF since 2010, is keen to explore co-productions. He says: "If you open it up and add a film festival and other events, you're going to have a lot more opportunities coming out of it."
Clover Films' Mr Lim is looking forward to the umbrella event as the film festival component should make it easier to source for movie premieres.
And film-maker Jack Neo, 53, says: "As disparate events, the impact of each is dissipated as well. Gathered under one umbrella, the impact will be more concentrated."
bchan@sph.com.sg

Get a copy of The Straits Times or go to straitstimes.com for more stories.