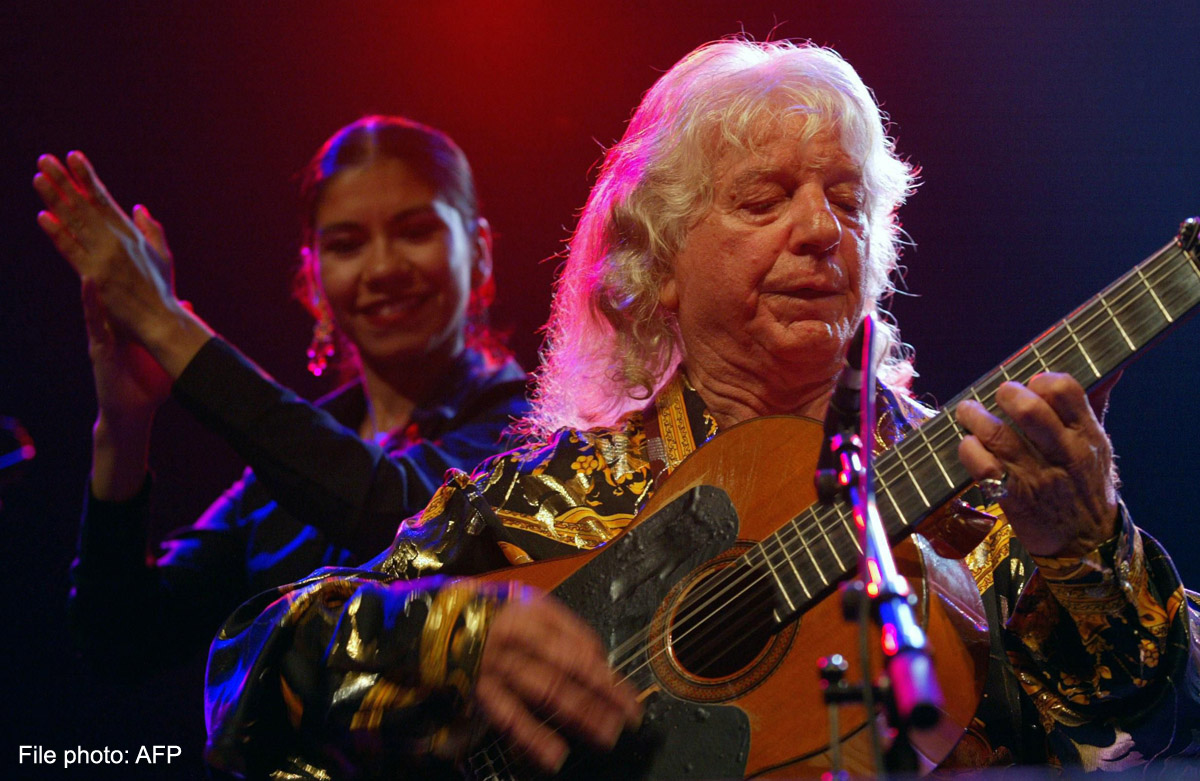 MONTPELLIER, France - Flamenco great Manitas de Plata, the gypsy guitarist of humble origins feted by artists Picasso and Dali, has died in France at the age of 93.
The son of a horse trader, he was born Ricardo Baliardo in a gypsy caravan at Sete in the south of France in 1921.
He went on to sell over 93 million albums under the name Manitas de Plata (little hands of silver) and is credited with popularising flamenco worldwide.
Manitas de Plata, who had been living in a retirement home in southern France since August, died on Wednesday surrounded by his family, his daughter said on Thursday.
A virtuoso musician, he mastered the guitar by the age of nine without ever learning to read a note of music.
He became famous playing at the annual Saintes-Maries-de-la-Mer gypsy gathering in France's Camargue and for years also played to audiences on cafe terraces on the Cote d'Azur.
There he got to know luminaries such as Jean Cocteau, Pablo Picasso, Salvador Dali and Brigitte Bardot and in 1965 the photographer Lucien Clergue recommended him to American producers.
He was afraid of flying but was eventually persuaded to board a plane to New York where he was a trimuph at Carnegie Hall.
He returned 14 times and played 11 times at London's Royal Albert Hall, but his first concert in New York remained his fondest memory.
"Passion for me is horses, music and women," he once said. He also loved fancy cars and was frequently seen at the wheel of a bashed-up Rolls Royce.
As a child he did not go to school and never learned to read or write. Later when he was famous he would sign autographs by writing his name in capital letters.
A sharp dresser, he was a regular at casinos dressed in expensive suits with diamond cufflinks.
He made a fortune but was reputed to shun banks and instead kept his money in a safe.
'28 children'
Famed for his womanising, he is said not to have known exactly how many children he had - although it is thought to have been between 24 and 28. He acknowledged at least 13.
He earned a fortune and spent the money on his extensive family - wives, children, uncles, nephews.
By the time of his death he was supporting an extended family of up to 80 people and there was little left.
At one time he was considered Europe's best-known artist worldwide and he remains France's biggest selling artist.
He leaves a large body of work, having made over 80 albums.
As he got older, however, his performances became increasingly rare.
On his 90th birthday in August 2011, he confided that he no longer played very often even though he still kept his seven guitars close by.
"I played with the heart and I still live from day to day," he told AFP at the time.