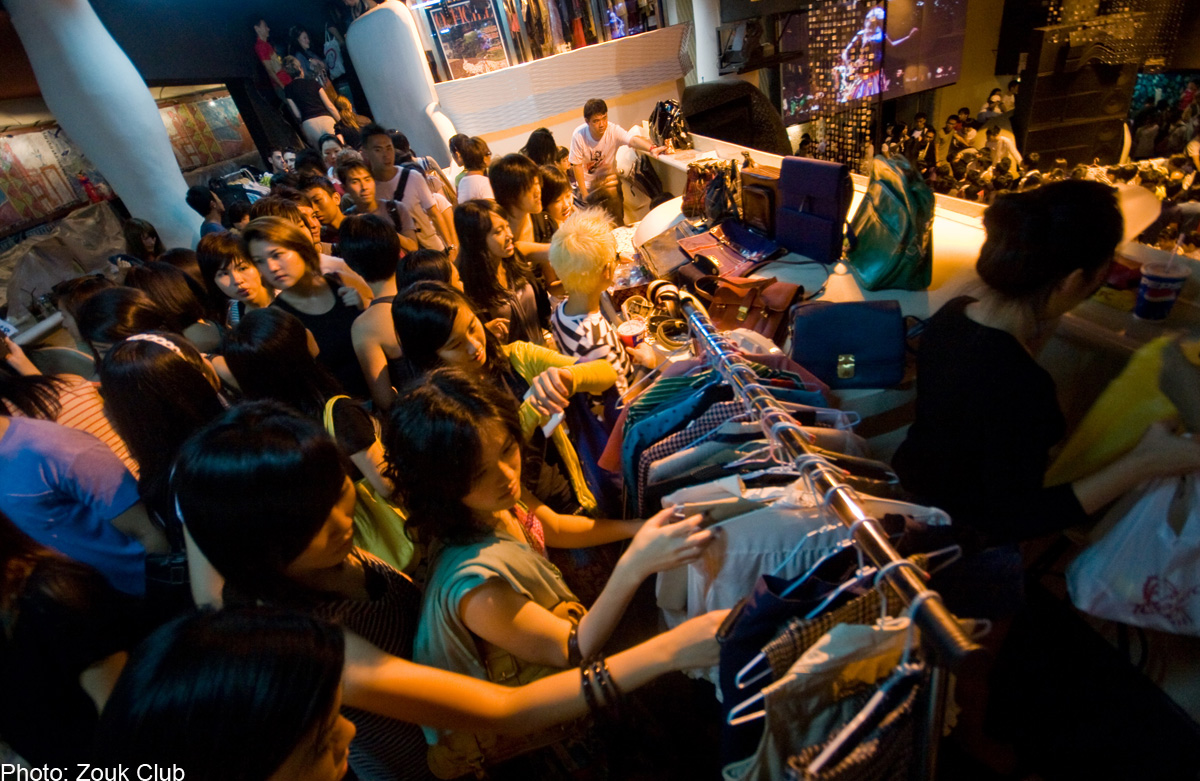 The latest flea market in town, the Singapore River Market, is set against the picturesque backdrop of shophouses at Clarke Quay and the Singapore River.
This three-day open-air market has been drawing a crowd of close to 20,000 this year with products ranging from handmade jewellery and Balinese beaded accessories to decorative ornaments and paintings.
Held sporadically since 2007, it was such a hit that its organiser, integrated marketing solutions company SPOC Solutions, plans to make it a monthly affair from this year.
For now, the next few sessions will take place on the last two weekends of next month and August.
This is just one of nearly 20 flea markets that have sprouted in Singapore since 2006.
A range of items from second-hand clothes to artworks are sold at these markets which are held mainly during weekends. These flea markets have also amassed a steady following with as many as 10,000 to 20,000 shoppers showing up for each event.
Cheap deals are a main draw for people such as student Lau Yun Ting, 18, who sometimes visits more than one flea market in a day. She was spotted at Flea Fly Flo Fun held at the Home Club.
Said Ms Lau: "I go to flea markets for the bargains such as dresses and tops at below $5. It doesn't matter to me whether things are new or second-hand."
Part of the reason for low prices is that many of the items sold at flea markets are second-hand. But judging from the number of shoppers who rifle through bric-a-brac on weekends, the stigma of using pre-owned items seems to be a thing of the past.
At flea market-turned-designer bazaar Fash Bash, shoppers can find second-hand designer goods from brands including Gucci, Coach and Miu Miu.
Co-organiser of FashBash, freelance copywriter Grace Tay, 33, explained why people are willing to buy second-hand goods: "The items may be pre-owned but some are brand-new and have not been used at all."
At the end of the day, the big discounts often make second-hand goods worthwhile. She added: "A Miu Miu bag going for around $1,300 to $1,400 in stores now could be selling at Fash Bash for $800."
Those still unhappy with the prices can try their luck at getting a bigger discount because bargaining is common at flea markets where vendors do not usually set a fixed price.
But there is a limit to the haggling. Mr Roland Lim, 62, who runs a stall at the China Square Flea Market, said: "If people bargain just for fun even though the price is already so low, we would just ignore them."
Despite the low sale prices, vendors are snapping up stalls at flea markets.
According to Mr Terence Lau and Ms Christy Chow, organisers of Flea Fly Flo Fun, demand for stalls has almost tripled. From about 20 stalls in 2006, they now have around 70 stalls and even turn down applicants.
For some vendors, such as Mr Lau Khi Ang, 60, and his wife, Madam Tay Soo Eng, 58, flea markets are a good way to earn some extra money.
The couple sell memorabilia from airlines such as menus from flights and hongbao packets issued by airlines at the China Square flea market.
Older limited versions of hongbao packets from airlines can fetch as much as $100.
For other vendors, flea markets are often just a good way to spend the weekend.
Mr Andrew Goh, 33, and Ms Lip Yeo, 37, both of whom have full-time jobs, sell their brand-new swimwear on weekends at various flea markets to pass time.
Life! found the couple selling beach wear from their stall at the SG Carboot Sale @ Big Splash.
While the married couple tend their stall, their three children keep themselves occupied at East Coast Park accompanied by their maid.
Ms Yeo said: "It's great to earn money rather than spend it during the weekends."
cherylw@sph.com.sg keziatoh@sph.com.sg

Get a copy of The Straits Times or go to straitstimes.com for more stories.