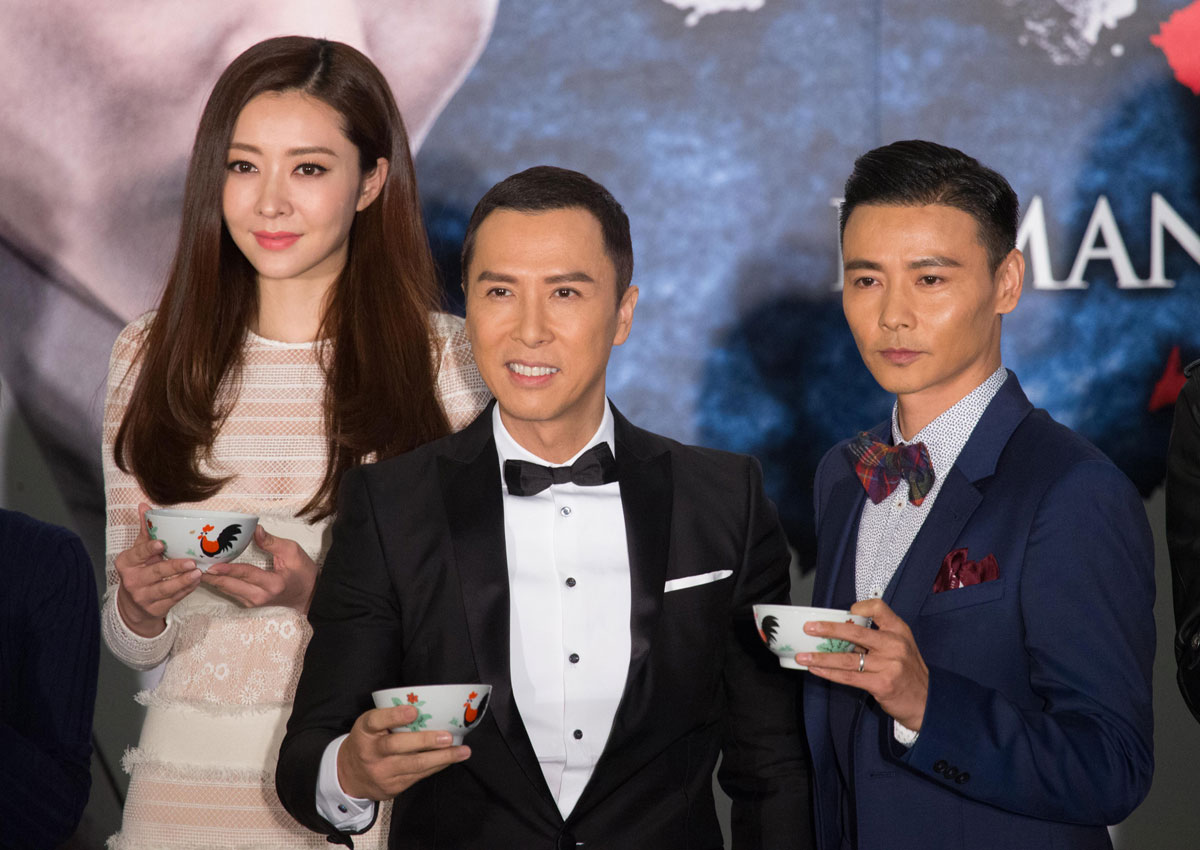 Star Wars fever has gripped fans all over the world and Donnie Yen is no exception.
The China-born action movie star told reporters last week at the Hong Kong premiere of Ip Man 3 that he has come a long way from watching his first Star Wars film, at age 15, to playing "(one of) the first Chinese (characters) in the Star Wars family".
Yen, 52, plays a main character in Rogue One: A Star Wars Story, the sci-fi franchise's first spin-off film due to be released next December.
Speculation has been rife about Yen's role, but he remained mum.
"I can only say I've spent about five months shooting... I can't wait to bring my kids to watch the show," said Yen at The Metroplex in Hong Kong.
"I am amazed that almost 40 years after first watching Star Wars, I would be able to participate and even play one of the main characters in the franchise. It's a great honour," he said.
Yen said his three children are fans, too. His younger son James even celebrated his eighth birthday recently with a Star Wars cake.
He will be taking his family to watch Star Wars: The Force Awakens at the Shanghai premiere on Dec 27. The film opened in Singapore last Thursday.
Then there is the release of his latest project Ip Man 3, which opens here on Thursday.
It sees Yen reprising his role as the wing chun (a Chinese martial art) grandmaster Ip Man after a five-year hiatus.
The gongfu epic is loosely based on Bruce Lee's martial arts mentor Ip Man. The third instalment shows him taking on a crooked property developer.
"I've found lots of inspiration (to play Ip Man) from my own life - how I treat my wife, my kids," said Yen.
"Ip Man the character, quite a bit of my life has been written into his... I don't like going out, if I'm on vacation, I'd stay in the hotel, talk to my family, at most go and practise a little martial arts.
"I think Ip Man is very much like me and I am very much like him. For an actor to successfully play a role, he has to imbue the character with some real personal traits."
It has been reported that Ip Man 3 may be Yen's action film swansong, but he seemed dismissive of the talk.
"I don't have this sort of thinking (on when to stop). The five years since the last Ip Man have given me lots of opportunities to try other things," he said.
"As an actor, it was great and also good practice. In the future, there are many motivations in taking up a role, for example, people liking Ip Man, people liking Donnie Yen to continue doing action films...
"If there really is a day I don't want to do an action film, it would mean I wouldn't want to shoot any film at all."
As a veteran in his industry, Yen said he feels a growing sense of "responsibility" to be a good example to younger generations.
"As I got older, as an actor, I need to have a bigger responsibility, not just being an actor that can give viewers enjoyment, you also need to have a message," he said.
"As a celebrity, kids look up to you as an example. Through movies, your characters, you can influence the next generation.
"More and more, I hope not just in my films but through my actions and behaviour, I hope to be a good example."
This article was first published on Dec 21, 2015. Get The New Paper for more stories.