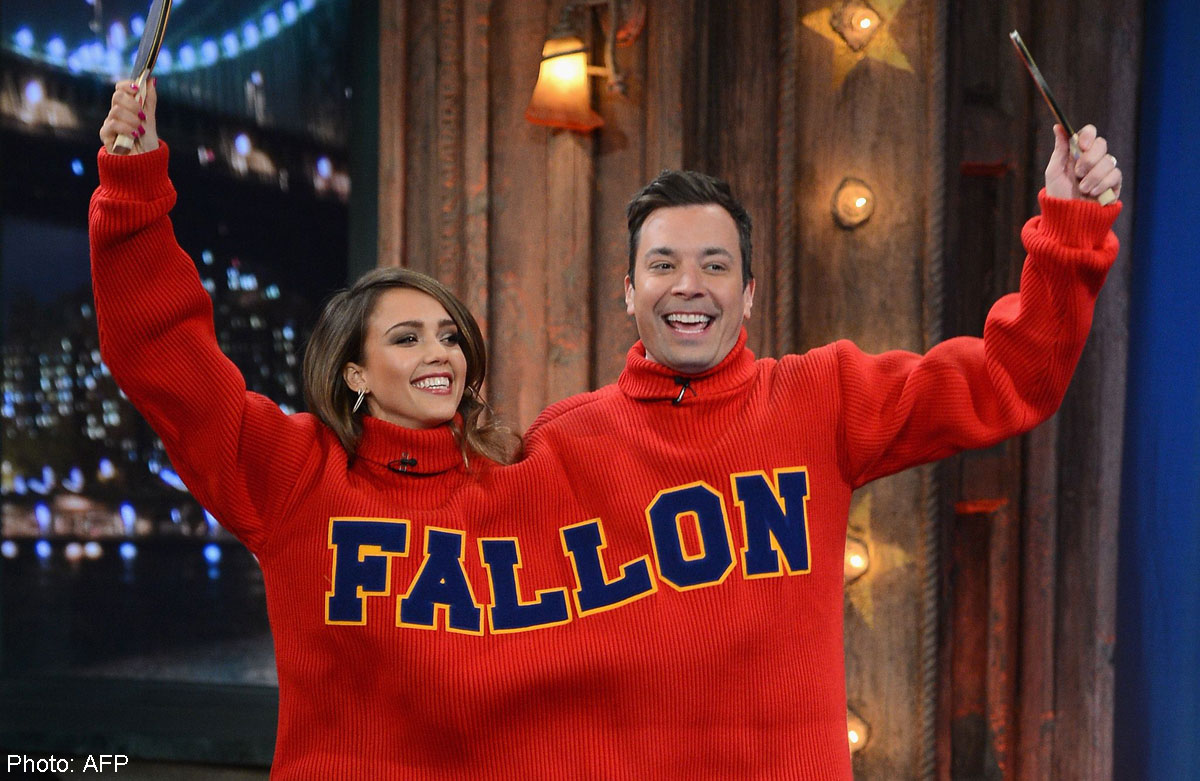 THE TONIGHT SHOW STARRING JIMMY FALLONCNBC (StarHub TV Channel 707)Saturdays, 8pm (five episodes), repeat on Sunday at 11pm
Rating: 2.5/5
The kid has become the new king of the talk shows.
By kid, I mean Jimmy Fallon, 39, the new host of The Tonight Show Starring Jimmy Fallon.
Compared to previous host Jay Leno, who is 63, Fallon is positively juvenile.
Now, NBC's The Tonight Show is the premier late-night talk show (the ones which start at 11.35pm in America).
Synonymous with its popular late host, Johnny Carson, who ruled for 30 years from 1962 to 1992, it enters the living rooms of Americans every week night and features celebrity interviews, political discussions, comedy, live bands, juicy gossip, shocking confessions and even animal acts deemed silly enough to be funny.
The jostling to be the next host whenever the throne is vacant or an abdication occurs is so competitive it spurred the infamous, acrimonious Late Night War of 2010 when Leno gave up his perch to Conan O'Brien and moved to an earlier time slot with a brand new, but ill-conceived variety show.
The ratings for both shows fell and nervous NBC suits tried rearranging the musical chairs. Leno got his old job back and O'Brien (my choice if it were up to me) left after a mere stint of just under seven months to front his own show, called Conan - on cable with TBS (Turner Broadcasting System).
With NBC looking for a much younger host this time to lock in a new longer- term dynasty, the torch was passed to Fallon who moved the show from Leno's Los Angeles location back to New York with his terrific soul-pop backing band, The Roots, to presumably give it a bit of sardonic East Coast edge.
Fallon's previous gig - the Late Night show starting at 12.35am - has been given to his ex-Saturday Night Live castmate, Seth Meyers.
Okay, youth has its advantages. The Tonight Show looks energised, but it has its pitfalls. Because on the evidence of Fallon's first week, he seems to want to turn the genre into a variety show of less chat and more comic sketches, idiotic hijinks, musical items and, quite possibly, an actual elephant coming into the room.
Like any overgrown kid, Fallon cannot stop giggling, cannot stop gushing - "It's good, it's so good," he would say about any guest's film, song or anecdote - and he simply cannot help jumping into a song-and-dance routine.
Before he talked to Justin Timberlake in one episode, he did an extended rap- hip-hop-pop song routine with him which went on for so long I thought it was going to turn into a mini-concert.
I have always thought Leno was lightweight in asking his guests the most harmless, non-controversial questions.
Fallon makes Leno seem weighed down by gravitas as he seems like he does not even want to ask any questions at all.
But when he had to, he turned the Kristen Wiig Q & A into an extended skit with Wiig impersonating Harry Styles of One Direction and his nutty, puffed-up hair.
It was actually quite funny, but I kept wondering, 'dude, how are you going to do this with Hillary Clinton?'
Fallon, a child of the social media age, and I really mean "child", knows a crazy sketch or kicking satire going viral online will kill anything anybody says, reveals, admits, confesses, advises, elucidates or tells as a bedtime story.
Get a copy of The Straits Times or go to straitstimes.com for more stories.