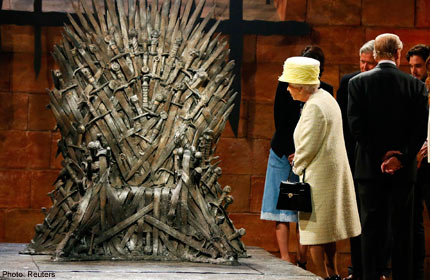 LOS ANGELES - Megahit TV fantasy series "Game of Thrones" topped nominations announced Thursday for the Primetime Emmy awards, television's version of the Oscars.
The grisly royal families feud saga scored 19 nods including for best drama series, followed by "Fargo" with nominations in 18 categories including two for lead actor in a miniseries.
Other notable nominees included breakthrough women's prison show "Orange is the New Black," in its first year of Emmys eligibility, while a slew of British acting talent was shortlisted.
For best drama series, "Game of Thrones" is up against "Breaking Bad," "Mad Men," "House of Cards," "True Detective" and "Downton Abbey."
In the best comedy race, newcomer "Orange is the New Black" was nominated alongside long-running series "The Big Bang Theory," "Louie," "Modern Family" and "Veep," as well as "Silicon Valley."
Powerful police drama "True Detective" scored lead actor nominations for its co-stars Woody Harrelson and Matthew McConaughey, up against Kevin Spacey, ("House of Cards"), Bryan Cranston, ("Breaking Bad"), Jeff Daniels ("The Newsroom") and Jon Hamm ("Mad Men").
Lead drama actress nods went to Lizzy Caplan, for "Masters of Sex," Claire Danes for "Homeland," Michelle Dockery for British period drama "Downton Abbey, Julianna Margulies for "The Good Wife," Kerry Washington for "Scandal" and Robin Wright for "House of Cards."
Premium cable channel HBO won the most overall nominations with 99, while online streaming giant Netflix doubled its number of nods from last year with 31, according to industry journal Variety.
The nominations were announced in a pre-dawn presentation by TV stars Mindy Kaling and Carson Daly, at the headquarters of the Television Academy in Los Angeles.
The 66th Primetime Emmys show will be held in Los Angeles on Monday, August 25.