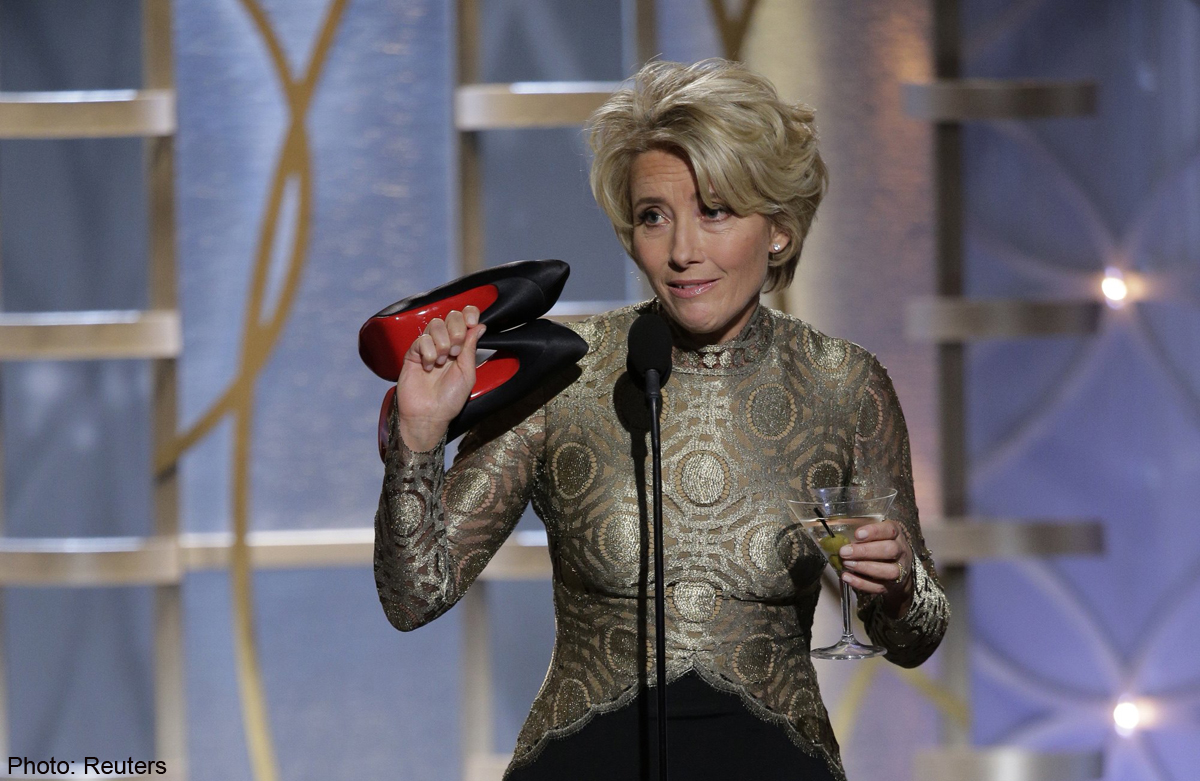 SINGAPORE- Here's a list of 10 memorable moments during this year's Golden Globe Awards ceremony.
The 71st Annual Golden Globe Awards ceremony on Sunday night (yesterday morning Singapore time) was, despite its three-hour duration, almost a non-stop barrel of laughs.
That was mainly due to hosts Amy Poehler and Tina Fey, who had no qualms sweetly dissing A-listers.
Here, we recap the top-10 notable things about this year's Golden Globes.
1 NON-STOP LAUGHTER WITH TINA FEY AND AMY POEHLER
Starting with a jab at director Scorsese's reputation for lengthy films, Fey kicked off the show, saying: "We're going to get this show done in three hours - or as Martin Scorsese calls it, 'Act 1'."
There was also a dig at Gravity star George Clooney, whom Fey said showed how he would rather "float away into space and die than spend one more minute with a woman of his own age".
2 A WET START TO THE GLOBES
A few hours before the awards, a sewage pipe burst and a good portion of the red carpet was sopping wet before fire officials arrived to stop the leak.
3 JARED LETO REVEALING IT ALL
There were many off-the-cuff moments, but some crossed the line into the "too much information" (TMI) territory.
The TMI moment of the night came when Jared Leto, who bagged the award for Best Supporting Actor, revealed that he waxed his private parts for his Globe-winning performance in Dallas Buyers Club .
4 EMMA THOMPSON, HER MARTINI GLASS AND NO SHOES
Well, she did have her shoes, but they were not on her feet.
The 54-year-old British actress presented the award for Best Screenplay with a martini in one hand and her Christian Louboutin shoes in the other.
5 AWARD FOR THE MOST AWKWARD HUG GOES TO...
P. Diddy and Bono.
The U2 frontman was embraced by P. Diddy after winning the award for Best Original Song for Ordinary Love, from the film Mandela: Long Walk to Freedom. But the embrace turned awkward when Bono recoiled before the hug was completed.
6 MATT DAMON TAKING JOKES SPORTINGLY
One of the sweetest, scandal-free actors in Hollywood was called a "garbage person" by Poehler early in the ceremony when the comedienne tried to make a point that the Beverly Hilton ballroom was full of A-listers.
Later, Damon went on stage and modestly and sportingly announced: "It's me, the garbage man."
He was referenced again by Michael Douglas, his co-star on TV movie Behind the Candelabra, in the veteran's Best Actor in Miniseries or Motion Picture for Television speech: "The reason you're not up here is because I have more sequins."
7 IMPROVISING, HOLLYWOOD STYLE
Jonah Hill and Margot Robbie were given the wrong intro on the teleprompter while presenting The Wolf of Wall Street as a contender for Best Motion Picture (Musical or Comedy).
But the pair improvised, admitting why they had shocked looks and went on to introduce the movie reading from a piece of paper.
8 MAKING DICAPRIO BLUSH
Continuing their winning streak of zingers, Poehler and Fey decided to focus on DiCaprio as he came on stage to present the award for Best Actress in a Motion Picture (Drama).
Taking a stab at his well-known preference for supermodels, the duo hit it where it hurt most when they compared the "warm welcome" for the actor to that of a supermodel's ... well, we won't print it here.
DiCaprio's reaction? A very sporting thumbs up.
9 WHICH COMEDY WON AGAIN?
Brooklyn Nine-Nine winning the Best Comedy Series and the Best Actor in a TV Series, Musical or Comedy for star Andy Samberg was one of the night's sweetest moments.
Samberg merely said: "I guess I'll just thank everyone... The cast is awesome."
10 AMY POEHLER AND BONO MAKING OUT
The U2 frontman massaged Poehler while nominees for the Best Actress in a Television Series for a Comedy or Musical award were being announced.
When Poehler was announced as the winner for the comedy Parks and Recreation, she celebrated by making out with Bono before going on stage.

Get The New Paper for more stories.