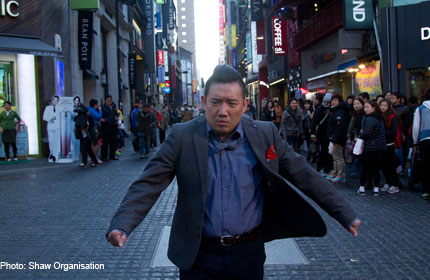 The HK star of The Midas Touch comes into his own as a leading man, with or without a toned body
This year has been Hong Kong comedic actor Chapman To's busiest year for film promotions.
The 41-year-old has already taken on six films this year, including the raunchy action-comedy flick Sex Duties Unit, released here in July, and The Midas Touch, which opened on Thursday.
If his time has indeed come, To, who had been best known for his supporting roles in the Infernal Affairs film trilogy (2002-2003), is being humble about it, constantly taking the mickey out of himself in a recent telephone interview with the Singapore press.
"I'm such a fat pig, which is what my wife has been calling me lately, so I feel like it's kind of unfair for audiences to have to see me like this, especially when I keep taking off my clothes in films," he says almost matter-of-factly.
In The Midas Touch, he plays a debt collector-turned-novice artiste manager, who is determined to turn a motley group of seven girls into big-name pop stars in the vein of South Korean girl group Girls' Generation.
While his character is ultimately a nice guy who holds the girls' best interests at heart, situations abound in the film when he becomes tempted to take advantage of the casting couch situation and accept sexual propositions from the girls.
Asked about whether he has experienced the same kind of indecent proposals in real life since he is now a leading man in the movies, he laughs and wryly says that he is "nowhere as lucky as that", jokingly blaming the dearth of offers on his lack of charisma.
He also reveals he has been hitting the gym recently, though it is not a move spurred on by vanity or the pressure to match the efforts of Nick Cheung, a fellow supporting player-turned-leading man.
The rock-hard, sculpted body Cheung, 45, achieved for the boxing-themed drama Unbeatable was the talk of the town recently.
To is working out to play the lead role of an adult video star in Naked Ambition 2, a sequel to the 2003 comedy which takes an inside look at Hong Kong's sex industry. He is currently filming the comedy in addition to two other movies, Love Gamble and Mr And Mrs Player.
If he gets nowhere near the exemplary physique of Cheung, that is fine by him. "It's different for Nick Cheung because he was shooting an action film. But I've watched these Japanese pornography flicks since young and none of the actors were actually very buff, so it's okay for me to look like this," he adds chirpily.
According to him, his wife, Hong Kong actress Kristal Tin, 35, has no qualms about him acting alongside Japanese adult-video actresses such as Sola Aoi and Maiko Yuki. "She just told me to go ahead and enjoy my work," he quips.
Tin probably could be sure her husband would behave himself. In The Midas Touch, the only on-screen kiss that he has in the film is not shared with one of the actresses, but with Hong Kong actor Wong Cho Lam, 33, whom his character smooches by mistake.
"His height was just right for me for the kissing scene. And the kiss felt good, actually."
stlife@sph.com.sg

Get a copy of The Straits Times or go to straitstimes.com for more stories.