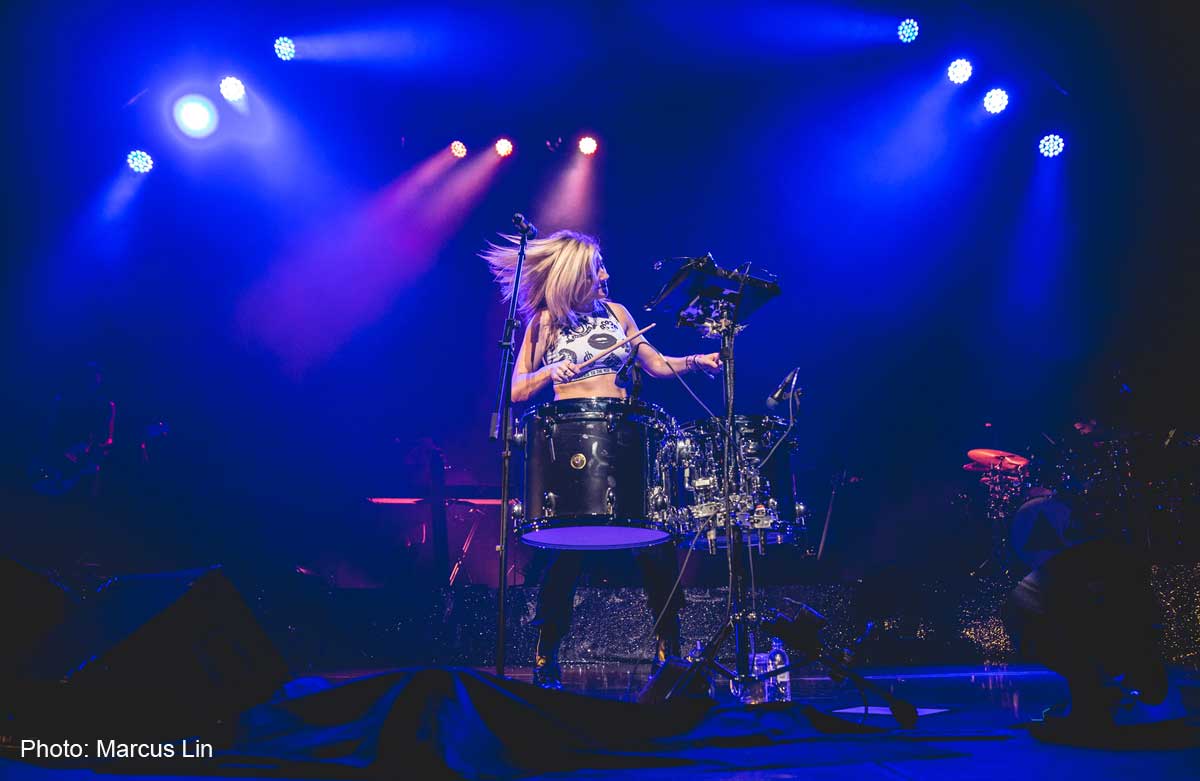 British dance-pop sensation Ellie Goulding is the sort of girl you would pick to have a fun night out on the town with.
She dresses like a cool rave-head, has smooth bantering skills and occasionally busts out crazed dance moves that rapper MC Hammer would approve of.
Last Friday night, she was the life of the party as she performed to 4,500 fans at the Star Theatre.
The 27-year-old came on strong, kicking off her 90-minute set with a string of catchy, high-energy hits that included Figure 8, Ritual and Goodness Gracious.
Goulding, dressed in a sleeveless printed white crop top and black pants that showed off her athletic physique, sang in her signature soprano warble, running up and down the stage and occasionally thumping away at the set of drums in dramatic fashion.
She swayed her hips from left to right to the beat and every now and then, she exuded a sultry cool, teasing her audience with belly-dancing moves that would send her fans screaming for more.
"Put your hands up if you're really with me this evening," she called out to the audience, made up of mostly teenage fan girls.
They responded with ear-deafening screams, hands in the air.
Although most of her songs kept to their original recorded versions, she changed things every now and then by throwing in more vocal runs, and doing acoustic versions of songs such as Guns And Horses and Beating Hearts.
These stripped-down renditions allowed her to better convey the emotion behind these songs to her audience.
She ignited the crowd with Salt Skin, a song off her debut album Lights (2011) that was given a more upbeat spin by sampling the chorus off British-Sri Lankan rapper M.I.A's famed hit Bad Girls.
Then came the optimistic ditty, Anything Could Happen, where Goulding channelled R&B singer Janet Jackson by breaking out in Jackson's famed Rhythm Nation running man street dance.
Singapore was the final stop in Goulding's world tour before she headed back to London.
So it was apt that she chose to end her show with her most memorable hits: Lights, I Need Your Love and Burn.
The minute these songs came on, the crowd went into a mad, floor-shaking frenzy, breaking out in one big sing-along.
Before she launched into the anthemic pop anthem Lights, she got the audience to light up the theatre with their mobile phones and wave them in the air, creating a more intimate atmosphere.
The audience's response was testament that Goulding still has got musical clout, even if it has been a while since her last album Halcyon (2012).
She is still the "it" party girl.
melk@sph.com.sg

This article was first published on June 16, 2014.
Get a copy of The Straits Times or go to straitstimes.com for more stories.