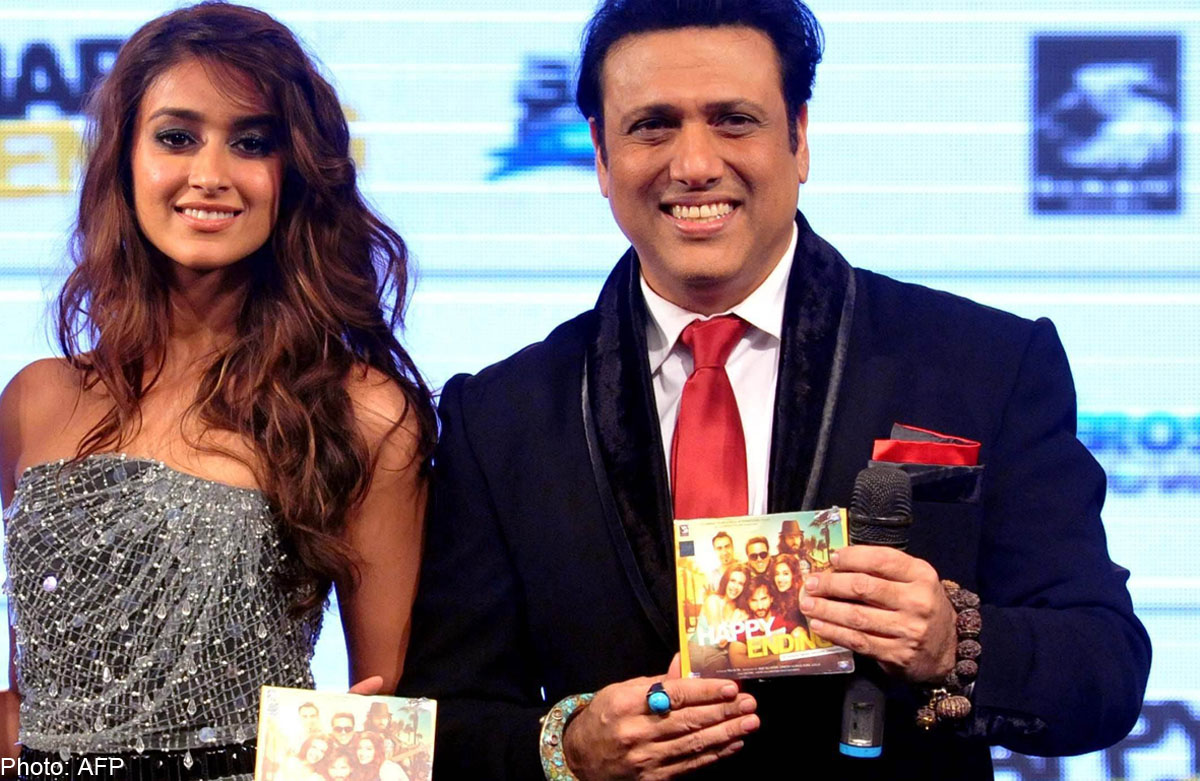 A 'first' for this veteran
While in Happy Ending, Govinda is back to doing what he does best - tickling the audience's funny bone - YRF's Kill/Dil has the actor in a new avatar. In the over 160 films Govinda has done in his career spanning over two decades, Kill/Dil is the first time he's played a negative character.
"It was very difficult to play a bad person. I refused the role initially because I didn't think I could do it. Then my wife Sunita and daughter Tina (used to be called Narmaada) convinced me to take it up as a challenge.
"I spent a lot of time thinking about the kind of bad person I would be. Shaad (Ali, director) had explained to me what he wanted but I still couldn't get a handle of what I should do. It took me a lot of time."
His last big ticket release was Mani Ratnam's Raavan 2010 that co-starred Aishwarya Rai Bachchan, Abhishek Bachchan and Southern superstar Vikram. In the years that followed did the film offers dry up? "Not really. I didn't like what was being offered. Also, films that I liked and made weren't getting released. So, I got wary of signing any films because every film that got stuck or flopped spoilt my reputation.
"To save myself any further embarrassment, I stopped signing films. It was very important that if I made a film, it got released and was liked by people. I decided to sit at home and wait for good directors to come to me with roles that I could do justice to.
"When I made a film, I wanted to give the audience something new and interesting to see. I realised people weren't interested in seeing the same Govinda they had seen for decades. People could see the Govinda brand of comedy on TV, stage shows and films… everyone was doing the same thing."
Uncertain days
After two decades of working multiple shifts, it was tough for the actor to be out of work. "You have to believe in your own abilities and creativity and that there is light at the end of the tunnel. You can never let difficult times get the better of you. You have to keep moving… keep trying. That's what life is all about."
In the past, Amitabh Bachchan had spoken very candidly about his days of uncertainty in the '90s before Mohabbatein when he went to the late Yash Chopra and said, "I want to work".
Like him, Govinda also had built lots of relationships in Bollywood. Did he at any point consider asking his friends in Bollywood for help?
"It's not like I didn't have work at all. I had films with four big producers that are still stalled. I have a film with Ashtavinayak, who last released Bol Bachchan (starring Ajay Devgn and Abhishek Bachchan), but mine is still stuck.
"There is another film with the late Ravi Chopra. I thought my luck was stuck somewhere so even if I asked for work, things won't get better. You can't even blame someone else if your luck is rotten. Also, it is a little embarrassing to ask for work."
Refused Salman Khan's offer
Govinda has been close to Salman Khan since they last worked in Partner. The Khan did try to help Govinda out of the slump but the actor wasn't very impressed with the film.
"Salman came to me twice with the same project (the remake of the Marathi film Shikshanachya Aaicha Gho) but I had already refused the film even before he got involved with it. I told Mahesh (Manjrekar, who wanted to remake the film) that I don't do art films and that's exactly what I told Salman later on as well.
"I can't see kids crying… I didn't want to do anything that I wasn't happy with, which is why I refused the film. Also, Salman had already helped me in the past (with Partner) and I didn't expect him to help me again. If you expect someone to help you every time, that person won't remain a friend for long."
What about director David Dhawan with whom Govinda collaborated with on some of the biggest hits of both their careers like Hero No. 1, Aankhen and Coolie No. 1?
"I haven't met him in five years. Four or five years ago, I had sent a film financier to David (Dhawan). He refused the project," he says with a smile, adding, "but that's okay. That's the way the film industry is.
"I have realised that people who worked with you for a long time find it tough to tell you that your time is up. Which is why they avoid meeting you. Maybe they find it tough to face up to the fact.
"My time in politics taught me to take on every situation head on. If you know you are going through a bad time, you go meet people and talk things out."
In retrospect, Govinda does regret how he managed his career. At the height of his superstardom, the actor was infamous for his tardiness. But the reinvented Govinda 2.0 is not only leaner and calmer but also a stickler for time.
"People had complaints because I was working too much in those days. I was doing so many films that I couldn't even spend time with my own family. Now, I won't sign more than I can handle at one time. I don't want to spoil the relationships that I have started to rebuild now."
Get a copy of tabla! for more stories.