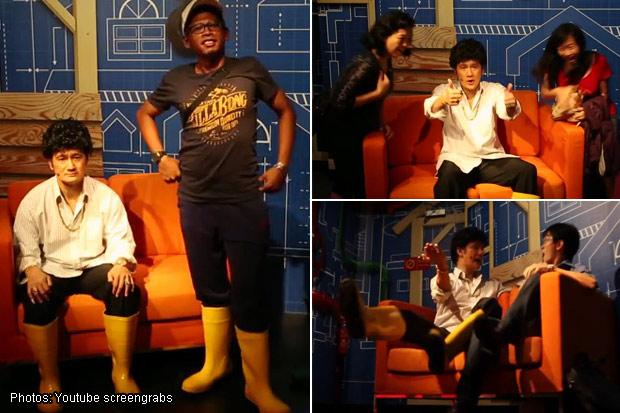 SINGAPORE - The next time you visit Madame Tussauds Singapore, check before posing because the wax figure next to you might just come alive.
Local comedian Gurmit Singh, who has a wax statue at the recently-opened attraction, gave fans a fright when he posed as his alter ego Phua Chu Kang and surprised visitors by coming "alive".
Dressed in his trademark yellow boots coupled with his signature curly perm, Singh sat motionless on an orange sofa and duped visitors into thinking he was another wax figure.
According to the museum, visitors literally jumped out of their skins when Singh started to move.
Their hilarious reactions were also recorded and posted on the museum's YouTube channel.
One of the visitors said his mother noticed the prank when she remarked, "that thing is moving". However, he didn't believe her until he sat next to Singh and got spooked by the actor.
The 49-year-old comedian said he loved the different reactions that he received and how some of them were "outright frightened".
He added: "I don't know if they are going to have nightmares about me now!"
The museum opened in October and features famous local and international personalities such as Jack Neo, Zoe Tay, Taylor Swift, and also politicians like Prime Minister Lee Hsien Loong and former Prime Minister Goh Chok Tong.
The Sentosa attraction is also the first Madame Tussauds museum to feature a boat ride.
wjeanne@sph.com.sg